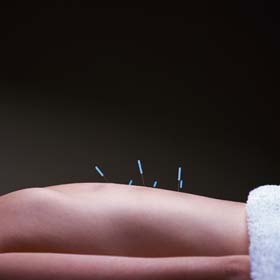 A new UK study has found that acupuncture may help ease fatigue, anxiety and depression in women with breast cancer. The research, which appeared in the Journal of Clinical Oncology, also found that the modality may help enhance quality of life for women who have the cancer.
Fatigue and Cancer
Many cancer treatments cause nausea, chronic pain and anaemia, which can make people feel fatigued and exhausted. Moreover, nausea may also prevent them from eating a nutritious diet, leading to low energy.
The Findings
The study, which was led by Alexander Molassiotis from the University of Manchester, followed 227 women who had fatigue caused by cancer. The women received acupuncture six times a week. Another 75 women in the group didn't receive any acupuncture treatment.
Six weeks into the study, the women who underwent acupuncture had reduced fatigue of around four points (on a scale of 0 to 20). The women who didn't receive acupuncture only measured a one point decline in fatigue levels.
While the improvement wasn't staggering, the results showed that acupuncture could help people with cancer experience higher energy levels. Such an increase might help them leave bed to engage in light exercise.
Interestingly, acupuncture was also shown to give a boost to the women's overall wellbeing. Anxiety scores were reduced by two more points, after the women received acupuncture.
What the Results Mean
The researchers noted that acupuncture can be a beneficial treatment, when used in conjunction with cancer treatments and moderate exercise.
Do you have a passion for Acupuncture? Would you love to turn your passion into a rewarding career?
Check out the information we have available on what the Acupuncture courses involves and thousands of other Natural Therapy Courses we have available online and throughout Australia. Why not let us help you find the right course for you today on 1300 924 960