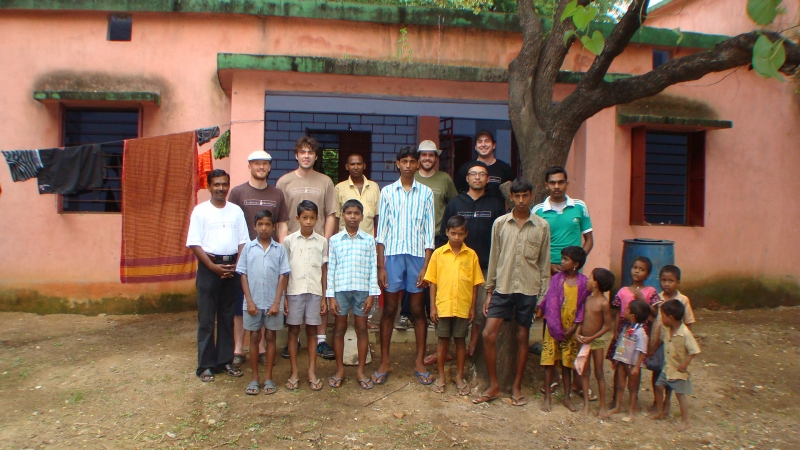 Traditional Healthcare is an Australian-based not-for-profit charitable organisation committed to the development of sustainable healthcare facilities for underprivileged communities. It is currently engaged in a project located in rural India, where their objective is to facilitate cost effective holistic and traditional therapies for the local community. ntpages spoke to Natasja Sproat, founder and secretary of the organisation for more information and some background on their goals and projects.
What is the ethos behind Traditional Healthcare?
"We advocate strong community involvement and education, as well as the utilisation of sustainable architecture, renewable energy and the principles of permaculture. Traditional Healthcare also works with organisations to this end, and have a registered collaborative partner in One Health Organisation (OHO) – Australia's only United Nations DPI affiliated NGO for holistic healthcare."
How did the Indian project come about?
"I first read about a community acupuncture clinic run by Ananda Marga in West Bengal, India in the Journal of Chinese Medicine in 2007. Tom Connor and I were inspired and ended up booking tickets to India to volunteer our time there. We treated hundreds of patients for over six weeks at this small clinic and were amazed at the success rate of treatment. People travelled from as far afield as 450 kilometres away. Dada, the manager of the clinic asked if we could go out and treat at his home village of Datom in the neighbouring state of Jharkhand. So we hired a car and set up an acupuncture camp for three days in Datom village."
What was the level of interest?
"The response was overwhelming! Hundreds of people came to the temporary acupuncture camp, run out of a mud brick hut, some walking for up to three days for treatment. There was not enough time to treat everyone, and there was actually a stampede as people were so desperate to receive treatment. We then decided to build a permanent healthcare facility for the people in Datom and the surrounding area. Tom and I are now the founders of Traditional Healthcare, which for the past three years has built contacts with practitioners around the world."
What is currently happening at the site?
"We have the President of the Permaculture Society designing and constructing a garden on site, extremely talented sustainable architects working on the construction of the clinic and many volunteers who have been working alongside us - all with no wages. We also have a filmmaker who has been recording every trip, meeting and fundraiser to record Traditional Healthcare's journey for a documentary."
What are your goals for the Datom clinic?
"Our current goal is to finish the construction of the Datom clinic, which will have 15 beds as well as an emergency room, education hall, dispensary and accommodation for patients and volunteers. This is currently being built by local labourers using sustainable local materials like stone and bamboo. We are also working on the layout of a completely sustainable fruit, vegetable and medicinal herb garden. As there is no power at the clinic site, we plan for the entire facility to run from renewable energies – including solar, a vertical axis wind turbine, a bio-gas generator for healthy cooking fuel and ultimately Fresnel lens technology - which will be deployed for hot water and more energy production."
What health facilities currently exist in this area?
"There is in fact a government healthcare facility in the local area; however there is no funding for doctors or nurses to run the facility. Patients currently have to travel some 110 kilometres to Ranchi, the capital of Jharkhand to receive treatment. Transport is a real problem and this journey could easily take three to five hours. This obviously becomes a serious issue when dealing with emergency patients."
What are some of the most pressing health needs in this location?
"We treat a range of conditions, including malaria, parasitic infections and dysenteric conditions – all of which are common. Dysentery is a large cause of infant mortality in the local population, while nutritional deficiencies also cause significant health issues for local residents. Paralysis is also a common condition that presents itself in many forms and with varying severity."
Are there local practitioners active in the area?
"One of the largest concerns in this area is unqualified practitioners. They diagnose and prescribe medications with no formal training, which often leads to patients experiencing complications from the incorrect use of medication, or leaves them with critical health concerns."
Who will staff the clinic?
"Dada (otherwise known as Bishwanath), who has 12 years experience in acupuncture, will manage the clinic. We will be sending volunteers to man the clinic as much as possible, and will also be training local people in acupuncture with the help of IIRIM (International Institute of Integrated Medicine), based in Kolkata.."
What natural therapies will be offered at the clinic?
"We are open to any modality, but will focus on TCM, homeopathy and Ayurvedic medicine. We currently have an Indian homeopath with 25 years experience, who will be working in the clinic on a full time basis. We are especially interested in hands on modalities like chiropractors, osteopaths, myotherapists, physiotherapists and podiatrists. We hope to man our emergency room in the future with a full time General Practitioner and nurse/midwife, and look forward to receiving surgeons and other specialists volunteers to practice there in the future."
From a funding point of view will the clinic be sustainable in the long term?
"The aim of the clinic is to be sustainable in every way possible, including financially. The patients that can afford to pay a fee will do so, and the poorest will pay with labour in the permaculture garden. The produce grown there will generate income as it can be sold in Ranchi through local partners and in Kolkata through IRIIM. The school that will run from the education building will charge for short courses in English, basic computer skills, and internship courses in Traditional Chinese Medicine (TCM), homeopathy and Ayurvedic medicines. We will also be running permaculture and sustainable building practices courses at the clinic for international students."
You also have plans for a clinic in the Northern Territory?
"The primary clinic at the moment aside from Datom, India is in Alice Springs in the Northern Territory. We are working with a group called Medicine Tree NT who has been in the area for the last 18 months. A mobile clinic will start in the first quarter of 2011 and we are looking at some locations for the clinic site at the moment, one potential site being the Botanic Gardens in Alice Springs."
Where does your funding come from?
"We rely heavily on financial supporters and volunteers to keep this clinic alive. Our current funding primarily comes from street collections at present. We have a small team of dedicated volunteer collectors that collect between four and six days a month. We also hold music events and wellness retreats. We are also in the early stages of setting up a call centre to develop regular monthly contributions with the goal of having 1000 regular contributors in 2011. This would allow us to budget and plan the next few clinics. We have also have a number of grant applications in the pipeline."
Originally published on Mar 11, 2011