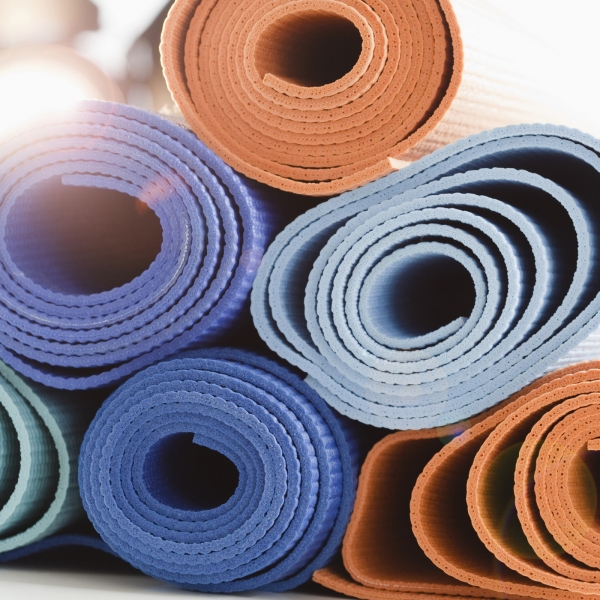 Whether you're lying in savasana, balancing in pinchamayurasana or jumping back to chaturgana dandasana your yoga mat can affect the quality of your yoga practice. But with so many yoga mats available how do you choose a yoga mat that's right for you?
When I first started practising yoga in the 1980s most people rolled out a towel or, at best, a thick foam mat covered in calico. As yoga's popularity has grown, so too has the choice of yoga mats: plastic, rubber, TPE, jute, grass, bamboo, cotton or a combination of materials. Along with all this choice in materials comes more options: in thickness, length, colour, design and environmental considerations.
Here's a rundown of the pros and cons of some of these yoga mats.
PVC Yoga Mats
If you're new to yoga you might be tempted to go for a cheaper, PVC mat. But you really do get what you pay for when it comes to cheap PVC yoga mats. PVC mats have less grip than rubber yoga mats and can be smelly. But the most worrying aspect is that they contain harmful chemicals such as phthalates and dioxins – bad for your health and the environment. If following Patanjali's yama of ahimsa (non-violence) is important to you then steer clear of PVC mats.
Rubber Yoga Mats
Fans of Ashtanga Vinyasa, Bikram, Power or any other vigorous yoga practice favour rubber mats for their good grip and slip-resistance. But you don't need to work up a sweat to benefit from a rubber yoga mat. They suit most people, whatever style of yoga they practise. If you're concerned about the environment check that the mat is made from natural or recycled rubber and not man-made rubber. If you have a rubber allergy, latex-free mat are also available.
Cotton Yoga Mats
Cotton yoga mats are comfortable to practise on, are easy to wash and they absorb perspiration – so if you work up a sweat during yoga you won't risk slipping. Many people like to put a cotton mat on top of their rubber mat: You get good floor grip, slip resistance, absorption and comfort.
Cork, Jute, Bamboo and Grass
These mats are environmentally friendly and absorb sweat and smells. But moisture ie sweat weakens the fibre structure so you might find you have to replace the mat quite regularly.
Hybrid Yoga Mats
Hybrids yoga mats are made from a combination of materials such as grass backed with rubber. They can be costly but provide a lovely experience of practising on a natural fibre yet having the stability and firmness of rubber underneath.
Yoga Mat Depth
Most rubber mats come between 3mm and 6mm. If you have issues with your hands, wrists, elbows, knees, hips, shoulders, neck, head or spine a thicker mat will provide more comfort. However, you might find balancing more challenging on a thicker mat. Some people also like the closeness to the floor that a thin mat provides.
Yoga Mat Length
You can buy yoga mats in various lengths. Make sure your mat is as least as long as from the tip of your toes to the top of your head when you lie on the floor.
The fun stuff
Now that you've worked out the material and thickness, you need to decide on colour and design. Choose one that resonates with you and that emits a sense of calm. You don't want a colour or pattern that's too distracting. A striped pattern can also act as a guide for alignment during poses.
Other Yoga Mats
You can also get yoga mats that are wider than the average rubber mat and even round ones. Circular yoga mats eliminate the need for repositioning yourself for wide-angled poses and are great for mothers and babies yoga. They're probably best kept at home though as they are bulky to fold and take up more space than a standard oblong mat.
With so many things to consider it's best to take a deep "yogic" breath and go with what feels right for you. Choosing a yoga mat is subjective but needs some thought and consideration. It's an important yoga tool and you don't want your mat putting you off your yoga.
Find a yoga practitioner in your local area.
Do you have a natural health & wellness business?
Sign up now and advertise on Australia's #1 natural health website.
Or visit our Wellness Hub to help you stay current about the industry.
Originally published on Aug 23, 2011