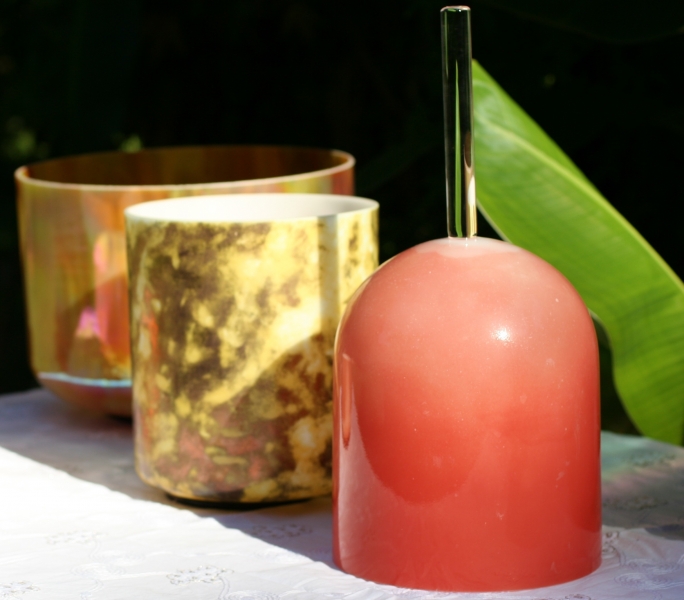 We caught up with Susie Nelson-Smith, Director of The Karyna Centre for Transformation and its teaching facility, the Crystal Sound and Light Institute, to discover Crystal Sound Therapy – its benefits and what options there are to begin a career in this field.
What is your background and what motivated you to become a therapist?
I love teaching and have had my own Natural Therapies College since 1995. I specialise in teaching courses and workshops in Crystal Sound Therapy using crystal singing bowls, Crystal Vibrational Therapy with crystals and gems and Reiki hands-on Healing. Previously I was CEO of a training centre for specially disadvantaged and long-term unemployed people. I have a couple of degrees, the first in English Literature, Philosophy and Politics and the 2nd in Communication Management as well as a Diploma in Aromatherapy and Teacher certification in Crystal Healing having studied over a two year period with Katrina Raphaell in Hawaii. My first certificate was way back when I studied Massage in the early 70s. My Natural Therapy journey as well as my academic studies has supported me in developing my own training programs. I've been a keen student of religion and spirituality since I was 12 years old and have been interested and attracted to serve the Greater Light in ways that suit my skills and personality. It took some time to know how I could serve my own heart and others and I feel I found this path 20 years ago when I established The Karyna Centre for Transformation. Since then I have been fine-tuning my understanding of how to assist others find their own unique voice in the world. I have now established the Crystal Sound and Light Institute which has become the teaching arm of The Karyna Centre. My aim is to assist others to expand and realise their natural gifts through the pure sound vibration of crystal and energetic healing. In helping to facilitate this in my students they in turn will do the same in others and so the sound waves of positive loving energy flows around the world . . .
How did you come into contact with Crystal Sound Therapy?
I heard about crystal bowls in the mid 90s. At the time I had been teaching Crystal Vibrational Therapy (Crystal Healing) and Reiki for several years. I became incredibly excited at the thought of playing crystal bowls and after some research I flew to Sicily in Italy for a week of playing the bowls and doing Shamanic healing work while eating vegan food. It was great fun. I then played the crystal bowls in concerts and meditations while developing a program of study. I toured up and down the east coast of Australia from Mission Beach in Queensland to Bruny Island south of Tasmania for over 10 years in my Travelling Troubadour Tours. In 2004 the course became a 12 month training and study program accredited by the Energetic Healing Association. I have continued to refine the program and now in 2014, I will be teaching a further 6 month component to take graduates of the 12 month Certificate IV course to Diploma level. After this the path will lead to a mentoring program for those that wish to teach Crystal Sound Therapy with crystal singing bowls.
What is the principal behind the modality?
Science and spiritual traditions tell us the universe and every part of it is in a constant state of vibration. This also means our physical body and all of its component organs; regulatory systems and cells have vibratory frequencies in harmony with each other. Being a spirit having a human experience means we become "out of tune" and disharmonious as we travel through life learning and growing. Sound healing reintroduces the correct harmonic pattern. As the sound waves enter the body, sympathetic vibrations occur in its living cells which restore a healthy balance. This happens through the principle of resonance. It is also possible to change the different rhythms in the body, such as brainwaves, heartbeat and respiration. This takes place through the principle of entrainment, in which the more powerful rhythmic vibrations of one object, when projected upon a second object with a similar frequency, will cause the object to vibrate in resonance with the first object.
Crystal Sound Therapy employs the powerful sound waves and rich harmonic overtones of quartz crystal singing bowls to transform energies, restore balance, and re-establish health. These sound waves are heard not only through the ear but through every cell of our body. The high water content of the body makes it a conductive medium for vibration, and healthy human tissues are liquid crystalline in nature and thus have resonation potential. Sound can enter into the very cells, touching them and causing them to re-balance the energies within by oscillation and resonance.
Where did it originate?
Crystal Bowls have been around for several decades now coming out of the semi-conductor computer industry where they are used as a medium of intense energy to grow silica quartz chips for use in modern technology. Crystal Tones in the USA which is the company I work with exclusively create and manufacture Alchemy crystal bowls which are made of quartz crystals and gems, quartz crystals and sacred earth or quartz crystals and sacred minerals or a combination. Sound as a medium for transformation has been known since ancient times. I created, developed and refined Crystal Sound Therapy as a healing modality. To work in a deeply transformational way as a professional Crystal Sound Therapist requires training that leads the therapist through a similar transformational journey as the clients they will eventually be seeing. Part of my own soul work has been to teach and assist those drawn to work with crystal bowls this sacred way. It has been a path of love and fulfilment for me.
What are its primary benefits?
The holistic approach of Crystal Sound Therapy ensures that transformation takes place on every level – the body, emotions, the mind and the spirit. A crystal sound session has been likened to an internal massage and is experienced at the atomic and molecular levels affecting our breath, circulation, metabolism and the nervous system. Mind activity slows down to alpha and theta rhythms and can produce a state of deep relaxation of both the physiological and psychological levels. Crystal Sound Therapy and the sound vibrations of the crystal singing bowls is a new form of medicine in the late 20th and early 21st century.
Where can I attend a course?
Each year I teach internationally and in Sydney I teach several times a year. The Crystal Sound Therapy course I teach in Australia is an 8 day workshop and then 6 months later a 7 day workshop. There is a detailed comprehensive Study Program and Learning Outcomes to be completed after each workshop and before graduation. There is regular contact with me throughout the year through Skype, email and telephone.
Internationally the face to face component of the 12 month course is the 14 day Retreat. Presenting the program in an international exotic, sacred location feels like a gift from the universe as we experience the sacred sound vibrations in a unique environment. I love the continued connection I have with my students as they complete the study program to bring them to graduation.
What does certification allow one to do?
A graduate of the Crystal Sound Therapy training and study program is a fully qualified Crystal Sound therapist using crystal singing bowls as a healing modality. The professional level of the training is guaranteed and it is an accredited course in Australia and if training with me internationally the student knows the training is at this professional level.
Video Transcript
Susie Nelson-Smith: Hi, welcome. My name's Susie Nelson-Smith, and I'm the Director of The Karyna Center for Transformation. I've been working as a therapist for over 30 years and been teaching since 1995.
What works for me is to teach what I feel passionate about and what has made a difference in my life. And this is the world of crystal, the mineral kingdom. And I teach two distinct courses. One is Crystal Vibrational Therapy, which is crystal healing using crystals and gemstones. And the other is Crystal Sound Therapy, using quartz crystal singing bowls.
Crystal Sound Therapy is taught as a 12-month professional accredited course. It's accredited with the Energetic Healing Association, and I'm very excited that students can now move from certificate for qualification to diploma level. As a student, participating in the Crystal Sound Therapy course, you'll be experiencing the amazing vibrational frequencies of this pure vibrational sound of crystal bowls. And the journey that you'll take throughout that 12 months is life changing.
The other 12-month professional accredited program that I teach is in Crystal Vibrational Therapy. And this is the ancient art of laying crystals and gems on the body and applying specific therapeutic techniques to bring about deep transformation. This is soul-level healing.
Performing with the crystal singing bowls is a great love of mine. The concerts are very meditative in nature, and I love collaborating with others and performing in venues such as art galleries and yoga centers, beautiful ambient gardens. I perform overseas as well as all over Australia.
I'm very happy that I've been able to open a crystal bowl temple at the Karyna Center, and you're able to come and visit me there, or give me a call and I can tell you all about the many crystal bowls I have available for purchase. One of the joys in my life is being able to assist people in buying the sets or the single bowl that's just right for them. That'd be my joy to help you with that.
If you'd like more information about any of the courses that I teach or to come and have a private consultation or book me for your wedding or your retreat or conference or any other collaboration you'd like to discuss with me, I'd love to hear from you. Thanks so much.
Do you have a natural health & wellness business?
Sign up now and advertise on Australia's #1 natural health website.
Or visit our Wellness Hub to help you stay current about the industry.
Originally published on Jul 10, 2014