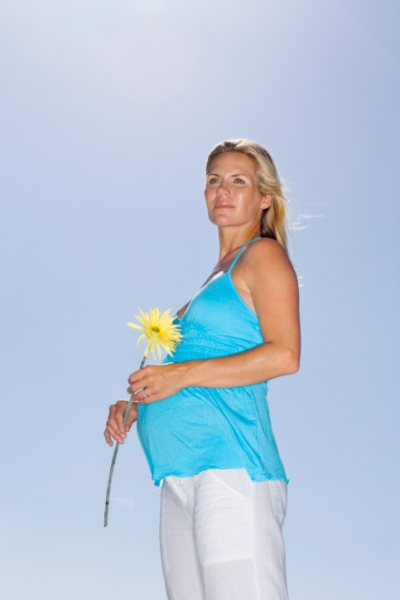 Nutrition
It is important to eat a balanced and healthy diet, rich in proteins, fruits and vegetables during pregnancy to ensure a healthy mother and child. And whilst certain nutrient requirements do increase (such as with folate), there is no need to eat a lot of extra food during a pregnancy. In the second and third trimesters, it is recommended by health professionals to eat no more than 600 extra kilojoules per day.
Healthy foods that should be bought organic when possible, and incorporated into a pregnancy diet include:
Wholegrain cereals and breads.
Fresh fruit and vegetables.
Lean meat, poultry and fish.
Low-fat diary products.
Dried beans and lentils.
Nuts and seeds.
Folate is a nutrient that plays an important role in pregnancies by preventing early birth defects such as spina bifida. Excellent sources of folate include:
Asparagus
Bran flakes
Broccoli
Brussels sprouts
Cabbage
Cauliflower
Chick peas
Dried beans
Leeks
Lentils
Oranges
Orange juice
Parsley Peas
Spinach
Wheat germ
Wholegrain bread.
Food Hygene
Certain foods carry health risks to mother and baby and should be avoided throughout the course of the pregnancy. Some of these include:
Mould-ripened soft cheese such as Brie, Camembert and Blue cheese. These cheeses may cause Listeria, which can trigger severe illness in newborns and miscarriage.
Undercooked, raw meat (such as sashimi), and unwashed vegetables with garden soil remnants. These both carry an toxoplasmosis risk, which can cause severe illness in unborn babies.
Undercooked poultry and softly cooked or raw eggs carry the risk of salmonella and should also be avoided throughout the course of a pregnancy.
Supplementation
There are many supplements that may be beneficial to pregnancies, but only two are considered vital. These include:
Folic acid (folate), which assists in the prevention of neural birth defects and spina bifida in unborn babies. It is advised to take a 400mcg daily supplement during the first trimester of pregnancy.
Fish oils, rich in Omega-3 fatty acids have been demonstrated by science to have a positive effect on the baby's weight, neural development and the risk of pre-eclampsia. When choosing your fish oil, opt for an organic brand that is retinol-free, and does not contain pollutants (such as mercury) that may be harmful to your baby.
Exercise
Regular exercise throughout your pregnancy offers many short and long-term advantages, such as:
Building the strength required to manage baby weight gained during the pregnancy.
Building the strength required to handle the physical stress of labor.
Making it easier to get back into shape and fast after the baby is born.
Boosting serotonin and dopamine levels in the brain, which boost the mood and help ward off any pregnancy blues or post-natal depression.
Whilst it is ok to play non-contact forms of sport, more gentle forms of exercise are recommended for the term of your pregnancy. Some of these include yoga, swimming, walking and aqua-aerobics.
Avoid harmful Substances
Certain substances can prove extremely harmful to the unborn baby when used or consumed by the mother during pregnancy. Substances, which should be avoided when at all possible throughout the pregnancy, include:
Tobacco
Explicit drugs
Heavy pollution
Most over the counter &/or prescribed drugs (unless otherwise advised by your Doctor)
Whilst both caffeine and alcohol are carry their own individual risks to pregnancy, such as possible birth defects, each may be consumed in very limited amounts throughout a pregnancy. If possible though, avoid the risks altogether and save that coffee or glass of wine for after the baby is born.
Rest
The body naturally goes to slow down in the first and third trimesters and a pregnant woman generally feels fatigue as a result of it. To benefit the health of you and your unborn baby, nap when possible for thirty minutes or more.
Originally published on Sep 29, 2010