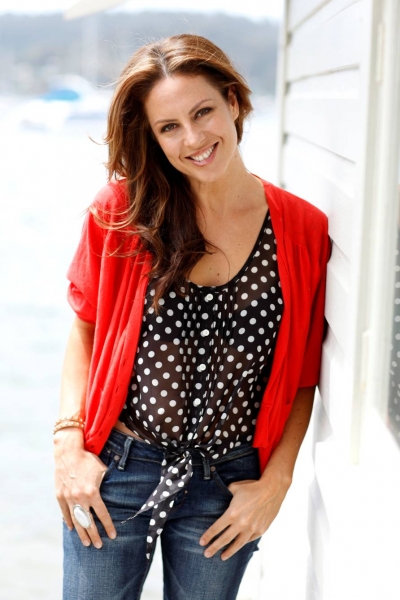 Is there anything Sarah Wilson can't do? Media personality - check, author/journalist – check, successful blogger – check, charity ambassador – check, trend forecaster – check. There is more, but you get the picture – Sarah is extremely industrious and passionate about a range of issues. Her popular blog and musings for a Sunday newspaper column reflect this and there is a definite focus on 'living better' which encompasses everything from food, nutrition and health (did I mention she is also a qualified health coach?) to spirituality - and meeting the Dalai Lama. ntpages touched base with Sarah while she rustled up some chilli con carne and tidied up her Byron Bay home.
How is life in Byron?
"Byron is amazing and so good for me – the air is clean and it's a great place to come back to after travelling."
You are a very busy bee - how do you manage your demanding schedule?
"I travel at least once a week, often overnight, so managing my time and having a work/life balance is crucial. The pendulum always has to swing back to the middle, so I have a regular routine which includes meditation, exercise and eating well. It all begins with my morning meditation."
Are natural therapies part of your life?
"Very much, besides meditating every day I also have acupuncture for my general health, love yoga and have consulted a naturopath on a range of issues. I have also seen a chiropractor and osteopath for my neck problem and try to incorporate elements of an Ayurvedic diet into what I eat."
What's your typical breakfast?
"I like to mix it up, but I do like to include proteins in my breakfast – so an omelette with cheese and maybe a goat's milk smoothie."
You grew up on a farm with goats for milk and meat – that must have been interesting!
"I was very lucky to grow up in the country. It is probably the reason why I got turned on to food – there was nothing else to do! My mother was also instrumental in my food education and all my siblings are great cooks. She was very adventurous with food and was always introducing us to exotic cuisines from around the world - including Ethiopian!"
You maintain that food should be fun – is this part of your food philosophy?
"Definitely – for me food is about relationships, connecting and love. It also nourishes the brain, which is pretty crucial to how we feel. I prefer to crowd out bad food and eat more of the good stuff. I try to cook three meals a day using fresh, seasonal ingredients. If I am travelling, I prepare something in advance to take with me."
You are not a fan of diets per se?
"No, I find diets to be restrictive and only end up making you miserable."
How is your no-sugar life going?
"Great – it's been eight months now and I feel a lot more stable. I used to be a sugar addict and decided to go cold turkey. I do allow myself some dark chocolate and honey and am always on the hunt for fructose-free sugar substitutes."
Why is sugar the bad guy?
"Sugar did not use to be so prevalent in our diets, but we are literally drowning in it and this is a recent phenomenon. There is a lot of focus on how bad refined sugars are, with the implication that natural sugars are ok. This is very misleading. You need to read David Gillespie's book Sweet Poison, Why Sugar is Making Us Fat, which is a great introduction to the subject. I am also putting out an eBook on my no-sugar experience in the next few weeks."
What tips do you have for becoming healthier?
"Daily meditation, exercise and eating the good stuff – fresh veggies and whole grains - is certainly a great place to start."
You have interviewed some fascinating people – who have you found to be the most inspiring?
"I am very lucky through my work to have met so many fascinating people. His Holiness the Dalai Lama is definitely up there, as is Louise Hay. I have also met some real frauds, so not everyone inspires."
Why is His Holiness so special?
"I am lucky to have met him three times to date and he is so genuine and compassionate. He has the unnerving ability to say something very simple – it only dawns on you how profound it is much later."
You're involved in a lot of charity work. Why do you think it's important for us to 'give back'?
"It all goes back to compassion and helping others. I have a particular passion for the homeless and working with young people; I just wish I had more time to contribute to this. I will after my book is finished."
Tell us more about your book.
"It is a personal memoir touching on a whole range of topics – my journey to wellness, spirituality, nutrition. I am working on it at the moment and trying to get it done for release in 2012."
You are also back on our screens again?
"Yes, Eat Yourself Sexy is all about transforming your body and reigniting relationships - which we do with the help of a nutritionist and trainer."