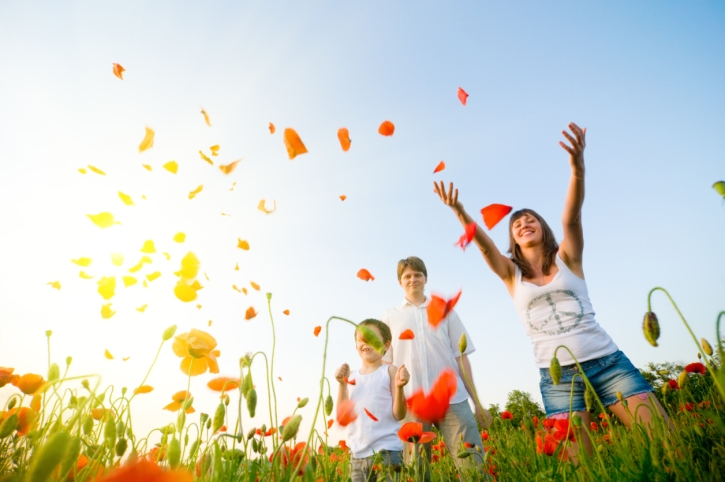 One of the reasons mindfulness meditation helps people live happier and healthier lives is that it teaches us to live more fully in the present.
In mindfulness meditation we train our minds to focus on what is going on right now. We become more aware of the feel of the breeze on our skin, or the sound of the waves on the beach, a child's smile, or the love we have for our partner.
If we live more fully in the present we become more aware of the things that matter – the things that make our life meaningful.
Being Present with Thoughts and Emotions
To be fully present means embracing whatever is there – including our thoughts and emotions. This can be challenging, especially when there is pain or suffering – stuff we'd rather avoid.
Paradoxically though, the more we avoid pain, the more we suffer. The more accepting we are - the more we allow ourselves to experience whatever is there, the more we learn to move through it without getting stuck or fixated.
For example if we avoid the emotional pain associated with a relationship break-up, we bring that pain into future relationships.
We can become insecure because we worry that our partner will abandon us, or we fail to connect on a deep level because we expect the relationship to end. This can become a self-fulfilling prophecy.
By clinging to the past, we remain trapped in it. When we view things from the perspective of what happened, we can't be fully there for what is happening.
What to do?
Embracing the present moment – the good, the bad, and the ugly - is the opposite of avoidance.
We learn to do this slowly and patiently and with the utmost compassion for ourselves, especially if the suffering comes from childhood.
Children don't have the skills to reflect on their experiences in the same way adults do. A child just soaks it all up like a sponge. They can't understand that the pain inflicted on them was not their fault. They internalise it, and it becomes part of their self-concept.
Painful experiences are like grooves on an old-fashion record. The more the track is played, the deeper the groove becomes until we can no separate the pain from who we are.
In meditation we learn to become more aware of these ingrained emotional patterns by observing them. The more we observe them, the more we come to realise how these patterns play out in our lives.
Pausing for a Moment
Viktor Frankl (1905 – 1997), the Austrian psychiatrist and holocaust survivor, said that: "between stimulus and response there is a space. In that space is our power to choose our response. In our response lies our growth and freedom."
This space is the present moment, and the more we become aware of whatever is there, and allow it to be there, the bigger the space becomes.
In mindfulness meditation, we learn to become aware of the habitual ways of thinking and acting, that usually derive from past experiences, and we allow ourselves more freedom to create the sort of life we want to live.
Cultivating Self-compassion
Self-compassion is the key to allowing difficult or uncomfortable emotions to be there without reacting. Think of it as comforting a friend when they are sad. A good friend won't tell you to stop whining and get on with it. They will sit with you while you talk about how you are feeling. By being present and providing a listening ear, we help our friend move through the pain. This can take time, so we need to be patient.
If we are able to bring this presence and capacity to listen to our own pain, we can change the way we experience it. We are able to move through it with greater awareness and we learn that it need not define us.
A word of caution here: if you have painful issues from the past that you feel unable to deal with it is best to seek advice from counsellor or psychotherapist before beginning a meditation practice, especially if you are doing it alone.
Alternatively joining a group or class can be helpful because it provides a safe and supportive space for talking about what arises in meditation. Learning that other people have similar challenges can help us feel less alone and more able to cope with whatever arises.
Do you love Meditation? Would you like to turn this love for Meditation into a rewarding career?
Then maybe you want to check out the these Meditation courses available all over Australia. Or maybe other Natural Therapy Courses that may be of interest to you. Why not let us help you find the right course for you today!