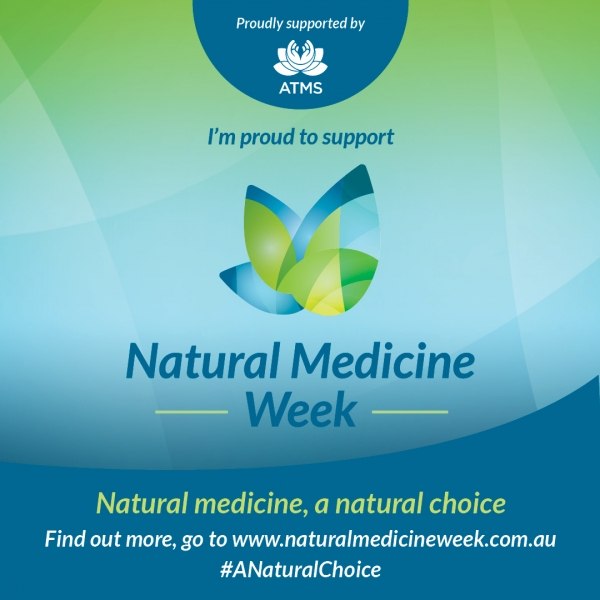 Natural Medicine Week 2018
Australia's only Natural Medicine Week kicks off in May 2018 promoting a natural approach to improve your health and wellbeing
What is it all about?
Join the Australian Traditional-Medicine Society (ATMS) and their accredited practitioners as they host nation-wide events and offers to promote, educate and raise awareness of the important role natural medicine plays in the health and wellbeing of Australians.
The only one of its kind in Australia, Natural Medicine Week, will feature workshops, clinic open days and special offers focusing on the three primary models of natural medicine; Ingestive Therapies, Bodywork and Massage and Traditional Chinese Medicine.
Get involved in your local community, gain access to invaluable information and resources on natural medicine, and learn more about a natural approach to improving your health and wellbeing.
When is Natural Medicine Week?
Save the date for the third, Natural Medicine Week, from 21 - 27 May 2018!
What are the events you can attend?
There are a wide range of events happen across the country, for a full list please see
this link.
For a full list of all the current offers available please see
this link.
You can be involved too!
Practitioners, who are accredited with ATMS, are invited to host an event or promote a special offer through the natural medicine week website. Register your event or special offer online – run a free clinic open day, a consumer workshop, talk, morning tea or create a special offer in your clinic for the week.
There are so many ways you can get involved and learn more about natural medicine; attend an event, tell us your story with our online survey, or find out answers to the most Frequently Asked Questions about natural medicine.
Learn more about Natural Medicine Week visit:
www.naturalmedicineweek.com.au
About the Australian Traditional-Medicine Society
The Australian Traditional-Medicine Society (ATMS) is the leader of the natural medicine industry, promoting and representing professional practitioners of natural medicine, who are encouraged to pursue the highest ideals of professionalism in their natural medicine practice and education. As Australia's largest national professional association for natural medicine practitioners, ATMS is a multi- disciplinary association representing approximately 11,000 accredited practitioners throughout Australia.
ATMS was founded in 1984 and is an incorporated not-for-profit company. In 2014 ATMS celebrated their 30th anniversary representing natural medicine practitioners in Australia. ATMS is governed by a Board of Directors with specialised departments for Massage Therapy, Traditional Chinese Medicine, Homeopathy, Nutrition, Naturopathy and Herbal Medicine.