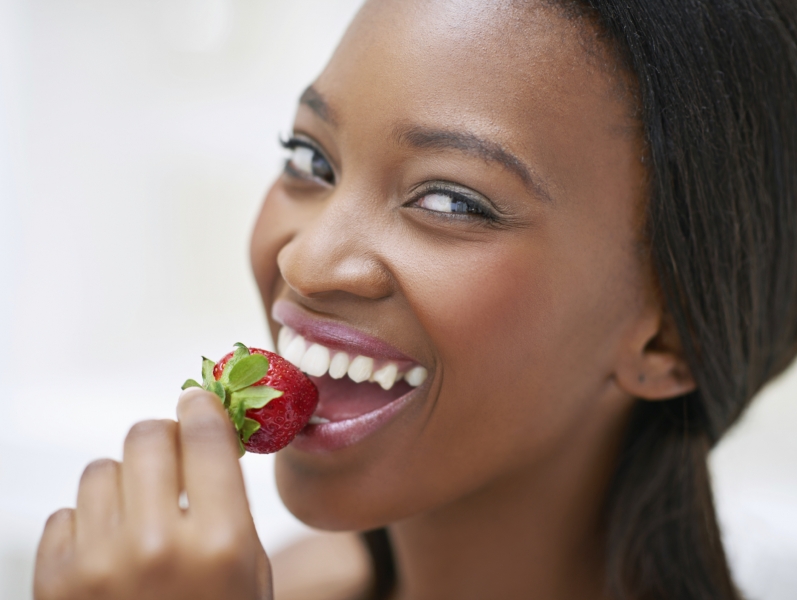 Nutrients for Healthy Skin

A healthy and wholesome diet can lead to healthier-looking skin. Nourishing your skin starts from within. Eat the right balance of whole foods and you will feed your skin the important nutrients it needs to stay healthy and glowing.
Fruits and vegetables

The fruit and vegetables you eat contain powerful and potent antioxidants that help to protect your skin from cellular damage caused by free radicals. Excessive sunlight, pollution and smoking are the cause of free radical damage which in turn cause wrinkling and age spots. It is important to eat a rainbow of colourful fruits and vegetables per day. This means two -three serves of fruit and at least 4-5 servings of vegetables per day.
Vitamin C
Vitamin C is not only an important vitamin playing a very vital role in cellular function, it is also a powerful antioxidant. When it comes to the skin, vitamin C helps produce collagen that strengthens the capillaries that supply the skin.
Great food sources of vitamin C are:
Citrus fruits;
Kiwi;
Strawberries;
Broccoli;
Sweet potato;
Papaya.
Selenium
Selenium is a very powerful antioxidant and skin supporter. Brazil nuts are a great source of selenium. Just 3 brazil nuts per day will give you your daily dose of selenium. Other good sources are fish, eggs, wheatgerm, broccoli and tomato.
Vitamin A

Vitamin A is a very important skin vitamin. It helps promote the production of collagen. Vitamin A has a role in decreasing the occurrence of acne. It is also responsible for the regeneration and the growth of skin cells. It is therefore necessary for the maintenance and repair of the skin tissue.
Those Dreaded Diets

Repeatedly losing and regaining weight can be quite taxing on your skin. This type of yo-yo dieting can cause sagging, wrinkles and stretch marks. Often, crash diets are lacking in essential vitamins and minerals to support your skin which will have long term effects on the beauty of your skin.