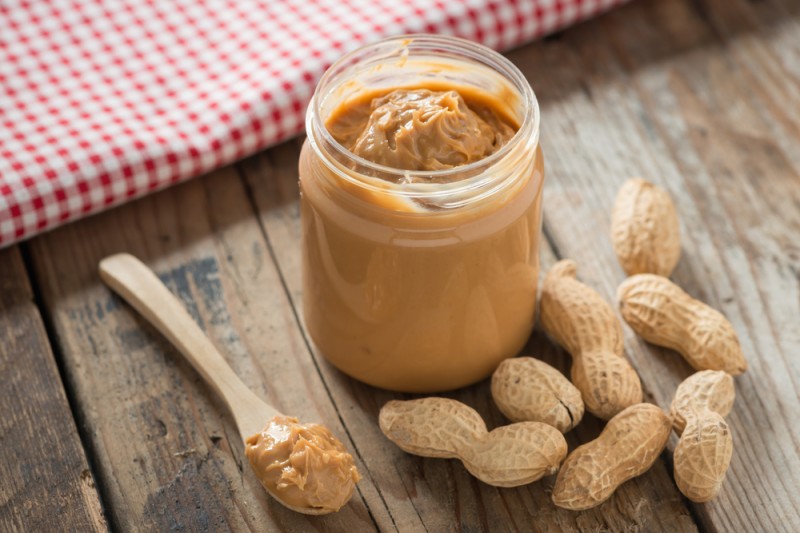 If you love licking peanut butter off the spoon, then these easy peanut butter recipes are for you.
Quinoa Peanut Butter Protein Balls
Ingredients
1/2 cup rolled oats
40g dark chocolate, roughly chopped
1 1/2 cups puffed quinoa
1 cup shredded coconut
1 tablespoon sesame seeds
1/3 cup crunchy peanut butter
1/3 cup honey
Method
Preheat oven to 180C (160C fan forced). Place puffed quinoa in a single layer on a large baking tray and roast for 4 minutes, or until light golden and toasted.
Place the oats and chocolate in a food processor and process until finely chopped. Transfer to a large mixing bowl and add the puffed quinoa, coconut and sesame seeds.
Place peanut butter and honey in a small saucepan over a low heat. Heat gently and sir continuously to prevent burning. Keep stirring until smooth and mixture just comes to the boil. Very quickly add the honey mixture to the dry ingredients and mix until well combined.
To prevent sticking, use slightly wet hands and roll tablespoonfuls of the mixture into balls. Cover and refrigerate until firm. These balls can also be frozen.
Easy Peanut Butter Truffles (Makes 20)
Ingredients
2 cups crunchy peanut butter, preferably organic
2 very ripe bananas
2 Tbsp whole flaxseeds
2 Tbsp unsweetened cocoa powder
Method
Mash peanut butter, bananas, and flaxseed with fork in large bowl. Put cocoa in shallow bowl. Mould peanut mixture into walnut-size balls, roll in cocoa, and place in container lined with parchment to separate the layers.
Refrigerate or freeze at least 2 hours.
Peanut Butter Banana Oatmeal (Serves 4)
Ingredients
2 cups rolled oats
2 bananas, sliced
1/4 cup chopped almonds
2 Tbsp peanut butter, crunchy or smooth
2 Tbsp pure maple syrup
Method
Bring 4½ cups water to a boil in medium saucepan. Reduce heat to low and add oats and a pinch of salt. Cook, stirring occasionally, until oats are tender and have absorbed most of the liquid, about 5 minutes.
Add bananas, almonds, peanut butter, and honey and stir to incorporate. If oatmeal is too thick, add a splash of milk.
If you want more healthy and nutritious recipes, go here.