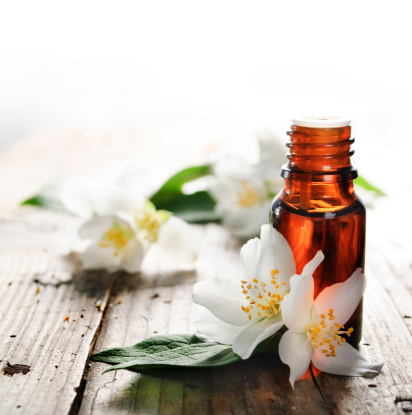 When we think of inflammation, we often think of it as a disease. While it is true that any disease that ends with the suffix "-itis" is by definition a disease that includes inflammation ("itis" comes from a Greek word that means "a burning sensation"), inflammation is actually part of the immune system's attempt to heal. When you see redness and swelling appearing after an injury, that indicates that the immune system is sending blood to the affected area. The problem with inflammation is that it can get out of hand. That's when we can lend a hand to nature by reducing inflammation with essential oils.
There are two types of inflammation:
Acute inflammation is the body's first response to an injury or introduction of a pathogen. If you get a cut or receive a blow, the skin around the injury quickly becomes reddened. The heat you feel when you have a sunburn is a result of acute inflammation. When you have difficulty breathing through your nose in a smoky environment, that's because of inflammation
Chronic inflammation is inflammation that won't go away. This is when it becomes a problem and in a sense, this kind of inflammation can be a disease itself. Many autoimmune diseases (like rheumatoid arthritis), for example, are inflammatory diseases.
How Essential Oils Work to Reduce Inflammation
The COX-2 enzyme has been identified as responsible for inflammation. Some essential oils contain a chemical called carvanol, which has be shown to be a very effective COX-2 inhibitor. A 2010 Science Daily article, Thyme Oil Can Inhibit COX2 and Suppress Inflammation, cites a Japanese study that tested a number of widely available essential oils and found thyme oil to be the most effective, reducing levels of COX-2 by nearly 75%. Other studies have shown the oregano essential oil is similarly effective. An Italian study revealed that not only does oregano essential oil contain carvanol, but also has highly effective antibacterial ingredients. Other essential oils that contain carnavol and effectively reduce COX-2 enzyme levels include:
Fennel
Cinnamon bark
Clove
Eucalyptus
Rose
Bergamot
These and other essential oils often also contain antioxidants, vitamins and other ingredients that work together to help eliminate toxins from the body. Natural therapists and an increasing number of conventional scientists and medical practitioners believe that toxins we accumulate as a result of our modern lifestyle are responsible for a number of inflammatory and other diseases that are on the rise in developed countries.
How Essential Oils are Used to Reduce Inflammation
Because the medicinal properties in essential oils can be easily absorbed by the skin, they can be highly effective when applied topically to an affected area. This is why many remedial massage therapists often use specific essential oils for treating inflammation.
If you have ever used a eucalyptus inhaler to relieve a stuffy nose, you have experienced another way essential oils can be used to reduce inflammation. The medicinal properties in essential oils are contained in their aromatic ingredients. This is why aromatherapy can be so effective. A qualified aromatherapist knows which essential oils to use to treat inflammatory conditions.
A third way to use essential oils to reduce inflammation is to take them as dietary supplements. It is important that you take high quality supplements, though, because the the oils have to be processed and distilled properly or their medicinal properties can be destroyed. A good health foods store in your area will probably have high quality essential oil supplements you can trust. If there is not one in your area, check out some of the essential oils products offered by our sponsors on NT Pages and you are sure to find what you need.
Do you love Aromatherapy? Would you like to turn this love for Aromatherapy into a rewarding career?
Then maybe you want to check out the these Aromatherapy courses available all over Australia. Or maybe other Natural Therapy Courses that may be of interest to you. Why not let us help you find the right course for you today!
Originally published on Jan 29, 2014