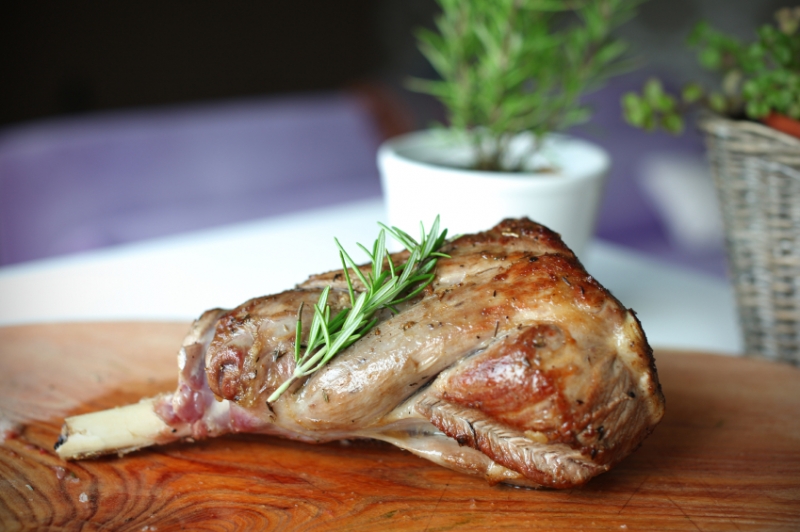 My sister-in-law Heidi made this dish for us when she came to visit from London and kindly shared the recipe. This is an absolute feast for relatively minimal effort! The flavor and texture of this dish are simply to die for. I love making this when entertaining for dinner as it never ever disappoints.
It is ideal to marinade the lamb overnight, but this is not essential and you will still yield delicious results without this step.
Make sure you are not too far from the oven on the day, as you'll need to baste the lamb hourly. Serve with flat bread or rustic potato wedges, peas and a crunchy salad.
Ingredients
1 2.5-3kg lamb shoulder (on the bone)
3 oranges, juiced (keep the peel of 2)
2 tablespoons honey
2 tablespoons tamari
2-3 rosemary stems, leaves roughly picked
3 garlic cloves, smashed
Fine seal salt & black pepper to taste
2 tablespoons olive oil
3 onions, quartered
Peel of 2 oranges
Method
Place the lamb shoulder in a baking dish fat side up. With a sharp knife, score the lamb at roughly every three centimetres, cutting halfway through the fat.
To make the marinade, whisk the orange juice, honey and tamari in a bowl and pour over the lamb. Add the rosemary and garlic, ensuring that you get some into the slashes you have made. Throw in the orange peel.
If marinating, simply cover with cling wrap and refrigerate overnight. I do prefer to marinade in a baking dish just big enough to hold the lamb shoulder, so that it is well covered. When it's time to cook, I transfer it to a larger dish.
Preheat oven to 250°C.
Drizzle the olive oil over the lamb and let it stand at room temperature for 30-45 minutes.
Cover the baking dish with two layers of tin foil, ensuring a good seal. Place lamb on the top rack of the oven and immediately turn temperature down to 150°C.
Roast for five hours, basting hourly.
Remove foil and roast for another 30 minutes, basting if you notice that it is drying up.
Note
Some people prefer a less fatty dish. If so, pour the cooking liquid into a jug and re-cover the lamb with foil. Leave the liquid to stand for about 10-15 minutes or until the fat has solidified at the top. Scoop off the fat and add the remaining liquid to the lamb.