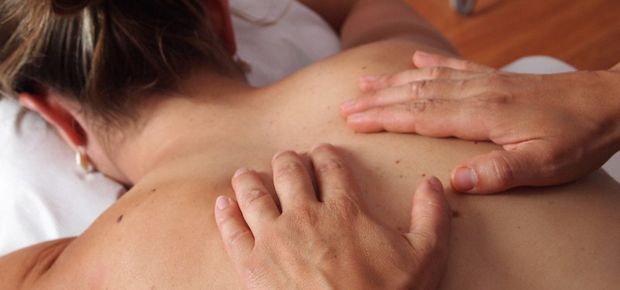 Massage therapists are used to easing out the aches, pains, tensions and stiffness from their clients' bodies. But with all that kneading, pressure and stroking, it's often the massage therapists themselves who need treatment.
The hands are a massage therapist's primary tool, and it's not uncommon for therapists to get achy hands and arms after a hard day's work from all the repetitive movements and forceful use of the hands. Add to that standing for most of the day, putting yourself into slightly awkward positions, and your own general health and previous injuries can all add up to the risk of musculoskeletal disorders.
Try Different Techniques to Prevent Sore Hands
But pain and injury are certainly not inevitabilities in the profession. There are number of things you can do to prevent injury and keep you in top condition.

Rather than solely using your arms, shoulder, hands, fingers and thumbs, try leaning into the client and using our own body weight. Keep the joints stacked, which will help reduce wear-and-tear on the joints in the hands and arms. Make sure you regularly stretch out the wrists which can help reduce the risk of carpel tunnel syndrome.

While the hands may be your primary tool, don't forget about your elbows and forearms. Many therapists are cautious about using the elbows as they are not as sensitive as fingertips, and can be quite painful for the client, but there are techniques you can learn to safely and effectively use both the elbows and forearms along with your body weight. It's wise to learn these techniques as they can be very effective and could also save your body from wear and tear.
Get a Massage!
Getting a massage yourself is an important part of injury prevention. If you are a massage therapist you will know the benefits but often it's difficult to allow ourselves the "luxury" of actually receiving a massage. A regular massage (not every once in while) is vital to maintaining your health as a massage therapist and you can't afford to leave them out of your weekly schedule.

The work is physically, emotionally and mentally demanding, and so a good form of relaxation is essential. You could try yoga or qi gong which not only stretch out the body and calm the mind but also help you learn how to tune into your own body, so that you can conserve energy and learn when you are overdoing it – before actually overdoing it.

Don't forget to take breaks, and give your legs a break too as you are on them all day. Stretch out the lower back by using some of the techniques you learnt in the yoga class, or simply sit in a chair and bend forward between your knees. Above all, don't assume you will get accustomed to the discomfort - learn different techniques to use while working and after work is finished, make sure you get some much-needed "me-time"!
Originally published on Aug 22, 2011