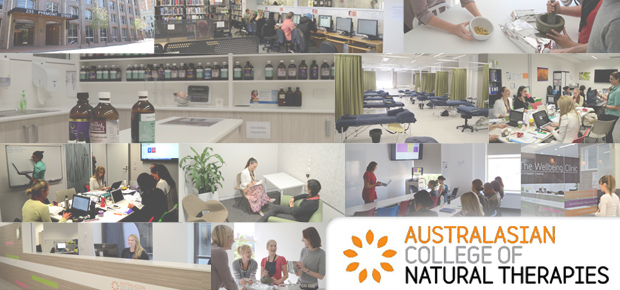 Choosing the right institution to study at is a major decision no matter what career path you follow. Besides selecting a course that is going to give you the right skills for your future career, you need to determine if the college has the right facilities, quality academic staff and curriculum. ntpages caught up with Bronwyn Walker - Head of Academic Studies for Natural Therapies, at the Australasian College of Natural Therapies (Sydney), for an insight into what they offer.
Why would I choose ACNT over other colleges?
"There are a number of aspects which I believe make us a stand out option for study, one being our staff. We have highly regarded academic staff who are expert practitioners in their field with a real passion for education and applied learning. As well as our integrative approach to study, incorporating real life clinical training as well as state- of -the art teaching facilities.. It is a great place to come and learn new skills and knowledge!"
You moved into a new campus recently, tell us about it…
"We had outgrown our previous campus in Surry Hills where we had been since 1997, it was time for a bigger space. In early 2013, three key leading health and wellness colleges, ACNT, Jansen Newman Institute (JNI) as well as the Australian National College of Beauty (ANCB) - all under the THINK education group, moved into a new holistic health and wellbeing campus in Pyrmont.
This unique collaboration has been designed to allow students to understand multiple approaches whilst gaining on-the-job experience in their own chosen specialty area- creating the ultimate learning environment in its field. The campus boasts the latest in technology to support students and provides creative, social and collaborative learning. We love the new campus and the facilities it has to offer."
What facilities do you have?
"Besides the academic facilities that boast the latest in technology there are clinical massage rooms, clinical naturopathic/nutritional medication consultation rooms, a functioning dispensary, custom designed counselling consultation rooms, student break-out areas, a cafe and a library. There is also campus wide Wi-Fi. This is all designed to encourage and nurture the highest standards of both practical and theory based learning for our students."
What is the primary difference between your campus & online study options?
"The primary differences between on campus and online is that on-campus students have face to face lectures and tutorials and the many students study full time. The online courses interact and collaborate though online forums and also have the opportunity to come in for residential clinic hours, bringing students face to face with real clients.
Online study is an attractive option for those who need more flexibility in their schedule and who wish to study part time. It can take up to 4-5 years to complete an Advanced Diploma of Nutrition or Naturopathy, but students can fast track this if they can."
Briefly, what range of courses do you offer?
"A whole range of courses are offered at ACNT. Naturopathy, nutrition and massage are all offered on-campus, while naturopathy, nutrition, herbal medicine and massage, are all available via our online option."
What is your most popular course?
"Our Advanced Diploma of Nutritional Medicine and the Certificate IV in Massage are always well subscribed."
Tell us about your on-campus clinic?
"Students have the opportunity to build on the academic focus of their studies and develop their practical skills at our highly professional working clinic – The Wellbeing Clinic, in a structured and supervised environment. All consultations with real clients are fully supervised and treatment plans are assessed before the student passes the treatment outcomes onto the client. Studying for great qualifications is one thing, but without real life experience it can be extremely difficult to gain the skills needed to get a job. That"s why we provide our students with real life, hands on industry experience."
What career outcomes can one expect from a Certificate, Advanced Diplomas & Diploma perspective?
"A typical outcome for a Certificate IV Massage graduate would be to set-up your own business, work alongside other health professionals or work in a day spa. The majority of Certificate IV students continue on to complete the Diploma of Remedial Massage, which allows students to provide more advanced massage treatments focusing on relief from complex musculoskeletal conditions or prevention of sports injuries. Students of the Advanced Diploma"s in Naturopathy or Nutritional Medicine may opt for a career in the commercial world as a researcher or join the increasing numbers of multi-modality clinics as a sole practitioner. We also have plans for Degree courses in 2014, so these will give graduates even more scope to progress their careers."
What are your terms – when could I enrol?
'For distance education students, they can enrol monthly. For on-campus students it"s every trimester, so three times a year. Just get in touch with us for the next date that is convenient for you."
Are you VET FEE-HELP accredited?
"Yes, VET FEE-HELP is available on eligible courses at ACNT, meaning no up-front tuition costs."
The Australasian College of Natural Therapies has campuses in Sydney and Brisbane.
Do you have a natural health & wellness business?
Sign up now and advertise on Australia's #1 natural health website.
Or visit our Wellness Hub to help you stay current about the industry.
Originally published on Oct 29, 2013