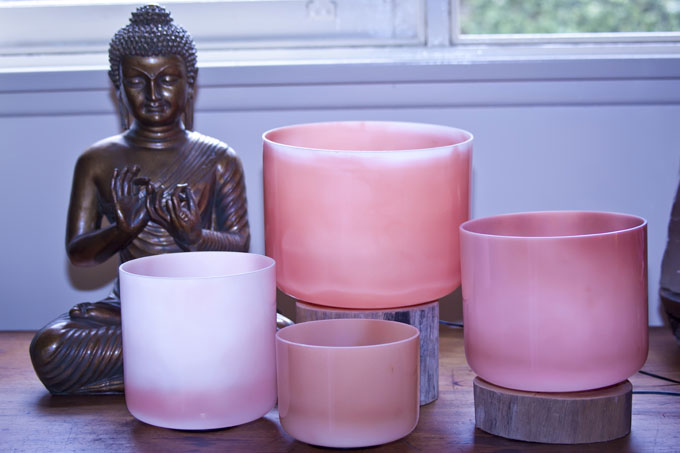 Are you interested in exploring the healing power of sound, especially when it can be used to heal others? Crystal Sound Therapy (CST) is a healing modality that uses the healing power of sound vibrations to transform and balance the physical body and the psyche. Susie Nelson-Smith, director of The Karyna Centre for Transformation, offers a Certificate IV level course in CST, with the option to study for a further six months to achieve a Diploma of Crystal Sound Therapy. ntpages caught up with Susie to find out more about the modality and the study options.
What does Crystal Sound Therapy involve?
"CST involves playing at least a chakra set of crystal bowls attuned to the notes of C, D, E, F, G, A, B for individuals or groups. A range of specific therapeutic techniques are applied. The course teaches how to create sounds from the crystal bowls that are meditative and healing. The sound resonance soothes and balances, harmonises and uplifts. A sense of deep calm is very often experienced, as well as a strong sense of being connected to life, the earth, the cosmos and to each other."
What is the concept behind Crystal Sound Therapy?
"Sound is a pure energy form and a very powerful medium. We can understand sound as colour made audible and colour as sound made visible. Both are manifestations of light. The aim of CST is to align and balance our energy fields – physical through to spiritual. It is when we are out of alignment that disease and emotional and mental problems develop. The sounds of the crystal bowls combined with clear intention facilitates the manifestation of well-being, health and conscious awareness."
What can Crystal Sound Therapy be used to achieve from a healing perspective?
"People come to me with a range of conditions, diseases and illnesses. Some come to experience deeper meditation and connection to the sacred self as well as a stronger connection to God and the Universe. From chronic illness of muscular neuropathy to cancer, HIV to hearing impairment, drug rehabilitation to depression – understanding and transforming a wide range of conditions is supported by CST. I also treat a lot of people suffering from anxiety and fatigue, much of which could be related to depression. I also get asked to play my bowls for people who are terminally ill as well as at the birth of children."
What is the attraction of studying Crystal Sound Therapy?
"Many are attracted to the sounds of the crystal bowls and to have a CST consultation. I have found that those who are called to become a CST therapist are passionate about sound and the difference it can make to people's lives. Students are ready for a personal and spiritual journey with crystal sound and want to make a positive difference to humanity and to the world. They understand that at this present time we all need to be of service to each other and they have chosen to do this through the healing sounds of crystal and Alchemy bowls."
What aptitude do I need to be an effective Crystal Sound Therapy practitioner?
"You need to be passionate about making a difference in your own life and the lives of others. CST is a wonderful, non-invasive healing therapy that does not require previous musical experience but does require dedication and commitment."
Tell us about the course you offer in Crystal Sound Therapy.
"I currently offer a 12 month Certificate IV level program in Crystal Sound Therapy. In 2012 a further six month training and study will lead to a Diploma. The training and study program is detailed and comprehensive - a mix of theory and practical experiences. In our 12 months together the student begins integrating the pure sound vibrations of crystal bowls into their energy field. Entrainment to the pure sound vibrations will continue. The journey is life-changing, mind expanding and soul connecting."
Is your course accredited?
"Yes it is, by the Energetic Healing Association."
Do you have a natural health & wellness business?
Sign up now and advertise on Australia's #1 natural health website.
Or visit our Wellness Hub to help you stay current about the industry.
Originally published on Dec 02, 2011