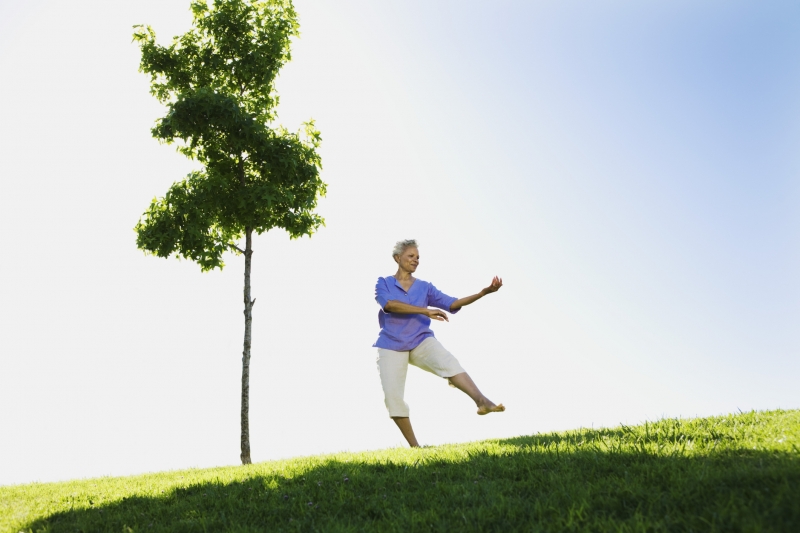 A study carried out in the US suggests that tai chi, a meditative exercise, may benefit people with chronic heart failure. The study recruited 100 people with chronic systolic heart failure for a 12-week program of tai chi, a form of exercise that links body, mind and spirit together. The researchers sought to discover whether tai chi improved heart patients' quality of life and moods. People with chronic heart failure have long been thought of as too frail to do any sort of exercise and are often advised to avoid all but the most basic physical activity. In the study, a group of 50 patients were given one-hour group tai chi classes twice weekly over 12 weeks. Another 50 patients were randomised to an education group. The education sessions were also held twice weekly for the same duration as the tai chi lessons, and were led by a nurse.
Tai Chi Enhances Mood
While neither group showed significant differences in oxygen uptake or an improvement in a six-minute walking test, at the end of the study, the tai chi group reported better quality of life, better moods and improvements in their confidence to perform exercise when compared to the control group.
The study concluded that, "tai chi exercise, a multi-component mind-body training modality that is safe and has good rates of adherence, may provide value in improving daily exercise, quality of life, self-efficacy and mood in frail, deconditioned patients with systolic heart failure". The authors also said, "A more restricted focus on traditional measured exercise capacity may underestimate the potential benefits of integrated interventions such as tai chi."
Tai Chi – Mind, Body and Spirit
Tai chi is a "soft" martial art, which was developed in ancient China. It has been steadily growing in popularity in the West due to its slow and controlled movements, making it accessible to people with a range of physical abilities.
It is based on the notion of accessing the "qi", or life force of the body, which flows through invisible channels, or meridians, that run through the body. Tai chi and Traditional Chinese Medicine believe that when qi is disrupted or blocked, ill health results.
Other scientific studies have shown tai chi to be an effective healing tool for a range of disorders, particularly chronic disorders such as arthritis and heart disease and stress-related conditions.
Find a tai chi practitioner in your local area.
Do you have a natural health & wellness business?
Sign up now and advertise on Australia's #1 natural health website.
Or check out our Wellness Hub to help you stay current about the industry.
Originally published on Jul 19, 2011