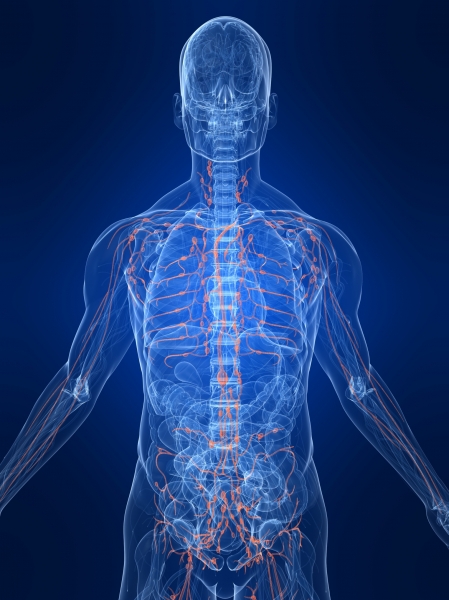 Lymphoedema is a condition where the lymphatic system ceases to function properly, manifesting itself in swollen limbs as lymphatic fluid collect in the tissues of the body. The lymphatic system's primary function is to drain excess protein and water from the body and is comparable to the blood system in that it is comprised of a network of vessels. There is no cure for lymphoedema and it can develop into a debilitating condition that may impair mobility and cause persistent pain for a sufferer. ntpages took the opportunity to touch base with Juliet George from Poppy Lane Skin Care and Lymphoedema Clinic, who offers training courses in lymphatic drainage massage, for an insight into the condition.
What are the causes and symptoms of lymphoedema?

"Lymphoedema is caused by a fault with the body's lymphatic drainage system and can affect people of any age. It manifests itself as a swelling of the limbs due to the accumulation of lymph – a naturally-occurring fluid in the body. Due to the accumulation of fluids and lack of circulation, the skin of the affected area is also susceptible to drying and infection."
Who is most at risk of being affected by lymphoedema?

"Primary lymphoedema describes the condition in individuals whose lymphatic system does not function properly. This can be present at birth or develop later in life. Secondary lymphoedema occurs if the lymphatic system is damaged by surgery or some other physical trauma."
How is lymphoedema diagnosed?

"There are a number of medical tests used to ascertain lymphatic function, including CT scans, ultrasound and a lymphoscintigraphy."
Is there a cure for lymphoedema?

"There is currently no cure for lymphoedema - one would need to regenerate or repair the dysfunctional lymphatic system."
What treatment do you offer for lymphoedema?

"We use a range of techniques and approaches known collectively as Complex Physical Therapy or C.P.T. This achieves the fastest reduction of lymphoedema, which in conjunction with dietary changes and vitamin supplements can have an extremely beneficial effect for sufferers."
What is involved in C.P.T.?

"There are five primary elements to this treatment approach, with a combination of skin care, specialised massage, compression bandages, compression garments and special exercises utilised."
Can you tell us a little more about the massage technique you use?

"Massage is always in the direction of lymph flow – toward the body - and we normally start with emptying the trunk. We then gradually work toward the limbs. This is intended to improve the drainage of the blocked area by enlarging and improving the adjacent lymphatic area."
Besides massage what else can help lymphoedema?

"Diet is one area that can be beneficial - some foods can aid in lymphatic function and also help to prevent swelling. Lymphoedema also causes skin to dry and crack, which can result in infection and swollen tissues – so there are topical antibacterial creams which can help."
What is the principal objective of lymphatic massage?

"The objective is to re-route or drain fluids away from the affected area and move it to other areas of the body where the lymphatic system is functioning."
What outcomes can a patient expect after lymphatic drainage?

"One could expect greatly increased mobility and reduced swelling."