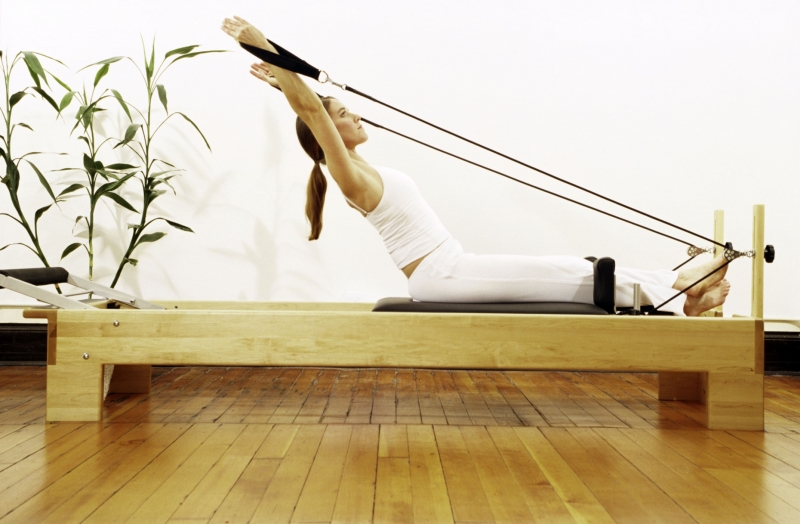 Pilates is one of the most popular exercise methods in the world today. It helps improve your strength, flexibility, posture, concentration and coordination.
Pilates Builds Core Strength
In Pilates the focus is the body's core strength – the deep, internal muscles of the back, abdomen and legs. Correct use of these muscles is essential to maintaining support for the spine and for ease of movement.
Learning how to use and strengthen the core muscles helps our bodies become stronger, leaner and more efficient.
Pilates Founder Linked Body and Mind
Pilates is based on a series of exercises developed by Joseph Pilates in the 1920s. Exercises are either performed on the floor or on special Pilates equipment which uses pulleys and resistance from the participants' own body weight to build strength and awareness.
Classical Pilates or Modern Pilates?
Modern-day Pilates is divided into two camps: Those who perform the same sequence of exercises that Joseph Pilates taught and who only use specialised Pilates equipment such as the Reformer and Wunda Chair and those who adapt the original exercises and may use other equipment such as exercise balls, hand weights and resistance bands.
Pilates Builds Strength and Awareness
Quality not quantity is the catchcry of Pilates. You can expect to perform fewer exercises during a Pilates class but the emphasis will be on performing the exercises with precision and concentration. Pilates believes that the mind can be used to control the muscles.
Six Pilates Principles
Pilates is founded in six Pilates principles:
Centring - Focus is on the centre of the body – the abdomen, back, hips, buttocks and inner thighs
Concentration - Full attention to the exercises is essential to reap the maximum benefits
Flow - Exercise is done in a flowing manner to connect all parts of the body and mind and build stamina
Control - Do each exercise with full muscular control
Breath - Each exercise is coordinated with the breath. Full inhalation and complete exhalation are emphasised
Precision - Alignment of each body part is essential
Pilates is a system of exercise that focuses on training the body to develop core strength and stability to allow the body to move in the most efficient way.
Find a Pilates instructor in your local area.
Do you have a passion for Pilates? Would you love to turn your passion for Pilates into a rewarding career?
Check out the information we have available on what the Pilates course involves and thousands of other Natural Therapy Courses we have available online and throughout Australia. Why not let us help you find the right course for you today on 1300 924 960