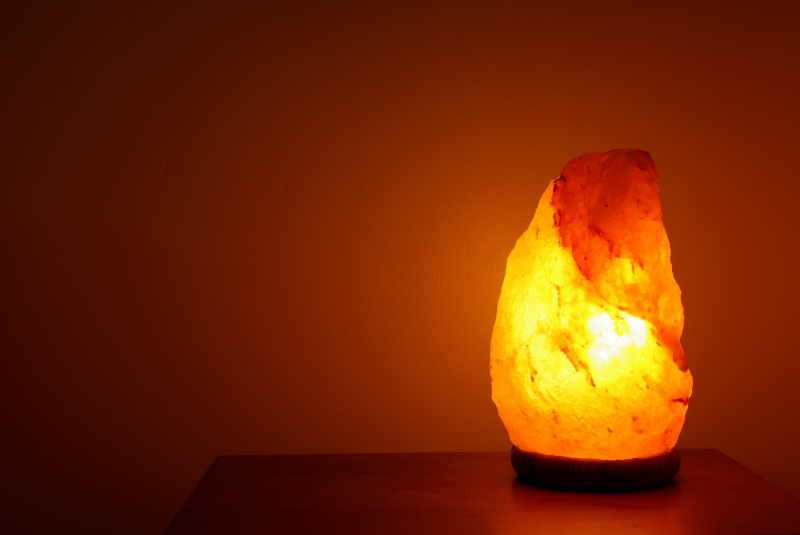 No one needs to tell us that a day spent in nature is refreshing and rejuvenating: we just feel it. We also feel the opposite when we spend too much time sitting in front of our computer or television or in a polluted urban environment. Why is this so? Those who know about salt lamps believe they have the answer. What is a salt lamp and what does it have to do with your health?
What is a Salt Lamp?
The outer shell or "lamp shade" of a salt lamp is made from solid salt crystals hollowed out on the inside to accommodate a low wattage lightbulb. That's the simple part. The science behind salt lamps is a little more complicated:


The air we breathe is electrically charged with positive and negative molecules called ions. To maintain optimal health and alertness, the positive and negative ions need to be kept in balance. The creation of negative ions occurs naturally through a variety of means, including the photoelectric effects of solar rays and radiant rays emitted from deep within the earth.
Computers, television sets, home appliances, radar systems, TV and radio transmitters and a host of other modern devices are believed to create an over-abundance of positive ions.

The amounts of positive and negative ions in the air can be measured. The air around waterfalls, for instance, has been found to contain as many as 4000 negative ions per cubic centimeter, while the air in big cities during rush hour and in enclosed spaces such as offices contains as few as 100 ions per cubic centimeter. Many researchers believe that for optimum health, the air we breathe should contain between 1000 and 1500 negative ions per cubic centimeter.
How Does a Salt Lamp Work?
Salt crystals bind together electrically rather than molecularly, giving them the unique ability to change from a solid to a liquid state and back again. When a salt lamp is turned on, the heat generated by the light bulb warms the crystal surrounding it. This attracts water molecules to the surface of the crystal. In turn, this natural humidity condenses on the surface of the crystal, enabling the electrically bound salt (sodium chloride) mineral to split into two independent ions, positive sodium ions and negative chloride ions. There is a greater abundance of chloride ions in salt crystals, hence a greater number of negative ions is produced.
Benefits of Salt Lamps
While few scientific studies have been done surrounding the benefits of salt lamps, anecdotal evidence suggests that they can be of benefit for a variety of health conditions, including hay fever, depression, chronic fatigue and asthma. Those who keep salt lamps near their office desks, computer terminals or scattered throughout the home report a general feeling of greater alertness and optimism. As an extra bonus, the warm glow of a salt lamp has a soothing appearance and many users believe having a salt lamp as their sole light source during meditation enhances the meditative experience. Many natural health practitioners, too, keep salt lamps in their studios and clinics to help purify and ionize the air and create a relaxing ambience.

If you are intrigued by salt lamps and want to give them a try, keep in mind that their effectiveness depends partly on their size, their proximity to you and the size of the room. You may want to start with a single salt lamp placed near your desk or next to your bed and then add to your collection over time.

Shop online for salt lamps in our products directory.


Originally published on Sep 19, 2011