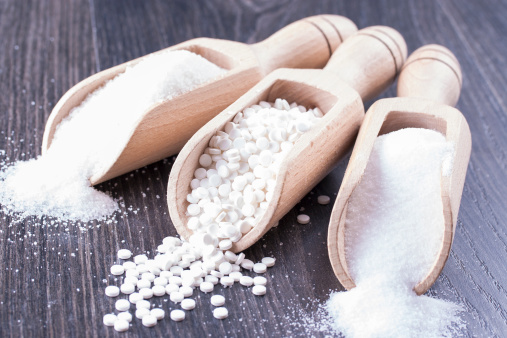 If you've ditched sugar from your diet, you may be wondering how to get your quick fix without reaching for the nasty stuff. Aspartame is an artificial sweeter that is used in many food products to substitute sugar. Over the years, aspartame has gained a lot of bad press. This article investigates the controversy and answers the question: what is aspartame?
Aspartame: the Basics

Aspartame is made from the amino acids phenylalanine and aspartic acid. The sweetener has been used in food manufacturing since the 1980s and is authorised in Australia as a suitable sugar alternative. Its popularity it attributed to the fact that it's much sweeter than sugar and has fewer calories.

The sweetener can be found in a range of foods and beverages including diet soft drinks, sugar-free yoghurts, chewing gum, sugar-free desserts and many condiments.
Is Aspartame Safe?

Google 'aspartame' and you're likely to find bundles of sites announcing that aspartame causes cancer and other health issues. Leading health organisations have followed this up with extensive reviews. However, according to Food Standards Australia, 'scientific evidence to date supports the safety of aspartame for use as a sweetener'.

If you're concerned about eating aspartame, you should avoid sugar-free foods or those labelled 'no added sugar'. In fact, some health professionals suggest choosing full-fat, regular foods over those containing aspartame.
Other Artificial Sweeteners

There are many other artificial sweeteners on the market. Sucralose, neotame and saccharine are a few examples. Sugar substitutes differ in their sweetness, so it's worth trying a few brands to find one that suits your tastebuds.

As nutritionist Sarah Burkhart says in our article Substituting Sugar: What You Need to Know, "there is very little risk of consuming too much [sweetener] and the benefit of less energy in your diet is a positive outcome."

A nutritionist, naturopath or dietician can advise you on ways to cut back on sugar and still get a sweet fix.
Originally published on Feb 17, 2014