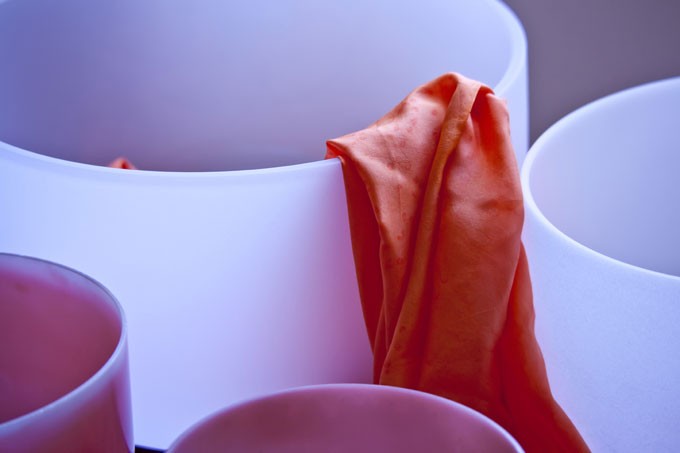 Ever felt soothed by a song, piece of music or any other sound? Crystal Sound Therapy (CST) is based on the principle that the pure sound vibrations of the crystal bowls can restore our physical and subtle bodies to energetic patterns of harmony, health and balance. Susie Nelson-Smith, director of The Karyna Centre for Transformation offers courses in CST, as well as performing live with her bowls. ntpages caught up with her to find out more.
What does Crystal Sound Therapy actually involve?
"CST involves using the pure sound generated by crystal bowls and specific therapeutic techniques to activate transformation at the physical, emotional, mental and soul levels.
What are the origins of this healing approach?
"CST is a healing modality I have developed, inspired by the ancient healing approach of sound therapy and modern scientific studies. The studies show when we are in a relaxed balanced state, it is easier for transformation and healing to occur."
Tell us a little about the bowls...
"The frosted classic crystal bowls are manufactured from 99.99% pure quartz crystal. Alchemy bowls are quartz combined with gemstones, sacred metals and minerals. All have their unique character and tone. They are called the purest tone in the world and the sound has been called heavenly."
Describe a typical Crystal Sound Therapy consultation.
"An important component of the session is to create an individual affirmation which will be activated and magnified by the sounds of the crystal bowls. I ask my client about their physical and emotional health and reasons for coming. I sound the chakra notes and they choose one note. This leads to an exploration of the chakra chosen and several options may be utilised at this point – drawing, laying crystals on the body, essential oil, guided meditation, colour, etc. I then play the bowls either around the body in a specific sequence or as an orchestra of sounds."
How long do you play for?
"Generally between 40 and 60 minutes. Just before the end of the sound session I take the client through a specific grounding breath technique and then allow time for silence. This gives the client the space to continue to resonant in peace with non-audible sound vibrations. I may ask the client to draw again and then we discuss the Maintenance Plan that gives the client guidance on how to maintain their new state of being."
What other elements or techniques do you use in conjunction with the bowls?
"CST can integrate very well with many other energetic forms of healing. For example, a short Reiki hands-on healing, shiatsu, kinesiology, acupuncture, massage, aromatherapy or yoga session can be included.
What conditions does CST most commonly treat?
"CST supports transformation of the whole spectrum of conditions and diseases from depression and feelings of exhaustion to cancer, chronic fatigue, living with HIV, diabetes, etc. Anyone in a state of being that is out of balance can be supported into a greater sense of wellbeing by the sound resonance of the crystal and Alchemy bowls. Some clients are seeking deeper meditation; some are searching for greater consciousness and awareness. The goal of CST is to promote deep peace and relaxation, reduce stress and pain, develop self-awareness and consciousness and to clarify personal vision."
How do you account for this 'overwhelmed' feeling?
"We are constantly bombarded - especially with technology and social media. There is no time for just being, no silence - which can become a problem for many of us."
What training do I need to become a Crystal Sound Therapy practitioner?
"I offer a Crystal Sound Infusion 1 day workshop, private group sound sessions and a professional, accredited 12 month training and study program in Crystal Sound Therapy at a Certificate IV and Diploma level. A mentoring program for graduates wanting to teach will follow in the future."

Originally published on Dec 01, 2011