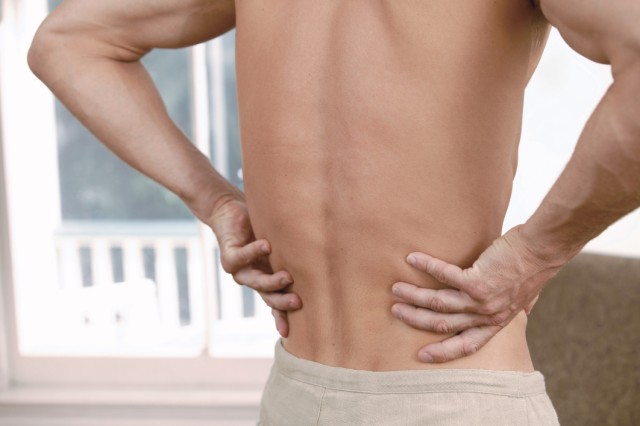 Osteopenia is defined as a "mild thinning of the bone mass." It is not a serious condition, but is recognised as a precursor to osteoporosis, a very serious bone condition that afflicts millions of people, particularly the elderly. Osteopenia is derived from two Greek words: "osteo" (bone) and "penia" (poverty). Bone "poverty" is diagnosed using standard deviation (SD) tests that measure an individual's bone mineral density (BMD) as compared to the BMD of a healthy young adult.
What Are the Causes of Osteopenia?
Osteopenia occurs naturally as we age. As we reach middle age, our bone cells begin to be reabsorbed by the body faster than the body can create new bone cells. This results in a gradual decline in BMD. Those individuals who have naturally thicker bones develop osteopenia later than others, but to some degree, it occurs in all of us.
While this process of disintegration is universal, certain factors contribute to the speeding up or slowing down of the onset and severity of osteopenia. Women, who have lower BMD than men, are more prone to develop it earlier than men and the process speeds up during menopause, when hormonal changes contribute to the body's decreasing ability to create new bone cells.
Other contributing factors to the development of osteopenia and osteoporosis include:
Eating disorders: When you are not eating regularly, you are not giving your body the essential vitamins and minerals it needs to create new bone cells.
Medications: Some medications, such as steroids and other asthma treatments can accelerate BMD loss. Chemotherapy and exposure to radiation can also reduce bone density.
Smoking, excessive alcohol consumption and regular consumption of many types of soft drinks increase the risk of developing osteopenia.
A sedentary lifestyle has been shown to be a contributing factor to osteopenia.
Hereditary factors also take their toll. Caucasians and, to a lesser extent, Asians are particularly prone to bone mass density loss and if you have a family history of osteopenia or osteoporosis, you are more likely to develop these conditions.
How Do I Know If I Have Osteopenia?
There are no symptoms associated with osteopenia, so the only way to find out if you have it is to have a BMD test. The most accurate diagnostic test is a sophisticated X-ray known as dual-energy X-ray absorptiometry (DEXA). This test is usually done in order to make an accurate diagnosis of osteoporosis. The test is usually recommended for women over the age of 60 and men over 70 years of age, unless other risk factors such as chemotherapy or long term anorexia are involved. The test will determine your risk of fracture based on the "T-score" you receive. For instance, a fifty year old Caucasian woman with a T-score of -2 (osteopenia) has a 27% chance of fracturing a hip while a woman of the same age with a score of -2.5 (osteoporosis) has a 33% chance of fracture.
Many people who are experiencing "aching bones" mistakenly believe that osteopenia or osteoporosis may be the cause of their discomfort. If you are experiencing back, neck or joint pain, you may wish to consult an osteopath. Osteopathy is a natural form of non-invasive medicine that employs a variety of manual techniques for pain relief. For more information about osteopathy, consult the Australian Osteopathic Association or visit an osteopath in your area.
Originally published on Mar 31, 2011