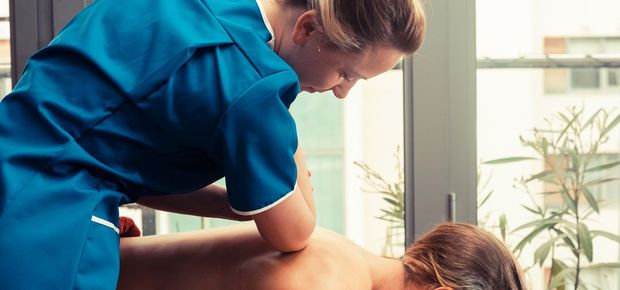 Do you have what many people dub as "healing hands", or the ability to make pain disappear with a touch? If you answered a loud yes, studying massage therapy may open your door to a career that is both lucrative and personally rewarding.
Whether you're a certified massage therapist or a newbie in the sphere of manual therapies, exploring courses focusing on various manual healing techniques is a good way to expand your knowledge and capabilities. Massage offers a host of benefits for adults and children alike. It reduces pain, alleviates stress and anxiety, improves joint mobility and even promotes the emotional and intellectual development of babies.
Some people gain qualifications for a specific type of massage technique, but you have the option to learn a wide array of therapies and be the go-to person of elite athletes, tired office workers, pregnant mum and parents with premature babies who had to undergo neonatal care.
Becoming a Qualified Massage Therapist
If you're determined to build a career in massage, consider taking a relevant certificate or diploma course at an accredited university or college. Once you have obtained the qualifications for a massage therapist's job, you may be eligible to apply for membership in a professional association such as the Association of Massage Therapists.
Schools that offer massage courses specialise in a variety of massage techniques, including:
Remedial Massage
Remedial massage is a type of massage targets impaired muscles, immobile joints and damaged connective tissues that cause excruciating pain and decrease one's range of motion.
Swedish Massage
If you want to learn how to release muscle tension and provide ultimate relaxation, Swedish massage is the technique perfect for you.
Deep tissue Massage
People who suffer from sore muscles and injuries resulting from physical activities like sports prefer this type of massage. Deep tissue massage requires more pressure than other techniques.
Infant Massage
Infant massage is a special type of alternative treatment employs a light and soothing touch to support the physical, emotional and psychological development of babies.
Reflexology
The manipulation of the feet and hands is the main focus of reflexology. It is rooted in the concept that certain points on these body parts correspond to certain internal organs.
Hot Stone Massage
Instead of your bare hands, you will learn how to use warm stones to relieve muscle tension and improve blood circulation to perform hot stone therapy massage.
Thai Massage
Thai massage is a full-body massage that employs stretching sequences that are similar to what you would do in yoga. These sequences coupled with strong pressure on the body alleviates pain and mental stress.
Aromatherapy Massage
An aromatherapy massage employs gentle strokes and essential oils. This kind of massage provides positive effects on the mind, body and emotions.
Whatever area you choose to excel in, enrolling in a massage course will not only guarantee financial success in the future, but it will also allow you to live a fulfilling life knowing you are playing a pivotal role in people's health and wellness goals.
Do you have a natural health & wellness business?
Sign up now and advertise on Australia's #1 natural health website.
Or visit our Wellness Hub to help you stay current about the industry.