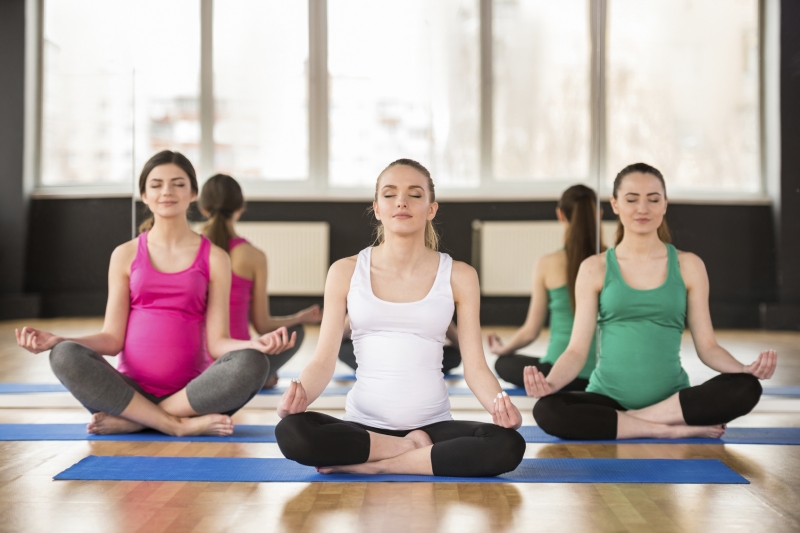 Experiencing morning sickness? You might like to take a yoga class or two. There are many gentle, nurturing asanas that can help relax and relieve nausea and discomfort – and we've tried out the top ones for you.

Many yoga practitioners offer specific classes for pregnancy, and can devise a program to suit your body. As always, follow the advice of a professional.

Lie down
Ok, perhaps this isn't so much a yoga asana, but it is recommended by yogis – each day, take time to lie down on your mat and practise deep breathing or meditation. If it's uncomfortable to be on your back, shift to your side and pop a cushion between your knees.

Doing this each day may help manage the waves of nausea and other icky feelings throughout your pregnancy.

Downward-facing cross-legged

Also known as adhomukha swastikasana, this pose involves sitting on the mat with crossed legs. Then bend forward at the waist and let your arms gently rest on a chair in front of you. Relax your body, breathe into the pose, and stay here for a minute or two. (Source)

Modified Reclining Hero
Stack a few pillows and a blanket behind you, so it is about mid-back height. Kneel in front of the stack with your knees apart. Move your feet so your buttocks are between your heels, with your feet straight out behind. Then take your time to sit back on the stack. You might need a friend or your partner to help you get int this position comfortably, because you need to ensure your back is completely supported. Your head should then hang back so you are looking up at the ceiling. Breathe deeply, relax, and hold the pose for a few minutes. (Source)

More morning sickness tips
As previously mentioned, you should only attempt these asanas with the help of your yoga teacher for the first few times until you know how to safely and comfortably do them.

There are many other natural things you can do to ease your morning sickness. Natural morning sickness tea, vitamin D supplements, ginger tea, small amounts of food throughout the day, and deep breathing exercises have all been shown to help. Be sure to ask your health practitioner before taking supplements.
Originally published on Mar 09, 2016