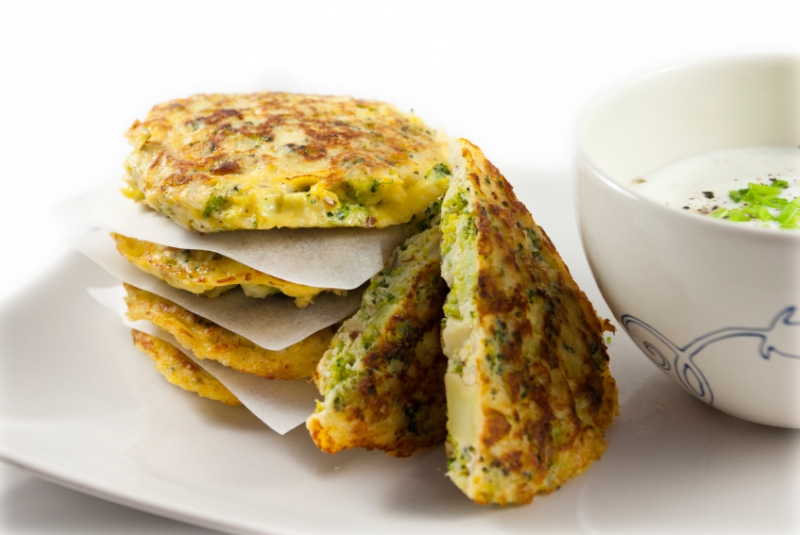 These fritters make a delicious snack or can be part of a hearty meal served with mashed sweet potato and steamed greens. I especially love them served with a poached egg on top. You could even pack them as a 'burger'. Simply spread a wholesome roll with avocado, lay a fritter down and top with fresh salad… A great packed lunch.
Ingredients
4 zucchinis
5-6 spring onions, finely chopped
250 goat's feta
A small bunch fresh parsley, leaves only, chopped
A small bunch fresh mint, leaves only, chopped (reserve some for garnish)
1 tablespoon dried mint
1 teaspoon sweet paprika
150g spelt flour
Salt and pepper to taste
3 organic eggs, beaten
Coconut oil/ghee for pan frying
Method
Grate the zucchinis with a hand-held grater or in a food processor.
Spread the grated zucchini on some paper towel and leave for 15-20 min to get rid of any excess wetness.
Place the spring onion in a bowl and crumble in the feta.
Add the chopped parsley, mint, paprika, dried mint, spelt flour and season with salt and pepper.
Add the eggs and zucchini and mix to combine.
Heat a tablespoon of oil in a large frying pan on medium heat. Scoop a heaped tablespoon of the mixture, place on the hot pan, flattening down with the back of a spoon. Do this for the remainder of the mix, placing as many fritters at a time as will fit in your pan.
Cook fritters for about two minutes on each side until golden and transfer to a platter.
Serve with lime wedges and sprinkle with a little freshly chopped mint.