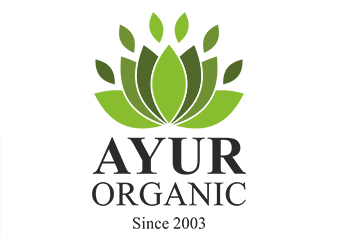 Ayur Organic
Organic Herbs and Spices.
Welcome
Servicing area
Australia and New Zealand
---
Welcome to Ayur Organic
---
You have come to the home of pure, pristine and organic herbal products! If you are looking for a trusted source of superior quality organic herbal products to enhance your life style then you have certainly come to the right place.
Partnered with Khandige Organic Herbal Products in India, Ayur ( Authorised distributors in Australia and New Zealand ) offers a wide range of Ayurvedic herbal formulations specially prepared to balance the doshas of Vata, Pitta and Kapha.
Khandige produces and manufactures superior quality certified organic products at their stringently hygienic, CU (Control Union) certified manufacturing and processing facility in Bangalore. Our products are unique because all the raw materials are true to their identity, pure and pristine and are grown far away from polluting industries and cities on Khandige's certified organic plantations, in a completely natural environment devoid of pollutants or any chemical inputs either in the soil or water. The entire process from cultivation to processing to packaging is completely eco-friendly, thus bringing you certified organic products completely free of harmful toxins or chemicals.
Located at the base of the beautiful Hulkadi Betta, North of Bangalore. It is near to Bangalore but at the same time being surrounded by reserve forests, it has pure and clean air and water. This is a model organic farm for the farmers of this region. There's an Organic dairy of Hallikar cows, number of herbs like aswagandha, dasamoola herbs, pippali, brahmi.
Other rare plant find in this region are Adiantum incisum, Anisochilus carnosus, Cassytha filiformis, Celastrus paniculatus,Crotalaria retusa,Dioscorea pentaphylla, Ficus amplissima, Holoptelea integrifolia, Justicia procumbens, Oldenlandia corymbosa, Pavetta indica, Sarostemma acidum, Sphaeranthus indicus, Tragia involucrata, Wrightia tinctoria, Xanthium strumarium.