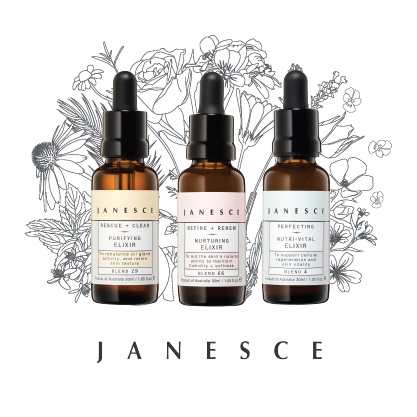 Member since 2005
JANESCE Skin Health and Beauty Experience Store
Kristen Jelk
205 The Parade rd
Norwood SA 5067
Servicing area: Australia-Wide
Keep your skin in top condition with our daily softening, balancing, and clearing products.
Skincare Products, Softening Cleansing Milk, Softening Wonder Serum & Balancing Soaking Drops
---
Your Daily Skincare Essentials
JANESCE Skin Health and Beauty Experience is a skincare line in Norwood SA that offers products for balancing, softening and clearing the skin.
For Softening
Softening Cleansing Milk
$29.00 (50ml)
$44.00 (100ml)
A milk cleanser that contains rose and lavender to leave the skin soft and supple to the touch.
Softening Soaking Drops
$25.00
There's no better way to moisturise your face than with this wonderful blend of rose extracts and rose oil.
Softening Refresher Mist
$27.00 (50ml)
$42.00 (100ml)
An aromatic blend of rosewater and organic rose oil that locks in moisture and softens dry skin.
Softening Wonder Serum
$75.00
An anti-ageing serum that contains rosewater, rose extracts, blended herbs, and Hyaluronic Acid which minimises fine lines and fights the signs of aging.
Softening Day Lotion
$45.00 (50ml)
$69.00 (100ml)
Enriched with rose extracts, lavender, marshmallow and calendula to hydrate the skin and lock in moisture. It can be used as a makeup primer
Softening Wonder Cream
UD $68.00
A luxurious cream that revives the skin's texture, elasticity and radiance. It combines the soothing properties of rose, chamomile and marshmallow extracts with liquid silk and hyaluronate.
Softening Wonder Eye Contour Cream
$45.00
Get rid of fine lines around your eyes with this botanical blend of eyebright, rosehip oil, liquid silk, chamomile, and humectant.
Softening Facial Oil
$33.00
A wonderful concoction of avocado, grapeseed, rose, sesame and wheat germ oils that moisturises and softens the skin.
Softening Mask
$54.00
Feed your skin some love and protect it from irritants with this gentle mask. It combines organic rose and chamomile extracts with honey and the finest seed oils.
Softening Lip Balm
$17.50
Get soft, kissable lips with this product, which boasts of the moisturising properties of shea butter, honey, aloe vera, and other plant extracts.
For Balancing
Balancing Cleansing Milk
$44.00
This cleansing milk also works as an effective makeup remover. It contains organic extracts of lavender, peppermint, calendula and marshmallow.
Balancing Soaking Drops
$25.00
Hydrate, condition and rebalance your pH levels as this product works deeply into the dermal layers of your skin.
Balancing Refresher Mist
$42.00
Calm your senses with this refreshing mist, which is a mixture of organic lavender and rose flower waters. This product is suitable for all skin types.
Balancing Serenity Serum
$72.00
Restore your youthful glow and relax your skin with this hydrating serum. It contains organic lavender, chamomile and rose extracts mixed with liquid silk and Hyaluronic Acid.
Balancing Day Lotion
$45.00 (50ml)
$69 (100ml)
This wonderful blend of lavender, rose and chamomile extracts moisturises your skin and regulates the activity of your oil glands.
Serenity Mist
$42.00
Reduce redness, shingles and hot flashes with this botanical blend of lavender, marshmallow and aloe vera extracts.
For Clearing
Clearing Cleansing Milk
$29.00 (50ml)
$44.00 (100ml)
Rich with orange and peppermint oils, this product cleanses and refreshes the skin.
Clearing Soaking Drops
$25.00
Exfoliates the skin, controls the activity of the oil glands, and balances the pH levels.
Clearing Refresher Mist
$27.00 (50ml)
$42.00 (100ml)
Detoxifies and regulates oily and combination skin. This product contains natural extracts of echinacea, calendula, lavender, St John's Wort and Neroli.
Clearing Rescue Serum
$55.00
Improve the texture of your skin, rebalance your pH levels, and resolve breakouts. This serum contains bioactive components of aloe vera, calendula, lemon myrtle and St. John's Wort.
Clearing Day Lotion
$45.00 (50ml)
$69.00 (100ml)
A fragrant lotion that combines organic rosemary, calendula, sage, witch hazel and lemon myrtle extracts. It's non-greasy and easily absorbed by the skin.
Clearing Wash
$55.00
This jar of exfoliant detoxifies, heals and tones the skin. It contains calendula, echinacea, sage, chamomile and marshmallow extracts.
For Men
Clean Shave
$35.00
A cleansing and shaving gel that conditions and softens the skin.
Aftershave Spritz
$39.00
Refresh your face after every shave with this Aftershave Spritz, which contains the calming properties of lavender, sage and St. John Wort.
Face Saving Balm
$45.00
Containing carrot oil, sage and citrus extracts, this non-greasy lotion protects the skin from environmental irritants.
Enquire about these essential products for your daily regimen.
---
Products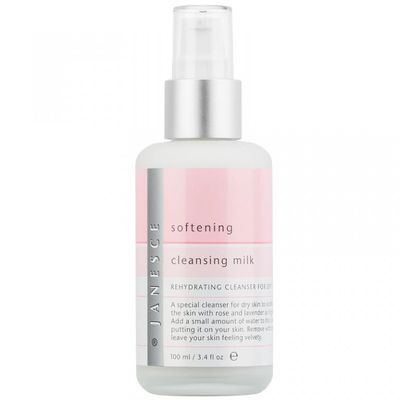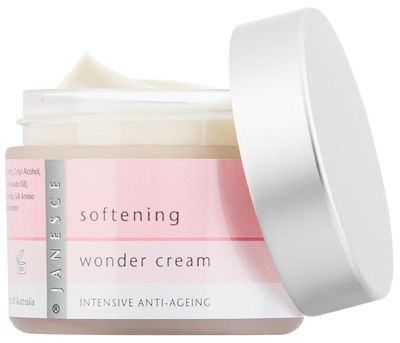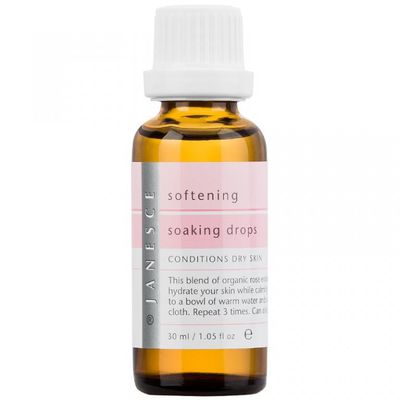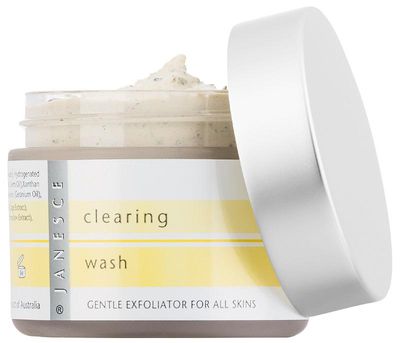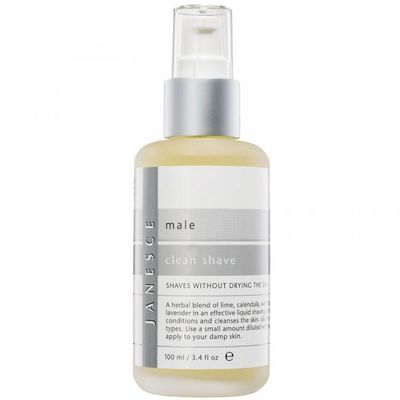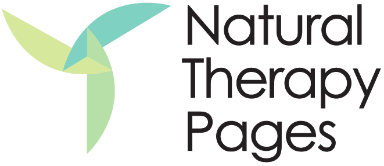 JANESCE Skin Health and Beauty Experience Store