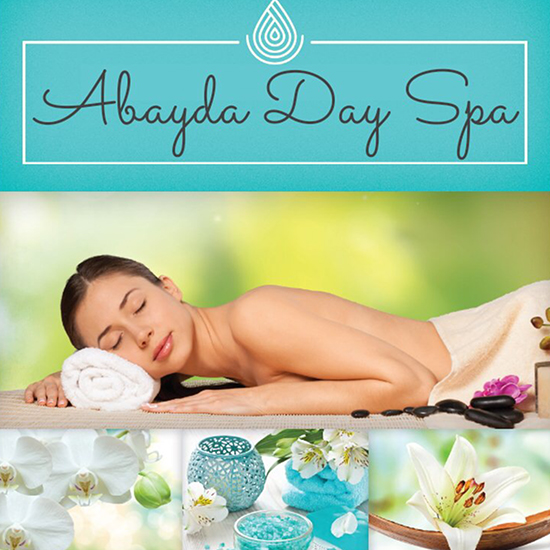 Clicking on the Send Me Details Now button opens an enquiry form where you can message Gail Hunter directly
Send Me Details Now
Abayda Day Spa is here to help you take your mind off the stress of everyday life and ease your aches and pains. 
Abayda Day Spa
Focus areas
Pregnancy support
Back massage
Essential oils
Stress management
Facial
Pain relief
---
---
It's Time to Relax
Situated in the tranquil coastal tourist village of Metung, Victoria. Abayda Day Spa offers all your favourites -- Massage, Facials, Physiokey - pain relief, Full Body Treatments, Hot Stone Massage, Reflexology, Paraffin Hand Treatments and so much more that will leave you rejuvenated and revitalized.
We are now offering Physiokey pain relief therapy. It helps to alleviate acute and chronic pain, reduces inflammation, swelling and muscular spasms.
Escape from the Everyday
Come and experience what it feels like to be truly relaxed. The Abayda Signature Massage is a good place to start if your new to massage or just not sure what to have. It has been the most requested treatment for over seven years. Below you will find a variety of treatments to choose from, that are sure to leave you feeling relaxed, revitalized and not wanting to leave.
---
Massage



Abayda Signature Massage

Our Signature Massage is a relaxation massage. Using a unique blend of swedish, pressure points, reflexology and kahuna styles of massage. The Signature Massage is aimed at reducing your everyday aches, tensions and stress. Using Abayda's unique 'Relax' essential oil blend or pure unscented Organic Virgin Coconut oil.

Sports/Deep Tissue Massage

This is a deeper pressure-style of massage, aimed at a particular problem area. Includes magnesium oil, which helps muscles relax thus giving pain relief. Can include an Add on for a longer treatment.

Physiokey - Pain Relief Therapy

The device works through a process of biofeedback controlled non-invasive neurostimulation. Acting in a natural way by supporting the regenerative capacity of the body, it helps the body to release its own natural pain relieving mechanisms, like neuropeptides, endorphins.

Hot Stone Massage

Enjoy the deep warmth from smooth Basalt stones as they gently glide over your body, removing all tension and stress from your muscles. You have a choice of beautiful aromatic oils that indulge your senses, giving you a wonderful feeling of deep relaxation and well-being.

Body and Scalp Sensation

This is a full body "signature aromatherapy massage" with a deep conditioning hair mask and revitalizing scalp massage.

Autumn Spice Massage

This relaxing massage uses a beautiful body custard that has an exquisite spicy aroma. It's made of natural fruit and plant butters and pure essential oils to hydrate and nourish your skin.

Pregnancy Massage

For the Mother-to-Be

This is a gentle massage style using an Organic Virgin Coconut Oil. It includes a foot soak and a deep conditioning hair treatment and scalp massage. *** Three months and over.

Head, Neck and Shoulder Massage

Massage also includes a warm aromatic hydrating hair mask and scalp massage, leaving you with beautiful, shiny hair.

Back Bliss

Includes a salt scrub, a warm deep cleansing mask and a back massage.

Back Massage with Mini Facial

Two favourite treatments in one. Best Value!
---
Hand and Foot Treatments



Foot Bliss

Relax with a mineral foot soak, exfoliation, rasping, a warm hydrating foot mask, reflexology, finishing with a Peppermint Cream lower leg and foot massage.

Reflexology

A stimulating foot treatment working on the reflexes of the feet.

Paraffin Hand Treatment

Great for dry skin! Your hands will come out silky smooth and nourished. This heat therapy treatment can also help people with arthritis/fibromyalgia etc, as the heat increases blood flow and helps the muscles to relax. Includes your choice of a neck and shoulder or foot massage.

Therma Soft Foot Treatment

Using booties with self-healing Lava Gel and Soyaffin, you'll have beaufifully warm silky soft feet.
---
Body Treatments



Full Body Mud Wrap

Experience a full body exfoliation, a warm detoxifying mud, hot towels, followed by a relaxing Signature Massage. This wrap also includes a face cleanse, misting, moisturisation and a scalp treatment.

Full Body Exfoliation

A full body exfoliation using a himalayan salt scrub and aromatherapy oil, concluding with a moisturising massage.

Total Indulgence Package

Escape and totally relax whilst your body goes on an indulgent journey. The journey starts with an aromatherapy salt scrub, then a warm detoxifying mud is applied.
---
Contact us today to book an appointment.
---