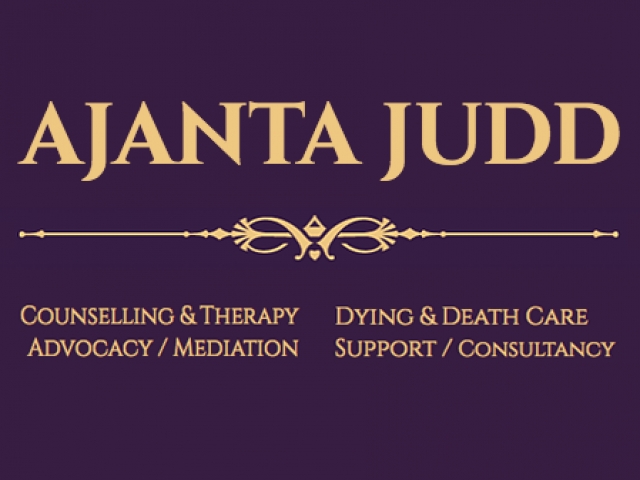 Ajanta Judd Services
This account is currently inactive on Natural Therapy Pages, but you can browse from hundreds of other practitioners in your local area.
Search for practitioners in Cowes
Alert Practitioner
By clicking on the Alert Practitioner button, we send the practitioner a message on your behalf that you would like to get intouch with them.
COUNSELLING / THERAPY / ADVOCACY / MEDIATION Plus DYING & DEATH / CARE / SUPPORT / CONSULTANCY
Ajanta Judd Services
Servicing area
Phillip Island, Bass Coast, Wonthaggi, Online, Skype
---
Focus areas
Emotional wellbeing
Growth
Grief
Values
Self awareness
Love
---
I am a qualified and experienced Counsellor and Therapist and within the scope of this work I also do advocacy and mediation.
Apart from this I am also an End of Life Consultant and Death Doula, assisting and supporting the dying and their loved ones in a myriad of ways including emotional, spiritual and practical support.
I follow Buddhist philosophy, am a long term meditator and mindfulness practitioner in the Insight (Theravadan tradition).
One thing that sets me apart from other counsellors and therapists is that I hold not only the academic qualifications, but I have the rich personal life history and experience which informs my approach. In other words, I have lived, suffered, worked through and resolved a myriad of issues and have come out the other side more knowledgeable, wise, insightful, balanced and content. I can certainly say that I have lived through much of what life has to offer from despair, grief, trauma and emotional pain to joy, bliss, happiness and contentment. I am well skilled to assist others to do the same. I walk my talk and live my philosophy. Life is a continuity of learning, growth and experience. It is an endless journey of discovery, with the most important element being, self discovery. My values embrace continual personal development and that it is essential to our well-being for us to maintain our mind discipline and our overall emotional health.
My belief is that counselling and therapy are beneficial to any human being just as maintenance is essential for a car to run well. Therapeutic supervision is also essential for the development of good therapists and I have often sought wise counsel throughout my life. I follow a practical (non-religious) Buddhist philosophical approach to life with its inherent values of non-violence, compassion, equanimity and the path to becoming fully awakened.
I incorporate mindfulness (self awareness) practice into my daily life and would encourage others to do so. I use fundamentals of this approach within my counselling work as it is invaluable in settling the mind and developing insight. Clients are offered a safe and confidential environment with an attentive, compassionate, empathic approach. I work dynamically and have an eclectic style.
My specific aim is to assist people to live harmoniously and achieve non-reactivity in the face of adversity or, what life may present to us at any given time.
As a natural continuation of my professional work, I am also a trained Death Doula or, End of Life Consultant. Within this work I care for, support and assist the dying and their families pre and post death emotionally, practically, spiritually and educationally.
---