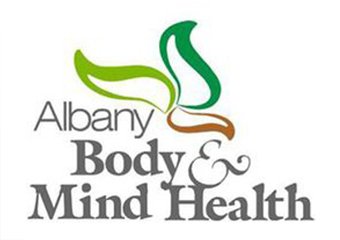 Albany Body & Mind Health
Alert Practitioner
By clicking on the Alert Practitioner button, we send the practitioner a message on your behalf that you would like to get intouch with them.
Albany Body & Mind Health has brought together a team of practitioners, all dedicated to providing you with a range of gentle and natural therapies to achieve your full health potential. Experience the sense of wellbeing that a balanced body and mind will give you.
Albany Body & Mind Health
Focus areas
Purpose
Joy
Healing art
Pain relief
Lifestyle
Relaxation
---
---
About
Albany Body & Mind Health is Albany's first purpose built centre that offers the community a variety of natural therapies all located under one roof. The centre's practitioners are highly qualified professional therapists who are committed to excellence and the latest best practice techniques of their respective fields.
For your convenience, Albany Body & Mind Health practitioners can also provide you with links to local and regional practitioners of other related disciplines that will ensure the most suitable treatment is available to you. Albany Body & Mind Health is centrally located with ample parking provided. HICAPS and credit card facilities are available with some practitioners.
Personal profiles of each therapist appear below. Please contact your selected practitioner to discuss the potential benefits of individual treatments for any health issue, or to enquire about appointments and costs.
---
Services
BOWEN THERAPY
Bowen therapy is a remedial therapy performed on the superficial and deep connective tissue (fascia) of the body that envelops, separates and influences every organ and tissue. This non-invasive muscle release technique consists of a sequence of gentle cross-fibre moves at varying pressures with no forceful manipulation.
There are regular pauses throughout the treatment providing deep relaxation to encourage the body to achieve its natural balance and to heal itself. Bowen therapy can be performed through light clothing.
BRAIN GYM
Brain Gym® is a movement based program that enhances the connection between the brain and the rest of the body to optimise your learning and recognises the interdependence of physical development, language acquisition, and academic achievement. It is also known as Educational Kinesiology and was developed in the early 1980s by educator and reading specialist Paul E. Dennison, PhD.
The programme encompasses 26 easy and enjoyable targeted physical activities that develop the brain's neural pathways and enhance learning ability. These exercises are based on the knowledge that humans learn through movement and recall activities of the first years of life when learning to coordinate the eyes, hands and the whole body.
HEALING TOUCH
The goal of Healing Touch is to restore balance and harmonies in the energy system, and facilitate self-healing. Practitioners focus on the magnetic field around the body, using their hands to clear, energise, and balance this human energy system in a heart-centered way that supports physical, emotional, mental and spiritual health.
Healing Touch influences the whole person on all levels and it is appropriate for everyone, offering increased relaxation, pain relief and reduction of anxiety and stress. It is one of the highest accredited energy-based therapies in the US, with strict Codes of Ethics and Practice. Clients remain fully clothed throughout the treatment.
HYPNOTHERAPY
Hypnotherapy is the use of hypnosis as a therapeutic technique by which a therapist induces an altered state of attention in another person in response to verbal or other stimuli. It may increase susceptibility to suggestion, change their behaviour, perceptions, responses and ideas or psychological processes, and can strengthen the individual's willpower.
People vary in their susceptibility to hypnosis but research demonstrates that even light trance can significantly help individuals address their concerns and problems. It is natural and safe when used by trained professionals, and adults as well as children can learn to use it independently. CDs with recordings of the session will be provided to clients to enable them to revisit the appointment at any later time when required.
KINESIOLOGY
Kinesiology studies the mechanics of body movements and is concerned with imbalances in the body's energy. It is a non-invasive therapy combining muscle monitoring (biofeedback) with the principles of traditional Chinese medicine to restore balance and health to neurological and physiological function and to improve wellbeing and vitality.
Kinesiology uses muscles as indicators to detect and correct imbalances relating to stress, nutrition, learning problems, minor injuries or other health issues. A range of gentle restorative techniques encourage natural healing and the functioning of the body's bio-systems. Clients remain fully clothed throughout the treatment and muscle testing is totally painless in a kinesiology session.
MASSAGE
Massage is the manipulation of soft tissues in the body, the muscles, tendons and ligaments, and is the oldest form of physical medicine known to man. It treats the whole body and aims to healing both the cause of the disorder as well as the symptoms.Massage can work in two ways through the various body systems, a mechanical action and a reflex action.
A mechanical action uses pressure and stretching movement to move muscles and soft tissues, cleansing the body of acids and deposits, breaking up fibrous tissue and loosening stiff joints. A reflex is created by accessing nerve pathways, or flows of energy known as 'meridians' to treat connected parts of the body. For example, therapists will alleviate pain in the legs by massaging the lower back.
NATUROPATHY
Naturopathy is holistic, using safe and effective natural therapies to support and stimulate the healing power of nature. Instead of focusing on individual symptoms, it assesses and treats the whole person and the cause of the condition negatively impacting on the body and mind. Prevention of disease is accomplished through naturopathic education to build a lifestyle that supports health and wellbeing in the long term.
It integrates conventional health sciences with a range of natural therapies and traditional medicines to encourage the body's own healing energy to flourish in a healthy and supportive environment. When developing a treatment plan naturopaths work alongside GPs or other health professionals to offer the best patient-centred care.
NUTRITION
Nutritional Medicine is a holistic approach to the interactions of both nutrition and lifestyle on human health. It investigates disturbances in body chemistry, resulting from poor diet, food sensitivity reactions, gastrointestinal dysfunction, inflammation and environmental factors, as the underlying cause and symptoms of disease.
Nutrition focuses on the vital importance of nutrients, and the metabolic processes of physiology required for optimal body function. Assessments of a person's nutritional status include thorough medical history, dietary and lifestyle analysis (eating habits, food intake, exercise, stress, sleeping patterns) as well as diagnostic tests such as blood and urine tests, hair mineral analysis, muscle testing, tongue and nail assessments.
PSYCHOLOGY
Psychology is the scientific assessment, analysis and evaluation of the conscious and unconscious thought patterns that initiate the behaviour of individuals. In addition, the psychologist takes into account the underlying environmental, physiological and metabolic processes that historically or currently impact on a person and their life.
Therapy can provide guidance and emotional support to help an individual of any age overcome a range of personal or professional issues and to address emotional as well as physical concerns. Psychologists may apply social, behavioural or cognitive methods of evaluation to best determine the type of treatment required, and the optimal strategy for a client to realise their personal goal.
REFLEXOLOGY
Reflexology is an ancient healing art which uses the principle of reflection of anatomy onto the feet, hands and ears. The reflex points in these areas are massaged with a variety of techniques including deep pressure point, rhythmic techniques, gentle soothing movements and light holding techniques.
It is a non-intrusive and relaxing therapy that works on many levels to calm, balance and boost the entire body. Throughout the treatment only shoes and socks are removed. After a session, the patient will become aware of the changes taking place as toxins released from congested systems are processed and eliminated.
REIKI
Reiki (ray-key) is Japanese for 'universal life energy' and aims to improve health and enhance the quality of life. It is grounded in the belief that stress, illness and disease occur when the universal life energy within our body is low.
Treatments follow a traditional pattern of hand positions, resting without pressure on or above the body and channeling energy through the hands. The client remains fully clothed throughout the treatment.
The skills and techniques are simple and easy to learn. Small children and adults can equally comprehend and incorporate this gentle form of healing into their lives.
---