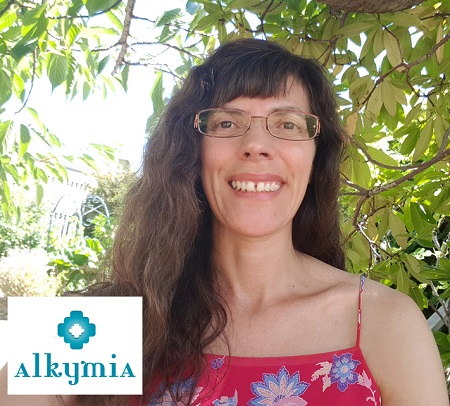 Clicking on the Send Me Details Now button opens an enquiry form where you can message Mariangela Parodi directly
Send Me Details Now
Learn how to achieve a life that's grounded in physical, mental and spiritual balance.
Naturopath, Transformational Intuitive Healer, Shaman, Wellness & Life Coach, Scientist, Counsellor
Servicing area
Hobart TAS & Brisbane QLD
---
Focus areas
Love
Nervous system
Life path
Physical health
Stress management
Reconnection
---
---
About Mariangela Parodi
Hi! Welcome to Alkymia in Hobart TAS. My name is Mariangela Parodi. For more than 30 years, I have been supporting and inspiring women around the world to always be their best.
As a naturopath, counsellor, wellness and life coach, intuitive healer, author, shaman, biomedical scientist and business mentor, my job is to help you release self-sabotaging habits and bring your passion and purpose in life into perfect harmony.
I focus on the psychological and spiritual aspects of your entire being. Connecting with your spirit guides and delivering their messages to you will aid you as you go through emotional healing.
Soul retrieval, healing and clearing can also help you achieve clarity about your purpose and transform your life for the better. To speed up this process, I will use my abilities as a medical intuitive to clear out energy blocks within your body, Energy is vital to our existence and must be maintained at optimal levels.
Using my knowledge, skills and tools in angelic and shaman healing, Reiki, Pranic Healing and crystals, I will nourish your spirit, revitalise your aura and chakras and eliminate negative thought and behaviour patterns.
All of these are essential steps in producing deep, lasting change at the physical and psychological levels of your wellbeing.
My Life Before Becoming a Transformational Healer
I was born in Chile. Moving to Hobart, Tasmania led to my discovery of my affinity for nature, which is apparent in my healing style, particularly shamanism.
I've always had an inclination to natural therapies, but it took me a while to explore these. After university and practicing what I have learnt, I returned to Chile in 2007 to reconnect with my roots and shamanic heritage.
That trip deepened my wisdom, healing abilities and consciousness of the world I live in. Everything I learnt from it, I would share in my articles and in Alkymia programs.
That enriching experience happened at the same time my eldest son was born. He came out into this world in a not so healthy state. He suffered from chemical and food sensitivities, asthma and eczema.
The process of healing my son was the impetus I needed to utilise my healing talents to help others. An empath and sensitive individual like me, my son is the best gift I've ever received and responsible for my growth as a transformational healer.
Transform Your Mind Body and Spirit
I guide other empathetic and courageous women to their spiritual talents to free and enable them to bring about change in the world. I make this possible by addressing the emotional and mental obstructions that hinder them from making progress.
My life path number 11 signifies a master healer who possesses the capabilities of 100 physicians. It allows me to see what is concealed in your body, mind and spirit, and identify specific areas that need to be addressed through a holistic healing approach.
As inspiring as my healing methods are my results-oriented workshops, inspirational books, online transformational programs and one-on-one sessions. Be part of a supportive community of like-hearted individuals who want to learn how to balance and harness their energies to make a difference.
Book an appointment and let's work on optimising your mind, body and spirit.
---
Qualifications
Wellness Coach
Naturopath
Herbal Medicine
Bachelor In Biomedical Science
Professional Membership
ATMS - Australian Traditional Medicine Society