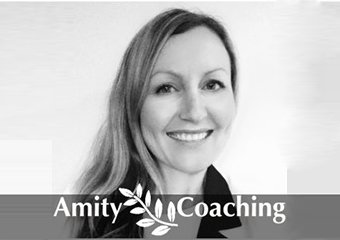 Clicking on the Send Me Details Now button opens an enquiry form where you can message Amity Coaching directly
Send Me Details Now
Access the Resilient & Joyful You!
Amity Coaching
Servicing area
Gold Coast
---
Focus areas
Motivation
Anxiety
Values
Physical health
Coaching program
Self-confidence
---
---
ABOUT
Welcome to Amity Coaching! In my life I've been drawn to leadership and teaching professions and consider myself a life student of the changing human experience. Over the last 20 years I've developed a specialised skill-set in identifying and resolving limited thinking. I replace old fuzzy thinking with a personalised set of desires, based on your values in the form of goals. My expertise lies in facilitating young adults by providing clarity, vision, goal setting and road mapping for their lives. I connect the dots and act as a catalyst for change.
Establishing Amity Coaching in 2014, I have developed a tried and tested process involving dissection of personal beliefs, relationships, emotional and physical health, career and mission, fun and play, financial goals, spirituality and self-confidence. I have a knack for reading between the lines and matching people with their true gifts and talents. I've seen many happy clients walk away with new clarity and renewed enthusiasm after learning how to overcome their conditioned behaviours. I have designed my coaching programs to provide a fresh point of view, clarify focus, pinpoint the real roadblocks and then clear the path for direct access to your resilient and joyful self!
Previous to establishing Amity Coaching, I was the Vice President of Personal Relations for the original Brisbane Toastmasters club where I learned I was passionate about writing and presenting motivational speeches, using area contests as a speaking platform to share my passion for self-improvement and enjoying the positive results. I have since had multiple opportunities to speak and encourage staff at corporate offices including Brisbane's Defence Force Recruiting, and the Australian Learning Group in Sydney (a VET provider).
After living abroad and travelling the world, I came back to Australia and became a qualified secondary school teacher (Arts and Film & TV) however, wasn't quite satisfied with the rote learning style of the syllabus. Whilst on a hiatus as the office & operations manager in Sydney for an international gaming company, I discovered Neuro Linguistic Programming and quickly became qualified in what I consider, a life-changing skill. On the side I would tutor university students and share my knowledge and goal setting skills. Mentored by one of the top NLP Guru's in the world (Robb Whitewood), I was honoured when he asked me to edit his first practical NLP book. Unfortunately, Robb passed away unexpectedly in 2017 and left his wife and myself to complete his legacy – to be released soon. While I am not working on Amity Coaching I am a speaking ambassador for the organisation Beyond Blue where I passionately spread awareness and help for those suffering from anxiety and depression. Today my vision is to continue to grow Amity Coaching in order to help as many young people as possible design their life and achieve their heart felt desires by providing personal clarity, empowerment, practical tools and removing limiting conditioned behaviour.
---
SERVICES
I work with individuals, secondary schools, tertiary institutions, training colleges, sports and youth organisations, and anyone who wishes to improve their life.
Private coaching and counselling
Amity Coaching provides one-on-one coaching sessions with a special "neuro linguistic" twist. Fast, subconscious changes will occur using powerful NLP techniques. Each session will be carefully calibrated to ensure you are getting the most out of your time. The evidence will be in the results. I guarantee you finally start hitting your targets and making dreams come true! The purpose of coaching is to have an expert outside guide establish your trajectory to your goals. Then your coach will work with you to remove the struggles and limiting beliefs (aka the roadblocks) you encounter on the way. Amity Coaching utilises cutting-edge NLP to accelerate your results. Use my services if you are requiring personal guidance in any area, seeking clarity and an improved life-balance, wishing to learn how to design your life, needing help with personal drama cycles, seeking help for limiting beliefs or simply need a coach to guide you along to your next break-through.
Motivational presentations & speaking engagements
Depending on your audience, I have a multitude of experience to draw from and a vast pool of knowledge to create a bespoke motivational presentation for students or workplaces. Specifically focused on personal empowerment, simplistic guidance and redirecting passionate focus back onto personal and group desires, Amity Coaching has the perfect motivational presentation waiting for you.
Coaching workshops for your organisation
Amity Coaching provides single workshops for student groups or ongoing workshops dependent on your budget or program timelines. In addition, Amity Coaching has various workshops available for workplace development, either individually or as a group. Each workshop framework generally consists of:
Cause Vs Effect


Personal and Workplace Values Elicitation


The Wheel of Life


The Weakest Link


Goal Setting


The Drama Cycle


Tidy Language


Understanding Awareness


Emotional Mastery


Resilience


Annual coaching events
Amity Coaching will come to your next careers expo, trade fair, or charity fundraiser. I offer demonstrations, free sample resources, and individual mini coaching sessions throughout the day.
Mentorships for school students
Amity Coaching will work with your child on an individual basis in a specialised program (usually 10 weeks/10 sessions – negotiable) to guide them towards clarity, understanding and personal empowerment and lead them to making the best next choice for their life.
Resource mini books for teaching
Amity Coaching has a rich library of tried and tested practical tools and information to share via mini resource books.
Self-guided learning books
Currently in development.
---
FEES
Book Me In!
Session Details:
Just one session will guarantee results in your life.
Duration: 1.5 hours
Cost: $150 (free follow-up session if you book before 30th October 2018)
Location: My office is located in Mermaid Waters (behind Pacific Fair) or I can meet you in a quiet public place if appropriate for your circumstances.
Provisions: Fact Sheets, Homework, Personalised Rituals.
---
Please contact me to confirm your desired learning strategy (private session/s or workshops and presentations), structure and time-frame. In addition, I hold private coaching sessions in Mermaid Waters.
---