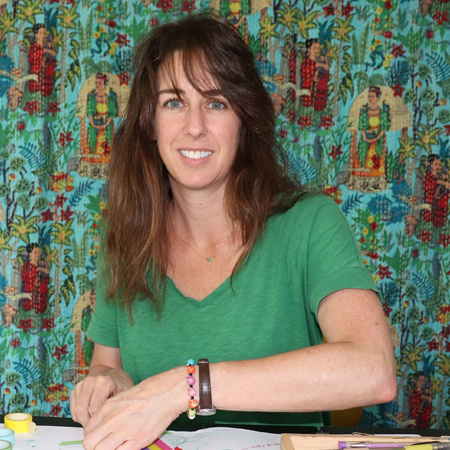 Clicking on the Send Me Details Now button opens an enquiry form where you can message Andrea Bloom Art Therapy directly
Send Me Details Now
Art makes therapy fun! Andrea works collaboratively with clients to externalize and shift problems. Art materials are provided to suite and art therapy is especially good for the over thinkers and for children. Art can bypass the thinking mind and process emotions even without realizing it.
Art Therapist and Energy Healer
Focus areas
Emotional intelligence
Telehealth
Creative therapy
Creative self-expression
Expressive therapies
Individual therapy
---
---
With 20 year experience under her belt, Andrea's practice is gentle and on point.
Some goals you may choose to work on in art therapy include:
Communicate and learn to meet your emotional needs
Understanding everyday reactions / impulse control
Feel more confident and calm
Services Offered
Art Therapy
A form of psychotherapy, art therapy treats a wide range of mental health issues, including trauma, anxiety, addiction, obsessive-compulsive disorder (OCD), and emotional distress.
By opening the unconscious, art therapy inspires, soothes, and promotes growth. As a result, it increases resilience, self-regulation, confidence, and social skills.
Through art, psychotherapy becomes playful and tactile, with no talking.
You are provided with all the materials they need as Andrea identifies and processes their emotions.
Individual Therapy
Andrea holds a space filled with healing potential and offers a variety of methods that can help you shed burdens or develop new attitudes towards life's most complicated concerns.
Child and Family Therapy
What are some reasons a child might need therapy?
Parents seek therapy for their children for a variety of reasons, including, but not limited to:
Anxiety
Autism spectrum disorder
Giftedness
Impulse control issues
Divorce
Social challenges
Eating disorders
Loss of a loved one
Obsessive-compulsive disorder (OCD)
Out of home care and all that comes with it
Art therapy is a natural way to offer therapy to children. While words can be challenging to find, art is a natural way to express feelings and takes the focus off the child.
Andrea, who has worked with children since 2001, provides children with a safe place to process their feelings.
Children can express their emotions through art. There are some issues like anxiety that cannot be expressed in words, so art therapy can be useful to help children move through places they are not ready to grow in on their own.
Parents and carers are welcome to attend sessions, as this can help lift the whole family and make the child feel at ease.
Team Building or Staff Training
Cohesive teams function efficiently when they function together. When this happens, the work gets done faster and easier! People enjoy coming to work and the atmosphere is great. It is easy to clarify misperceptions, and they can build respect on trust.
Would this describe your team? If not, Andrea can help you.
Providing your team with art therapy experiences will help them develop soft skills. Bringing a fresh perspective that your team can leverage to improve staff relationships and retention, Andrea excels at building a community of practice and fostering a sense of belonging.
Using art therapy for staff development has the following benefits:
A greater degree of flexibility
An attitude of empathy and respect
Enhanced imagination and creativity
An open line of communication
Improved problem-solving and conflict resolution
A greater level of trust
Fun environment
We aren't all artists, but if your team makes art together, you will reap the rewards immediately.
Group Work
In groups, art therapy is great because you can inspire each other and see parts of yourself in the art of others. It creates a sense of belonging and community.
As much as it helps us see our similarities, group work also helps us honour and protect our individuality.
Group work is open to:
Aged care
Prison
Schools and preschools
Mothers' groups
Children with cancer
Organisations
Communities
Contact Andrea today to schedule your session!
We're open 5 days.
| | | | |
| --- | --- | --- | --- |
| Monday | 9:00 am | To | 10:00 pm |
| Tuesday | 10:30 am | To | 6:00 pm |
| Wednesday | 9:00 am | To | 5:30 pm |
| Thursday | 10:30 am | To | 6:00 pm |
| Friday | 9:00 am | To | 2:00 pm |
Qualifications
Access Consciousness Bars Practitioner
Energy Healing Practitioner
Professional Membership
ANZACATA - Australian, New Zealand and Asian Creative Arts Therapies Association
---