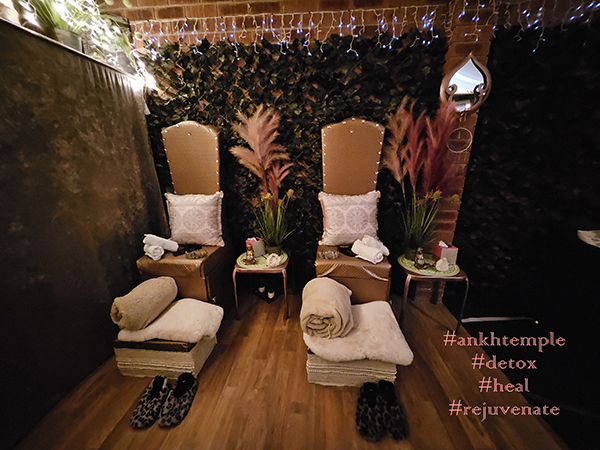 Want to find out my availability, pricing or opening hours? Click on Send Me Details Now to get started.
Send Me Details Now
Clicking on the Send Me Details Now button opens an enquiry form where you can message Arianna directly
Be kind to yourself ◊ Yoni  Steam ◊ at ANKH TEMPLE  What is Yoni  Steaming ? Yoni  Steaming (Yoni is Sanskrit for vagina)is the ultimate holistic therapy and most effective modality to physically- emotionally and energetically Heal, Cleanse, Detox, Fortify and Rejuvenate the Vagina walls - Cervix - Uterus - Fallopian Tubes - Ovaries - and Anus. At Ankh Temple our Herbal Yoni  Steam Therapy approach is an ancient holistic form of extraordinary Hydrotherapy using the power of water and organic herbal infusion steeped and charged with powerful intentions to enter the Woman Sacred  Yoni as pure energy of Love and Healing. I am one of the very few Practitioner in the Illawarra that is offering the opportunity for an holistic therapy as an alternative self-care for the Women's Womb to empower themselves. My passion now lies in awakening women in remembering to reconnect with their Inner Goddess and self-love
Ankh Temple
Focus areas
Yoni steaming
Reconnection
Menstruation
Love
Bloating
Childbirth
---
Namaste Beloved♥
I welcome you in this space with much

Love♥

and I thank you for having the time to read my page.
My name is

Arianna

, I am a Certified

Yoni

Steam Practitioner, Certified

Goddess

Gemstone Egg Sensuality Coach, Certified Herbal (

Yoni

) Detox Pearls Specialist,

Womb

Minister of

Feminine

Health and Healing, Member of the

Sacred Yoni

Alchemist Association, Spiritual Healer.
♥
Yoni ♥

Steaming

is a ritual that has been used by women of all ancient cultures for thousands of years as well as in the present cultures to promote Healing - Balance - and Wellbeing to our

Wombs

and

Reproductive Organs

.
The woman body is

the Sacred Feminine Temple , every cell is a Stargate, an Energy Portal, and the

Womb

is the mother of this complex magnificent system.
The Womb is our energetic core that feels and records everything, she is the keeper of the truth, she holds the imprint of every memory, every feeling, every event or any of the deepest sexual traumas and suppressed emotions that have shaped and defined our lives.
The Womb speaks only the language of ♥ Love, nothing else will nurture, nourish and provide her safety she needs to flower. Bring her the gifts of devotion, deep respect, gratitude and attune to her energetic vastness.
Womb Awareness is what I intend for all women to experience ,may they all feel the call for this path of Womb Awakening which is open to everyone, it does not need gurus, masters or psychic powers.
Yet we have been taught to judge our bodies, to abide by beauty standards, to compete with each other, to repress our sexuality, to limit and underestimate the powerful force that dwells in our Wombs and the Divine Feminine Power Birthright!
Now please I would like you to give yourself a minute to answer these few questions ...
♥ What is your relationship with your Womb?
♥ How much devotion and selfcare have you invested so far for the most Sacred part of your body?
♥ How well do you experience and support your vagina's needs and her sacredness other then having period, sex and childbirth?
♥Do you allow yourself permission to experience shame or criticism about your sexuality or body image?
♥How much is your Yoni ♥ Womb W/health worth?
♥
If you are reading this trust that you have been guided from your Spirit and Divine Feminine ♥ Energy within you.
Because now is the perfect time for Reconnection - Selfcare - Empowerment - Detox - Forgiveness and Release of all the toxins accumulated from the environment as well as from all type of traumas afflicted by old beliefs, past lives, ancestors, family, patriarchal society, ex-lovers, western indoctrination and self-sabotage lifestyle.
Reclaim your rightful Divine ♥Womb Power now and live the journey ahead of you feeling Lighter, Healthier, and Happier!
Benefits of Yoni Steaming:
♥

Pulls out the toxins out of the Body.

♥

Alleviate abdominal pain/pressure.

♥

Relieves menstrual cramps.

♥

Regenerates damaged tissues.

♥

Improves vaginal tightness.

♥

Helps with haemorrhoids.

♥

Helps with feminine odor.

♥

Helps womb absorb herbal medicine into bloodstream.

♥

Regulates menses.

♥

Relieves heavy menstruation.

♥

Balances hormone levels.

♥

Helps with PMS.

♥

Helps with Fibroids.

♥

Polycystic Ovaries.

♥

Mood stabilization.

♥

Strengthen the Uterus.

♥

Detoxifies the Womb removing excess waste especially after each menstruation which contributes to cysts, fibroids, cancer and tumors formation.

♥

Relieves menopausal symptoms.

♥

Facilitates emotional purges.

♥

H

elps aligning Chakras.

♥

Builds self-esteem.

♥

Releases stagnant energy and stimulates creativity.

♥

Support lymphatic health.

♥

Assist with fluid retention.

♥

Strengthen communication.

♥

Stimulation of healthy sexual energy.

♥

Reduction and elimination of abnormal

growths, old blood residuals, endometrial tissue disorders in the womb with consistent use .

♥

Helps assisting women to conceive.

♥

Speeds up recovery after child birth.

♥

Clears ancestral trauma.

♥

Can support bloating, exhaustion and digestive issues.

♥

Increases sensation and sensuality.
and more .......
Benefits vary per person and your individual program of herbal steam treatments,womb wraps, and life style changes.
Avoid Yoni Steaming if you have any of the following:
Pregnancy or if you think you may be pregnant
Women who have an Intrauterine Device (IUD)
During active infection (cervical, uterine or ovarian inflmmation)
Fever
During menstruation or when open sores or blisters are present.
♥
Whatever your condition, Yoni ♥ Steaming is an extremely relaxing selfcare ritual and with the guidance of a professional assistance you will feel and experience Health - Peace and Harmony throughout your reproductive system.
At Ankh Temple we are devoted to create for you a trusted non-judgemental sacred space where you can return whenever you need to Let go ♥ Relax ♥ Heal ♥ Detox ♥.
And So It Is....
ASE ♥ AMEN ♥ AWOMAN!
---