Anton Barhy - Mobile Myotherapy Services
Servicing area: Strathfield, Burwood, Lidcombe, Homebush, Concord, Five Dock
Craniosacral therapy
Cupping
Remedial massage
...
Want to find out my availability, pricing or opening hours? Click on Send Me Details Now to get started.
Mobile Myotherapy Services prides itself with professional high quality service of effective manual therapy treatments. Applied by releasing the brain's feel good chemical, Beta-endorphins with its response of pain and relieving sensation through direct application of muscle, joint, tendon and nerve rehabilitation.
"Stop bearing with your pain and living with the pain, rebuild yourself and kick it away."
About Me
---
Anton Barhy
Principle and owner of Mobile Myotherapy services
Anton is a qualified Myotherapist and Remedial Massage therapist, specialising in neuromuscular rehabilitation, sports therapy and Myoskeletal therapy. Anton uses techniques learnt from studying in Sweden & Austria to take a different approach to certain injuries than other Myotherapists in Australia. Anton spans across his practice in Myotherapy treatments, providing a broad range of tactile remedies working with all clients needs such as work related injuries management, pre/post surgery and sports injury management. Throughout his years of practicing Anton's deepest expression of interest is working more with neurological condition related symptoms. From his experience as a young man, Anton has been a survivor of battling his personal condition known as Diffuse myelinoclastic sclerosis. Which is known to be a border line of Multiple Sclerosis, Anton has learned to manifest it by keeping a journal of his day to day routines, keeping up with body movement, mobilisation and a positive attitude as this helps him to maintain his confidence, not just for himself but more so to his community. As Anton deeply believes, quote "The only disability in life is a negative attitude", with his personal experience and understanding Anton is passionate to believe that movement is the key, that there is more than just medication for treatment. This has given him the opportunity to give back to the community, as Anton enjoys maintaining good communication with his clients by seeing them get back on track and achieving their day to day goals. Anton has been practicing as a therapist for under 10 years and enjoys every day of it, as Anton believes it is not a treatment without results for it speaks louder than words. Having a strong connection Anton Works closely with Rugby League Players, Rugby Union Players, UFC Fighters, Body Builders, Netball Players, Ballet dancers and Boxers.
Having worked alongside chiropractors, osteopaths, physiotherapists, Exercise Physiologists, Naturopaths, Nutritionists and Pilate Instructors. Anton is a strong believer in holistic medicine and having to work in healthcare, Anton is a proud member of Australian Traditional Medicine Society (ATMS).
---
What is Mobile Myotherapy services?
Myotherapy involves an extensive physical evaluation and an integrated therapeutic approach in the treatment of affected muscles, joints and nerves. We are a qualified allied health service that provides remedial manual therapy at the comfort of your home. Why wait in line at your local clinic? Why travel a certain distance to find parking while you are compensating with muscular pain? Mobile Myotherapy Services has you covered, providing you with treatment plans and therapeutic manual therapy at your front door. No need to wait in line, we provide ourselves with our medical equipment, to help achieve your health and well being.
#UBERTHERAPY
What can you expect from Myotherapy treatment?
During a consultation the Myotherapist will talk with the patient and collate a full history case. This helps to understand the patients health and well being based upon previous accidents, illness, post surgeries and other factors that may contribute to reduce health.
During a physical examination the Myotherapist applies palpatory skills to where certain areas of the muscular and skeletal areas are responding (Sore, Tender, Aching, Numb or Sharp) This helps for the Myotherapist to understand and to take action for what certain techniques and treatments can be applied to the patient.
Will I experience discomfort or pain during treatment?
It's like asking how long a piece of string is? For certain patients, pain can be quite unpleasant and for others it can be a feeling of good sensation. But to understand our bodies it is important to know when our bodies need the extra care. As this prevention of ignoring the signs and symptoms of pain may lead to further pathological conditions. A Myotherapist and along with other allied health professionals are here toguide the patient to help notify and communicate with one another. This helps to create a trust and understanding for the Myotherapist to make the appropriate treatments that are needed for the session.
How often should I have a Myotherapy Treatment?
Therapeutic treatments can vary, pending on the clients health and well being, Mobile Myotherapy Services aims to keep treatment at fortnightly or monthly bases. The goal for the patient is to help rebuild and restore their goals in small moderations, as that old saying goes "Slow and steady wins the race."
Is Myotherapy for me?
Whether you are an office worker, university student, athlete, tradesman, labour worker or retired, Myotherapy treatment is suitable for everyone.
What are the common conditions that Myotherapists come across?
Certain conditions that Myotherapists and other Allied Health professionals come across are mainly work related injuries. Varying from minor, acute or chronic pain, treatments are provided for all patients. Work related injuries, Pathological related injuries, Musculoskeletal/Nerve related injuries and post surgeries. Myotherapy has a more broad range of techniques compared to Remedial Massage Therapy as it works more in depth of Range of motion techniques, Muscle energy techniques, Myofascial cupping and DryNeedling.
Treatments
#FIXMYBACK #IMINPAIN #REMEDIALHOMECARE
Myoskeletal/Neurotherapy
All of our treatments are applied with the understanding of the human anatomy and physiology, research of the clients past or present pathological condition, assessments are required as consultations are taken more than 1 hour to understand the clients needs and goals to help achieve the clients needs. We utilise certain variety of techniques that can help, such as Muscle Energy Technique, Myofascial release, Soft Tissue Therapy, Deep Tissue Therapy, Antagonize and Protagonize treatments, Trigger Point Therapy and Neuro Rehabilitation.
What is Myoskeletal/Neurotherapy?
Myoskeletal/Neurotherapy is therapeutic treatment that is founded by Erik Dalton who has never stopped enhancing his techniques performing various styles which is known as MAT. Myoskeletal Alignment Techniques help remove pain that helps to restore function, using guided stretches and therapeutic touch. By offering assistance to the body's natural healing process, this helps the clients brain correct the underlying causes of pain and discomfort.
So what are the benefits of Myoskeletal/Neurotherapy?
Muscle Aches
Pain dysfunction
Muscle Mobility
Nerve Pain
Joint Pain
Gait
Sport Related injuries
Pre/Post Sport treatment
Dry Needling
Also known as myofascial trigger point, dry needling is an alternative medicine technique similar to acupuncture. Dry needling is sometimes also known as intramuscular stimulation. A treatment that helps to enhance neuromuscular conditions, this is helped by the treatment of Myofascial Trigger Point. It helps to relax the muscles and change its tone from acute or chronic build up of pain. At times Dry Needling is mistaken for Acupuncture, whereas Acupuncture is a Traditional Chinese Medicine which helps heal the body's meridian points. Research has shown that Dry needling releases a chemical known as endogenous opioids, an endorphin that is primarily produced in the brain and has multiple actions throughout the body. This helps to regulate pain, emotion, reward, stress responses, motivation, drug addiction, and autonomic control.
Dry needling can be an influential method to accelerate pain reduction, healing and the restoration of normal tissue function. There is a growing body of scientific evidence that supports the positive effect inserting a needle has on the electrical and chemical communications that take place in our nervous system. These include inhibiting the transmission of pain signals in our spinal cord and increasing the release of our own pain relieving chemicals within our brains.
So what are the benefits of dry needling?
Muscle aches
Muscle Tension
Easing Trigger points of muscles
Nerve Pain
Stress
Anxiety
Fatigue & low Energy
So is Dry Needling Safe?
Dry needling is a very safe treatment. In mobile Myotherapy we are trained in using a 'clean' technique, and only individually packaged, single use, sterile needles are used. The needles are very fine (.16-.30mm), and very rarely does any bleeding or bruising occur at the insertion site.
Myofascial Decompression (Cupping)
Also known as cupping, which helps to work with the soft tissues, it is placed on the skin, vacuumed with a pneumatic manual pump and gliding around the back muscles to help release fascia and muscle tissue. It is not essential for most therapists to leave deep red marks but more or so to help break the adhesion scar tissue, to enhance blood flow and range of motion. While the suction is active, the cup is moved, causing the skin and muscle to be pulled, this is called 'gliding cupping'. Cupping is applied to certain trigger points as well as to parts of the body that have been affected by pain or muscle/fascia tightness where the pain is deeper than the tissues to be pulled. The cupping process draws blood from your vessels and into your tissue. Your body thinks it's been injured, so the theory is that it 'jumpstarts' a positive inflammatory response, mobilizing antibodies to the area to try to heal it.
So what are the benefits of Myofascial cupping?
Stimulate Blood Flow
Drain Lymph and cellular debris
Soften tight muscles
Relieve deep muscular issues and reduce muscle spasms
Lift and stretch soft tissue to separate fascial restrictions
Increase range of movement and flexibility in joints.
Scar tissue post-surgical
Pregnancy Swedish Massage
Pregnancy Massage is best provided as a Swedish technique, which is a soft tissue treatment that is specifically tailored for pregnant women. Pregnancy Swedish Massage helps reduce tension around the body which can help make the body relax. Pregnancy massage must be treated with a qualified therapist, as there are many contraindications that may arise that are not present in non-pregnant individuals.
Here in Mobile Myotherapy Services, we are experienced and qualified pregnancy therapists to help you through this Amazing time.
Pregnancy Swedish Massage can help you cope with the changes to your body that occur while you are pregnant. It has proven to be quite beneficial to help ease discomfort at a time when you can't use certain medications during the pregnancy. Swedish massage is a lot more safer to apply during pregnancy as deep tissue applied to the skin can be quite harmful not only to the client but also to the unborn child.
Swedish Massage is a technique which is provided with soft tissue strokes all along the back muscles, along with light stretches to help with fatigue and stress around the shoulders.
What are the benefits of Swedish Pregnancy Massage?
Reduces back pain
Reduces fatigue
Helps to reduce stress & anxiety
Improves Lymphatic system
Reduces joint pain
Reduces swelling of joints
Improves sleep pattern
Reduces the babys stress hormone
Palliative Care Massage Therapy
Palliative Care Massage Therapy must be performed by a professional trained therapist, for patients in hospice and palliative care environments, massage therapy is proving to be beneficial in helping relieve some of the most debilitating physical and emotional symptoms—such as pain, anxiety and depression—and allowing patients to live the highest quality of life possible.
Palliative care massage may include modalities such as relaxation massage, therapeutic massage, craniosacral therapy & acupressure.
What are the benefits of Palliative Care Massage Therapy?
Palliative care massage addresses the client's symptom issues, the side effects of various treatments, the physical, psychological, social and emotional consequences of living with a terminal illness. Massage often promotes a greater sense of connection between the mind and body complexes.
Pain
Fatigue
Nausea
Anxiety
Depression
Physical mobility
Improves circulation
Is massage therapy safe for someone diagnosed with a chronic and/or terminal illness?
The gentle and appropriately adjusted massage is safe for clients who have been diagnosed with a chronic or end stage terminal illness. In fact, massage therapy can support the person throughout all stages of their respective illness.
Why Choose Mobile Myotherapy Services?
Provision is accuracy, remedial therapy at the comfort of your home, no time wasting in line at your local clinic. We deliver our selves and value our time working with our clients to achieve their goals for better health and well being, as Anton always says "I'm a phone call away."
For each new patient, consultations will be taken under complete confidentiality, as body assessment and functionality will be recorded for the therapist to understand the physical movements and appropriate treatments that are needed.
New clients will receive a complimentary
Sweat Towel
125ml hand sanitizer
As our purpose is to promote public health and safety to keep us from harm, from the spread of germs and hygiene.
"Because the safeway is the bestway."
Products
Our cosmetic products are all proudly naturally handcrafted by Anton himself as they are all 100% Vegan & 100% proudly made in Australia.
#NAFEZ
Nafez means breathe in Aramaic/Arabic, a hand sanitizer that has naturally derived aloe vera juice & a natural blend of essential flavoured oils that helps to clean and soften the skin all at the same time. Nafez hand sanitizer spray comes in a 125ml bottle size, as the liquid spray is more beneficial then hand gel sanitizers because they quickly run out. Nafez is great for the skin as certain sanitizers leave it very dry which can disturb the natural barrier of the skin's pH level.
Nafez has helped small business and communities due to the Covid-19 as it has left great feedback from clients,
Our variety of flavours range from Lemon Myrtle, Wild Cherry, Lemon Cherry Party, Grape Bubble Gum & Sex On The Beach.
125ml Hand Sanitizer Spray per bottle= 8$
Special Prices
5 bottles for= 25$
#SUPERMYORELAXN
Super Myo Relaxn is a brand that Anton has spent proudly 3 years of research on trial and error with great positive feedback from all clients.
With a blend of St John's Wort Infused Oil, Vitamin E Natural oil, Menthol essential oil, Capsicum essential oil, Turmeric essential oil, Hemp Seed essential oil, Cinnamon Bark essential oil, Nutmeg essential oil, with a base of naturally derived aloe vera. Super Myo Relaxn gives a warming sensation to the skin, which helps to give manifestation for relaxing tight aching muscles after a tough day. A product so easy to use without the fuss of applying it in your hands to massage the region of soreness like other products. Just simply shake the bottle, twist the cap and apply around the muscular/joint region giving you grief. Eg (wrists, elbows, shoulders, neck, back, hips, knees, ankles and muscular region.) A great product for Bodybuilders, Boxers, UFC Fighters, Workers, People for Special Needs and the Elderly. Super Myo Relaxn is independently owned and soon to be branching and producing more upcoming products on the shelf, as the high demand of it has increased it has proven that actions can speak louder than words.
75ml Super Myo Relaxn Roll on= 25$
Special Prices
3 bottles for= 60$
#SUPERMYOCOOLER
Super Myo Cooler is another production which Anton himself has taken the time to work and most importantly listen to his clients that are seeking for a natural cosmetic remedy to help with muscle soreness. Super Myo Cooler is blended with organic essential oils, which includes Vitamin E oil, Chamomile German Blue Essential Oil, Kunzea Essential Oil, Rosemary Verbenone Essential Oil, Hemp Seed Oil, Wintergreen Essential Oil, Clove Bud Essential Oil & Coriander Essential. With an earthy scent that gives a minty and cooling sensation to help cool down your tight aching and sore muscles. Another fantastic battle to add to your gym bag after a tough and hard days of working and training hard. Because remember "The Only Disability In LIfe Is A Negative Attitude."
75ml Super Myo Cooler Roll on= 30$
Special Prices
3 bottles for= 70$
Donations/Contributions
Here at mobile myotherapy for the past 5 years our proceeds and donations are not achieved without the support of our clients and community. Donations are taken directly towards Food Angel & Feeding Hearts. These organisations are personally picked by Anton who he personally abides by and sponsors, as he and his family personally contribute to do their deeds donating towards these organisations.
Feeding Hearts is a non profit organisation founded by the Good Shepherd Outreach Committee Youth Group, that helps feeding warm meals and providing clothing to Homeless brothers and sisters out in the streets of Martin Place at Lindt Cafe.
Food Angel is another non profit organisation by the Good Shepherd Outreach Committee Youth Group, that helps providing food hampers in bulk form to the Fairfield community.
Mobile Myotherapy Services values health and well being, as times have shown to be quite challenging and fragile for some, where a little help can safely restore one or others in need of support. Our contributions of each visit to every individual client takes 10% and is forwarded towards these proceeds and organisations. Your support is very grateful and much appreciated, as we would not have any achievements today without your generosity.
#LIVEWELLSTAYSTRONG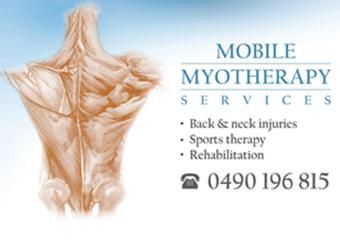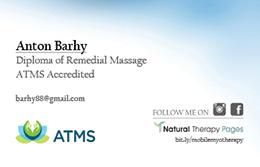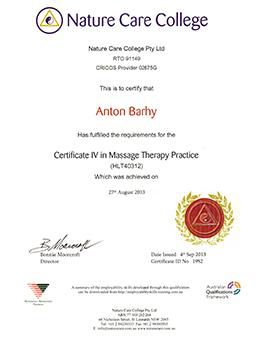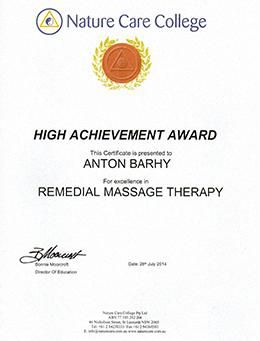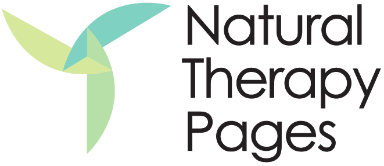 Anton Barhy - Mobile Myotherapy Services