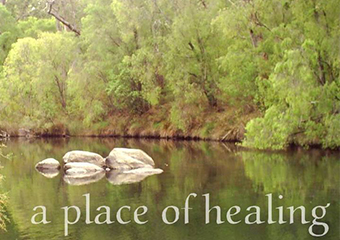 Clicking on the Send Me Details Now button opens an enquiry form where you can message A Place of Healing directly
Send Me Details Now
Naturopathy, Kinesiology, Massage (Remedial), Trigger Point Therapy, Herbal Medicine, Iridology, Homoeopathy, Dorn Spinal Therapy, Allergy Testing, Flower Essences
A Place of Healing
Servicing area
Bridgetown, Western Australia
---
Focus areas
Circulation
Muscle tone
Well-being
Lifestyle
Pain relief
Joy
---
When you listen closely enough, you can hear what your body is trying to tell you, only then can you start to heal.

Healing of the body cannot always be done alone, it's helpful to have the guidance of someone who can deeply listen to the message your body is giving.

Ray Murphy, from A Place of Healing, is a fully qualified Naturopath, specialising in Dorn Spinal Therapy. Located in tranquil Bridgetown in the heart of the South West of Western Australia, A Place of Healing is the quiet place we are all searching for and where the healing can begin.

Dorn Spinal Therapy

Dorn spinal Therapy is a gentle way of relieving back and neck pain, taking in aspects of overall posture and leg and hip movement. Ray compliments the treatment with remedial massage and other aspects of Naturopathy to bring about quick and lasting pain relief. Thankfully there's no manipulation of the spine or the dreadful 'cracking' that most people associate with spinal treatments.

If you've been putting up with back pain, then book an appointment with Ray and enjoy some long awaited relief.

Massage

When was the last time you enjoyed a good massage? No longer is a massage considered a treat or luxury, it's a vital aspect to overall health and wellbeing. Relieve sore and aching muscles, improve circulation, relieve congestion, stimulate lymph flow and improve muscle tone. Feel lighter and move more freely.

Trigger Point Therapy

Tension 'knots' often develop in our muscles, causing pain and restricted movement. A long lasting way of relieving the pressure is with Trigger Point Therapy. This allows the muscles to 'breathe' easier, improve blood flow and eliminate toxin build up.

Nutritional and Lifestyle Advice

Deep down we know we eat the wrong foods and live a life far removed from what would be ideal, but how do you move closer to what is right for you?

Ray can take an objective look at your life situation and diet and helping to bring about a lasting balance that will have you radiating with positive energy.

More often that not, we're too close to our own life situation to effect any beneficial lasting change, that's why it's worth seeking the advice from someone who is trained to ask the right questions and then know the solutions.

Other Services

Other aspects of Naturopathy available are: Homoeopathy, Iridology, IBD Allergy Testing and Flower Essences.

Too Short

While you continue to suffer, your negative energy affects those around you.
This life is way too short, so take the time to listen to what your body is telling you and book an appointment with Ray Murphy at A Place of Healing.


---