Find a Reiki Practitioner in your area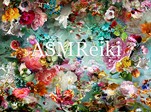 Member since 2020
ASMReiki
Jade Gunn
This practitioner is currently unavailable.
Combining the healing and restorative effects of Angelic Reiki with the complete mind and body relaxation & subtle pleasure of ASMR; let's journey together to nurture, realign and strengthen your inner light!
ASMReiki
Hello Beautiful Soul!
I believe we must first make peace with the inner world so that we can reshape the outer with compassion, beauty and grace. It is for this reason that I work with Angelic Reiki; a deeply profound and effective modality of energy healing that brings peace and harmony into our lives.
As an optional service I also offer Angelic Reiki & ASMR - Our ASMR sessions are run in real life, taking those tingles to the next level! Sessions can be cusomised to suit your preference, just make a note on the online form at time of booking!
About me: Warm and grounded with a naturally compassionate disposition; long time ASMR enthusiast & Certified Angelic Reiki practitioner. Calm with an eye (and an ear!) for fine details; it is my absolute honour to offer these soothing services with the help of my Angel guides. We invite you into this sacred space of healing, nourishment and sublime sound.
About ASMR - ASMR stands for Autonomous Sensory Meridian Response. It is a relaxing, often sedative sensation that begins on the scalp and moves down the body. These sensations are generated using a variety of auditory and visual 'triggers'. Triggers can range from simple sounds like whispers and tapping to the more complex like crinkling, clinking glass and instruments.
Please note - This is a non-sexual service, this is a hands-off service, NSW Gov contact tracing applies. As covid has affected practice access, sessions will be run from myhome . For this reason I am currently taking on female clients only; this is a personal health and safety choice and not a reflection on my feelings toward men <3
Qualification details
Angelic Reiki Level 2 Practitioner
Experienced in energetic clearing & purification for homes and workspaces.
---
Service categories