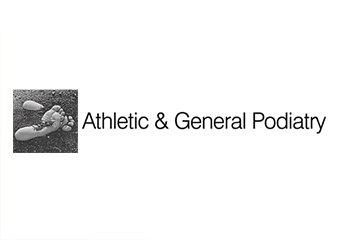 Clicking on the Send Me Details Now button opens an enquiry form where you can message Athletic and General Podiatry directly
Send Me Details Now
Athletic & General Podiatry have been providing foot care for people of all ages & activity levels in the Bayside area for over 15 years.
Athletic and General Podiatry
Focus areas
Positivity
Infections
Home visits
Lifestyle
Health goals
Nails
---
---
ABOUT
We start with a thorough assessment of your feet, footwear & activities in order to diagnose the cause of your foot & lower limb problems and then discuss these with you so that you have a clear understanding of why you are experiencing pain & what your treatment options are.
After your assessment we will then provide you with the treatment & advice that best suits your needs & lifestyle.
Our service is for people of all ages from children & seniors to sportspeople.
No referral is necessary except for DVA & EPC (Medicare) patients. People with private health insurance are able to claim on the sport refunds with our HICAPS facility if they bring their card with them to the appointment. We also offer a concession discount for pension & health care card holders.
Our building has undercover car parking with lift & disabled access.
Home visits are also available by request.
---
PODIATRIST
Fiona Jeffs B.Pod. M.A. Pod. A
Your qualified & registered podiatrist with 20 years experience in private practice around the Bayside area.
Fiona previously operated Athletic & General Podiatry from the New Street Medical Centre for over 13 years & relocated to the more modern & spacious premises at Bayside Orthosports in the 2nd half of 2013.
These new premises also provide Fiona with the facilities to offer her patients help in her other area of interest, Health Coaching, to provide her patients with a holistic approach to not only their foot care but also their general health & vitality.
Fiona believes this environment of support, awareness & positivity helps set her patients up for greater sucess in achieving their overall health goals.
Feel free to ask Fiona more about this service during your consultation.
---
SERVICES
Athletic & General Podiatry treat a wide range of problems from general skin & nail conditions such as corns, callouses, blisters, warts, fungal infections & ingrown toe nails.
Also treated are biomechanical problems & sports injuries such as arch, heel, ankle & knee pain, shin splints, plantar fasciiitis & neuromas, with biomechanical & gait analysis, orthotic therapy (custom & prefabricated), footwear assessment & prescription.
For the aging foot we offer arthritic & diabetic foot care assessment & management. Through the EPC Scheme patients can be eligible for up to 5 Medicare rebated visits per year. Home visits can also be arranged as needed.
For those really wishing to pamper themselves we also offer relaxing foot massages either at the end of your treatment or as a stand alone appointment. These can be claimed with some health insurance providers.
"GIVE THE GIFT" OF A TREATMENT & PAMPER Gift Vouchers available. Email us or pop in.
---
ORTHOTICS
Orthotics are devices that are placed in shoes or on the foot to create a change in pressure distribution, foot/leg mechanics or a
combination of both. On making your appointment please mention that you are coming in for Orthotics so a double appointment can be made for this assessment
BIOMECHANICAL ASSESSMENT
This involves seeing you walking on the treadmill (dynamic gait analysis) followed by non weight bearing and weight bearing range of motion assessments and measurements. This information is then used to determine the most suitable orthotic prescription for your needs.
PLASTER CASTINGS
Moulds are then taken of both feet. These are sent off to the lab for your custom made orthotics to be made in accordance with your personal prescription.
CUSTOM MADE ORTHOTICS
An appointment will be made for around a weeks time for you to come in to fit and collect your new orthotics.
A 1 month follow up appointment is made then another review appointment is made for 3 months time, this is to make sure they are fitting correctly and to monitor the resolution of your symptoms.
---
CONTACT US
---