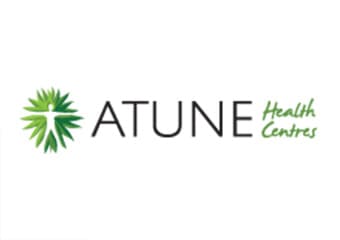 Atune
Clicking on the Send Me Details Now button opens an enquiry form where you can message Atune directly
Send Me Details Now
Refresh, Revive, Restore. Providing Osteopathy, Naturopathy, Psychology, Massage therapy and Buteyko therapy. Health care for the whole person.
About Atune
Focus areas
Optimal health
Fitness
Pain relief
Nails
Corns
Headaches
---
---
Click on the links below for further information
---
Our Vision
To empower every individual to achieve life-giving health in body, mind and spirit, through the provision of healthcare that refreshes the body, revives the mind and restores the spirit.
Our Mission
To establish integrated healthcare, health education and community services that provide excellence in holistic treatment.
What is integrated health care?
Integrated Healthcare provides a collaborative approach to medical therapies, complementary medicine, psychology, counseling and community services. Practitioners work together for an integrated assessment and holistic approach to treatment.
---
Psychology
What is Psychology?
Psychology is the study of mental processes and behaviour. The term psychology comes from the Greek word psyche meaning "breath, spirit, soul, and mind" and the word logia meaning "study of". Psychology has it foundations in biology and philosophy and seeks to understand and explain thoughts, emotions, and behaviour.
Who practices Psychology?
A Psychologist is a health professional who has obtained a university degree in the study of Psychology and has completed other training to develop skills in working with people. Our Psychologist is registered with the NSW Psychologists' Registration Board and is an associate member of the Australian Psychological Society (APS).
To remain registered with these professional bodies, a Psychologist must continually complete a defined number of Professional Development (PD) points which are accumulated through continued education, skill development and other training that is deemed valuable to the Psychologist. The APS regulates and approves whether training meets the requirements for PD points.
---
Buteyko Therapy
The Buteyko Breathing Method is an effective drug free therapy for the treatment of a range of respiratory and related health conditions. These include Asthma, COPD, Emhysema, Snoring, Sleep apnoea, breathlessness, hay fever and other allergies, fatigue, blocked nose, anxiety and panic attacks.
Are you sick of Asthma or another lung condition? Can't get a good nights sleep because of insomnia, snoring or sleep apnoea? Sick of Hay Fever, Sinusitis, Rhinitis, or other Chronic Respiratory Infections? Or are you just sick and tired of being sick and tired?
To find out if Buteyko would benefit you, book now for your breathing and health assessment!
---
Dietetics
Accredited practising dietitians (APD) are trained to deliver medical nutrition therapy (dietary advice) on a range of health conditions, including; type 1 diabetes, type 2 diabetes, heart diseases including high cholesterol and blood management, gastrointestinal disorders and weight management, including weight loss or weight gain). They can help you choose healthy food options and create meal plans to suit your personal needs.
---