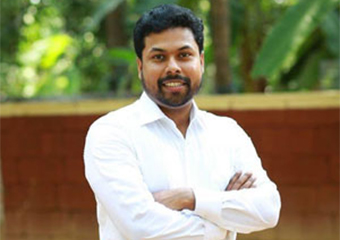 Ayur Health
Clicking on the Send Me Details Now button opens an enquiry form where you can message Dr Bosco Paul BAMS, RM, TAE directly
Send Me Details Now
Ayur Health provides you a Lifestyle Consultation that enables you to create an optimal health condition and vitality. We nourish, Cleanse and Rejuvenate your body and mind by simple Ayurvedic practices with such care and devotion.
Ayur Health
Servicing area
Adelaide, South Australia
---
Focus areas
Chronic skin conditions
Eczema
Foot problems
Fertility issues
Fatigue
Anxiety
---
---
ABOUT
Ayur Health is an established Ayurveda Clinic in Adelaide, South Australia. It is a unique service which provides the individuals in the community with a self- empowering approach to their healthcare. Having clinic facilities throughout Adelaide, the founder, Dr. Bosco Paul has ensured that AyurHealth is a health service for all. Bringing the power and extensive knowledge of the 5000 year old Indian Ayurvedic science to our community, AyurHealth is ready to help all clients attain and maintain optimum health and well-being.
With the expertise of Nationally Accredited trained Ayurveda Doctors and Practitioners, Ayur Health offers individual consultations and personalized treatment plans for each client. Our services range from treating severe life threatening conditions, all chronic and acute conditions, such as skin nourishment, headache treatments, anxiety and depression, to herbal beauty treatments and body therapies.
About Our Doctor
Dr Bosco Paul (BAMS, Dip RM, Cert. IV TAE) is an Indo-Australian Ayurveda Doctor and Trainer. Currently residing in Adelaide, Dr Bosco has a great love and passion for practicing, promoting and teaching the principles and philosophies of Ayurveda to the Australian community.
Born to a middle class family, in the Indian southern state of Kerala, "the home of Ayurveda", Dr Bosco was always surrounded by the teachings and practice of Ayurveda throughout his upbringing. Informal teaching of the knowledge of this 5000 year old medical system started at home and the use of herbal remedies and treatments was a daily practice. His love and passion for Ayurveda continued and needless to say it was a natural transition for him to pursue formal training in Ayurveda at the University of Kerala. Dr Bosco completed a Bachelor of Ayurveda Medicine and Surgery from the University of Calicut and was awarded Ayurveda Acharya from the University.
After graduating, Dr Bosco worked with Moss and Nambi families, AstaVaidya's and other Vaidyas for learning specific specialized knowledge and skills as well as completing Clinical Aspects of Hatha Yoga from Gurus of Kerala. He has past work experience as a Medical Officer in Indian systems of medicine in Kerala.
Dr Bosco specialises in the treatment for neurological and digestive system diseases, male and female infertility, headache and pain, and psychological and emotional imbalances.
For the past three years Dr Bosco has lived in Adelaide, South Australia. He has been teaching students in Ayurveda and remedial massage. Having produced excellent Advanced Diploma and Certificate 4 Ayurveda graduates from theses Australian registered organisations, he is thrilled to see that the knowledge and practice of Ayurveda is being acknowledged, practiced and respected in western society.
Dr Bosco is a practicing Ayurvedic doctor, Ayurvedic lifestyle consultant and Panchakarma Specialist for Ayurveda retreats. He runs regular workshops on management and preventative aspects of diseases and has been heavily involved in creating resource materials for Ayurveda training program in Australia.
---
SERVICES
Our Treatments
Our Specialities
Yoga
Yoga is basically the practical side of Ayurveda with practices and methods for developing the meditative mind.
Know more
Treatments
Contemporary Ayurveda tends to stress attaining vitality by building a healthy metabolic system.
Know more
Consultation
Get health advice from our experienced doctors.
Know more
Training
We provide accredited and non-accredited training in different courses to keen aspirants.
Know more
Ayurveda
Clinical and Academic Training
Herbal Medicines
Capsules & Tablets
Capsules and Tablets comes in an easy form of conception, which are given with doctor's prescription.
Oils & Ghee
Oils and Ghee having readily absorption on skin, providing nourishment and rejuvenation to the skin.
Liquids & Wines
Liquids and Wines are edible water soluble nutrients with direct digestion and giving a blood purification.
Powders & Jams
Powders and Jams encourage stomach digestion and also boosts the digestive system.
Research
Autism
We utilizes a combination of specialized diets, herbs, yoga and massage to managet autism. Improvements made through a series of treatments, including food elimination, sensitivity testing, herbal supplements, yoga and social normalization.
Eczema
Extreme inflammation of the skin or in other words chronic dermatitis is termed as eczema. Specific external and internal treatments after Panchakarma is done for eczema. You can look forward to having a beautiful skin.
Arthritis
Treatment program includes massage, heat treatment, and mild internal cleansing. Ayurveda massages with strokes over joints, ligaments, muscles, and different parts of the body. We research on treatments for fast results with lesser pain.
Insomnia
The Treatment of Insomnia focuses on balancing the aggravated body energies through herbal medicines as well as customized diet and lifestyle plans. The added special herbs and techniques allows you to sleep better less affected by insomnia.
---
Contact us today for more information.
Therapeutic Relaxation Massage
1hr
Some of the physical benefits of massage and myotherapy include: reduced muscle tension improved circulation stimulation of the lymphatic system reduction of stress hormones relaxation increased joint mobility and flexibility improved skin tone improved r
Increased joint range of motion (ROM) Increased flexibility. Increased sense of well-being. Decreased muscle tension. Decreased neurological excitability (nerves more relaxed) Decreased muscle spasms. Better sleep.
Qualifications
Remedial Massage Therapist
Medical Massage Therapist
Graduate Certificate In Yoga Therapy
Naturopath
Diploma of Herbal Medicine
Professional Membership
ANTA - Australian Natural Therapists Association
AMT - Association of Massage Therapists
---