Learn how your food, exercise, sleep & stress affects your health based on your glucose biomarkers.
Now available for non-diabetics.
Join the Vively waitlist now to get a 30% discount.
Join the waitlist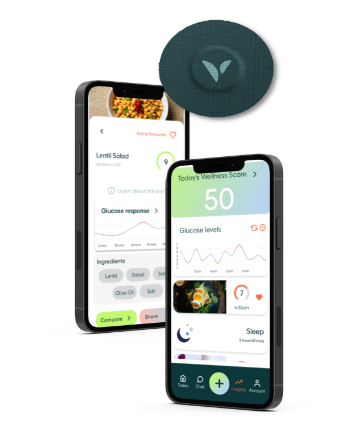 Clicking on the Send Me Details Now button opens an enquiry form where you can message Ashley Rai directly
Send Me Details Now
Book with Back2Health and reap the benefits of the ancient holistic healing system of Ayurvedic Medicine. We offer a range of treatments designed to assist you on the path to total wellness. Call to discuss how we can help you feel better today!
Back2health - Ayurvedic Medicine
Focus areas
Tinnitus
Arthritis
Cancer management
Eczema
Hormonal imbalance
Muscle pain
---
Consultation & Pulse Reading
---

Your first Ayurvedic consultation will involve us gaining an understanding of your medical history and any current health conditions you may be experiencing. Our skilled practitioner will use an ancient Ayurvedic pulse reading technique to diagnose your mind/body constitution.

From this initial consultation the functionality of your organs will be determined, as well as the balance of your doshas, which will indicate any warning signs of potential ill-health. One of the principles of Ayurveda is prevention, which is made possible by dealing with any imbalances before they deteriorate into a more serious condition.

Once your current state of health is diagnosed, your practitioner will then design a wellness plan specific to your individual needs. Your plan will include a combination of diet, herbs, home remedies, body treatments and exercise with the aim of treating sources of disease and imbalance.




Ayurvedic Health Screenings
---

We also offer health screenings for busy people who don't have time for extended consultations. This half-hour consultation will provide you with an in-depth assessment of your current state of health, allowing us to provide you with a plan tailored to meet your needs.

Back2Health offers the following Ayurvedic Body and Rejuvenation Treatments:

You're welcome to take advantage of our treatments for the purpose of relaxation and replenishment of energy, or as part of your ongoing health plan. Please visit the Massage tab on the left for more detailed information about specific massage treatments.


Ayurvedic Marma Massage - a comprehensive massage designed to release stagnation.
Head and Shoulder Marma Point Massage - focusing on the head and shoulders, this massage is ideal for allergies and neck and shoulder stiffness.
Ayurvedic Pregnancy and Post Natal Massage - designed to remedy any imbalance during your pregnancy and ease your delivery.
Siddha Paste Massage - ideal for digestive issues and stiffness, this is a deep, pervasive massage that can be administered locally or to the entire body.
Pindswed - this is another deeply penetrating massage, performed dry with heated herbal 'balls'. Ideal for arthritis, cellulite, obesity and muscle pain.
Kati Basti - ideal for people who sit for long periods of time, this massage focuses on the lower back and spinal nerves.
Shirodhara - warm, medicated oils are gently dripped onto your third eye. This is a hormone balancing treatment good for headaches, insomnia and fatigue.
Heart Dhara - this treatment, involving warm medicated oils dripping on the chest, is effective for the treatment of anxiety, chest pain and poor circulation.
Nadi Swedana (localised steam) - herbs and steam are used locally to relieve congestion and stagnant blood.
Baspha Swedana (steam box) - an Ayurvedic herbal steam treatment ideal for the release of toxins. This is ideal when following a Marma Point Massage
Nasya - warm herbal oils are massaged in the area of the sinuses to relieve congestion.
Ubtan (full body exfoliation) - an ancient beauty treatment which uses ingredients that are ideal for the treatment of eczema.
Smart Detox
---

This 7 day plan is designed to restore the body's ability to function at its optimum level and replenish your energy stores. Our Smart Detox can reduce feelings of stagnation, fatigue, confusion, gas, acidity, constipation, stiffness and pain, coughs and colds, allergies and infections, all of which can go on to become more serious health conditions.

The Benefits of the Smart Detox:

Purging of intestinal toxins
Clearing of stagnation from your body's channels
Elimination of toxins held deeply in tissues
Improvements in metabolism, digestion and appetite
Reduction of water retention
Reduction of blood sugar and cholesterol levels
You will feel more vital and energetic!
What does the Smart Detox program include?
7 day food and detox plan
E-book with detox recipes
Body treatments at Back2Health on day 3 and 4 (approximately 3 hours over the 2 days)
A range of detox-specific herbs for use during the 7 days of the detox and thereafter
A follow-up consultation with Jo Formosa or Dr Gayatri to formulate your maintenance program
A Detox Journal to document your experience and any changes you're experiencing
Spring Detox
---

We also offer a seasonal detox to specifically help you manage and overcome seasonal illnesses like allergies and sinuses.



---
Do you have questions about how Ayurveda can help you achieve your health goals? Call Back2Health today, or make contact by clicking on the 'Make an Enquiry' button below.
---
---