Member since 2004
Bernard Carson
434 Princess Hwy
Corrimal NSW 2518
Servicing area: Woonona and Berry, New South Wales
Digestive system
Stress management
Nervous system
...
Want to find out my availability, pricing or opening hours? Click on Send Me Details Now to get started.
Clicking on the Send Me Details Now button opens an enquiry form where you can message the practitioner directly.
I specialise in using the Neurological Organisation Technique (NOT) with 29 years experience in the field
Bernard Carson
---
WHAT ARE THE SYMPTOMS?
Faulty neurological switching For example, learning difficulties
Poor school performance
Untidy wruliting
Lack of concentration
Inefficient communication between brain hemospheres
Gait /weight-bearing system faults
Imbalances due to neck or head righting faults. For example, caused at birth or as a result of a trauma
Faulty immune system
Faulty digestive system
As all symptoms are identified through the Central Nervous System, chronic conditions can be assessed and balanced with the Neural Organisation Technique.
---
WHAT IS KINESIOLOGY?
Kinesiology is a holistic approach to health care which uses muscle monitoring to communicate directly with the body and assess its response to stimuli.


Kinesiology draws on the principles of traditional Chinese medicine and can evaluate body function through the muscle/meridian relationship. It can also establish connections between imbalances, put them in order of priority and determine the most effective treatment.


Kinesiology applies a wide range of gentle yet powerful techniques and restores the body's whole system to balance and good health.


Kinesiology is renowned for being able to uncover and address the underlying causes of health problems that are difficult to identify by other means.


Kinesiolagy also draws on and integrates other therapies and healing modalities and can be applied as an effective adjunct to any therapy.
Neural Organisation Technique (N.O.T) provides an innovative holistic approach to health care.
It is a non-invasive, Kinesiology based procedure which organises/ reorganises the neurological systems to function in the way they were designed for optimum learning and well being.
---
WHAT IS NEURAL ORGANISATION TECHNIQUE?
Neural organisation is fundamental to our survival and normal functioning.


The body is a totally integrated biological entity in which everything has a purpose and is dependent on everything else. There is a neural reflex or automatic neurological system for every movement, every position and every function.


However, the neurological systems in the body con be disturbed by physical or emotional trauma or injury and by chemical imbalance through diet and toxicity.


Neural Organisation Technique (NOT) is a Kinesiology based procedure which organises/reorganises the neurological systems to function in the way they were designed far good health.
---
HOW DOES N.O.T WORK?
The body is aware of what is happening within itself at all times and is capable of rectifying any problem.


Understanding the interactions between the body's primary survival systems allows the Kinesiologist to facilitate the body's ability to rectify the problem.


A qualified and skilled Kinesiologist con scan the body for this vital information through the body's responses to stimuli. The feedback is then used to identify the energy blockage in the survival systems and apply on effective N.O.T treatment procedure.


Each survival system will respond to stimuli and initiate neurological activity in a very precise order and priority as It switches from one function to another or combines its many functions. This provides the Kinesiologist with the means to trace the cause of the symptoms to the underlying problem in the neurological systems.


Survival demands that the body function harmoniously on all levels. There must be a balance between the structural, chemical / nutritional, and neurological / emotional levels. If all survival systems are functioning without a problem, then the body will be in balance and good health.


When there is a problem in the systems the body will react to cannier it. However, this may lock the body into a 'stress' mode. While we can still function with a multitude of structural, nutritional, and neurological problems, they will undermine our overall balance and health.
All the above also impinge on efficient learning.
---
For more information or a consultation, contact Bernard today!
---
QUALIFICATIONS
Level II Kinesiology practitioner
Memeber of The Australian Kinesiology Association
Member of The Australian Traditonal Medicine Society
---
Service categories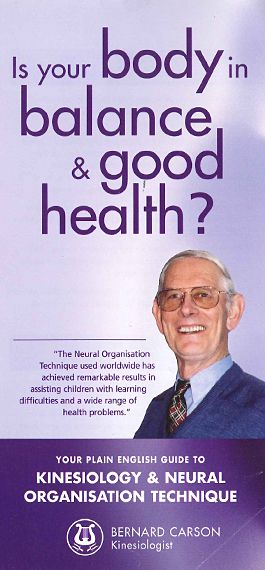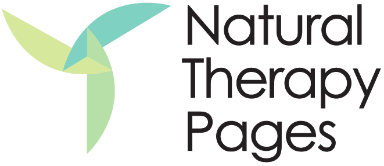 Bernard Carson