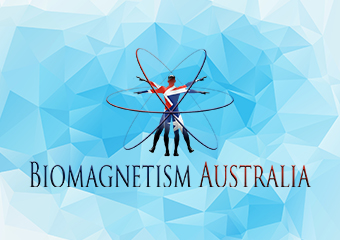 Biomagnetism Australia
A safe, pain free and natural way to correct and balance the pH in the body.
Biomagnetism Australia
Focus areas
Fatigue
Injury recovery
Bodywork
Fitness
Stress management
---
---
ABOUT
Better health - DRUG FREE
This system created by Dr Isaac Goiz Duran of Mexico enables the Biomagnetism practitioner to detect and correct alterations in the body's pH.
​Medium intensity magnets are used to "scan" the body, looking for a response from the body to identify if a polarity is present.
The history of Biomagnetism
Dr Isaac Goiz Duran first attended training in Biomagnetism in 1988, and learned of the role of the hydrogen ion in health and disease.
He then set to work using these principles in his practice along with modern medicine.
Become a Practitioner
Biomagnetism Australia is proud to be able to offer Practitioner Training in 2018.
This training will be taught by Moises Goiz and is perfect for those wanting to become a Biomagnetism Practitioner in their local area.
Lisa Brough BHMS - Biomagnetism Practitioner
I found myself interested in natural therapies early on in my career as a Fitness Professional. Many of my clients used naturopathy and acupuncture and various forms of bodywork, and after seeing their results I too saw great benefit to my digestion with Acupuncture, and naturopathy to optimise my fertility while having children. I went on to study Emotional Freedom Techniques, Reiki, SCENAR Therapy (for pain and injury recovery), and Biosignature Modulation (bodyfat and hormone optimisation) to add to the benefits I could offer my clients.
After a great deal of stress I experienced a big problem with hypothyroid symptoms. Doctors and blood tests showed "no problem" but I was still suffering extreme fatigue and feeling cold and very rapid weight gain. After 2 years of no answers I was diagnosed by a Naturopath, and underwent treatment for 3-4 months. My symptoms were still there. IT was lucky for me I had come across a discussion online regarding Biomagnetism. A quick read of Helena Guerrero's siteand I knew I had stumbled across something new that worked on the body in a different way. I couldn't get the idea of Biomagnetism out of my mind, and I attended Training in San Francisco in March 2014. I was one of only 3 Australians there, and we were the first to bring it back for Australians. After 3 sessions my symptoms disappeared completely and I began working with clients in this very effective modality.
Biomagnetism continues to be my number one tool. It creates immediate change in the pH of the body and no supplements or remedies are required. It's very relaxing and non-invasive to receive a biomagnetism session, and there are no pain or side-effects.
---
For all enquiries contact us today!
---