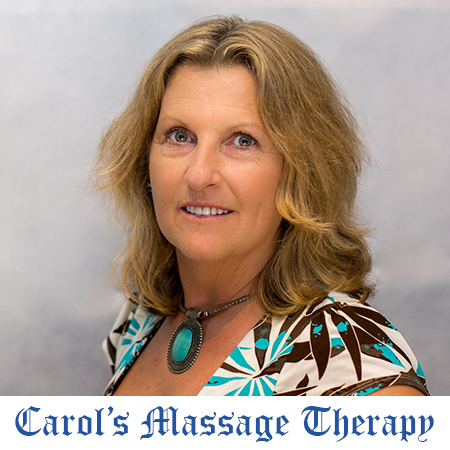 Carol's Massage Therapy
Specialising in Myofascial Release Treatment, Cranio-Sacral Therapy, Polarity, Remedial Massage and Trigger Point and Reflexognosy Therapies. So if you want to rid yourself of migraines, aches and pains or just relax to the max, please let me HELP you - Contact me today!
Carol's Massage Therapy - Massage Treatments
Focus areas
Chronic pain
Subconscious
Stiffness
Posture
Private health
Relaxation
---
---
I am able to treat newborns through to the elderly and pregnant women. I will have you feeling your optimum in no time at all. If you have private health cover for Remedial Massage you may claim your treatment.
I am a NSW WorkCover Approved Therapist.
I also fit and supply cyber-orthotics and treat you to a 'Reflexognosy' treatment.
Gift vouchers are available.
---
Myofascial Release
Myofascial Release is a very gentle therapy that treats the cause and not just the symptoms of most problems. The theory of Myofascial Release requires an understanding of the fascial system (or connective tissue). Fascia (conective tissue) is a specialized system of the body that has an appearance similar to a spider's web or a wool sweater. Fascia is very densely woven. It lines and covers every muscle, bone, nerve artery and vein as well as all of our internal organs including the heart, lungs, brain and spinal cord. The fascial system is actually a structure that exitsts from head to foot without interruption.

In the normal healthy state, the fascia is relaxed and wavy in configuration. It has the ability to stretch and move without restriction. When we experience physical trauma or inflammation, however, the fascia loses some of its pliability, becoming tight, restricted and a source of tension to the rest of the body.

Trauma, such as a fall, whiplash, surgery or just habitual poor posture over time has a cumulative negative effect influencing the skeletal framework and our posture. The fascia can exert excessive pressure, producing pain or restriction of motion, affecting our flexibility and so are a determining factor in our ability to withstand stress and strain.
Myofascial Release benefits the following:
Acute/chronic Pain Back Pain & Dysfunction Headaches
Pelvic Problems
Pediatric Problems
Cervical Pain & Dysfunction
Birth and Abuse Trauma
Restriction of Motion
Sports medicine
Recurring injuries
Fibromyialgia
And more !
---
Trigger Point therapy
Trigger Point Therapy is a firm pressure placed on certain spots within a muscle to encourage it to 'release'. This therapy is good for releasing tight thick muscles and /or ligaments such as trapezium.
---
Reflexognosy
Reflexognosy is a treatment for the feet and lower half of the leg. It is a
combination of massage, chiropractic, podiatry and is applied pre and post orthotic fitting. All muscles, tendons and bones are addressed.

The fitting of Cyber-orthotics includes taking a non-weight bearing foot imprint (x2) into a foam plank which is scanned and sent to Canada with a 2-3 week turn about. (Deposit of $150 required at this point, balance to be paid when orthotics are fitted).

An extensive exercise regime for the feet is included as well as a one hour Reflexognosy treatment before recieving your orthotics and two half hour treatments one appox. ten days after the fitting and another treatment appox. one month after fitting.

Full treatment, inlcuding all consultations and orthotics for the low price of $495.
For further details please contact me.
---
Remedial Massage
Remedial massage holistically treats the whole body and traces the discomfort as far as possible back to the original cause, healing both the cause of the disorder as well as the symptoms. It uses several specialised techniques to locate and repair damage and to support and speed up the body's own repair mechanisms. The massage is applied directly to the skin using a lubricating medium, usually oil, which ensures that the muscles associated with the disorder and mobilisation of the joint are deeply penetrated. Passive stretching moves are also used.
Key benefits of Remedial Massage include:
The stimulation to the blood supply allowing toxins in the muscles to be removed
The calming of the peripheral nervous system to ease pain and discomfort
Toning and relaxing of muscles to improve joint mobility
Improvement to the health of the cells
Repairing of tissues
Easing of stiffness
Muscular and skeletal dysfunctions
---
Call Carol today on 0410 433 685, or 'Make an Enquiry' below, to book your first appointment.
---