Learn how your food, exercise, sleep & stress affects your health based on your glucose biomarkers.
Now available for non-diabetics.
Join the Vively waitlist now to get a 30% discount.
Join the waitlist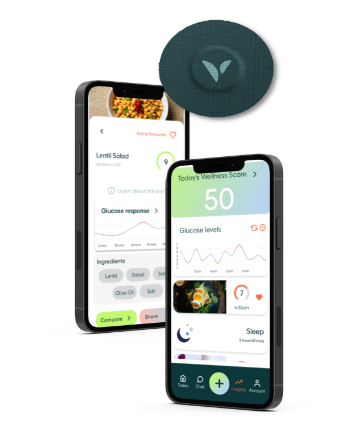 Clicking on the Send Me Details Now button opens an enquiry form where you can message Monica Gauci directly
Send Me Details Now
Yoga School
---
About Chintamani
This site is dedicated to the teaching and research of yoga pioneers Gregor Maehle and Monica Gauci. After over 30 years of yoga practice in the city we decided to take the injunction of many yoga scriptures, 'let the yogi move to a remote place surrounded by beautiful nature and let him practice there in solitude', literally and we now live on a mountain top surrounded by enchanting ancient rainforest overlooking the Pacific ocean.
Against this dramatic backdrop we spend many hours per day practicing the various yogic limbs, with more hours devoted to research, study and writing. On this site you will find our books with audio and video downloads to come. Once per year we offer our 200 and 300 hour Immersions in Bali and a one-week retreat in Byron Bay where we share our teachings and experiences. Additionally each of us travels three times per year to Perth to continue our teacher training there. You can use our blog page to ask all questions pertaining to yoga. Also please browse through our blog archive to find a lot of interesting information on yoga and answers to many previous questions.
---
Why Chintamani?
Chintamani means 'transcendental jewel of consciousness'. It is the Indian name for the philosopher's stone, which transforms our base nature by activating our highest potential. It provides the elixir of life symbolizing divine perfection, ecstasy, truth, beauty, love and spiritual freedom. While many alchemists pursued a futile search to look for the 'stone', 'treasures' and 'immortality' outside in the world, the true identity of the stone can easily be deducted from its Sanskrit name.
Directly translated chintamani means 'thought jewel', indicating that the jewel is nothing but the mind. The mind will deliver to you what you think into it. If your mind is what Patanjali, the ancient author of the Yoga Sutra, calls sattvic, then your life will be truthful and expressing wisdom. Or as the Bhagavad Gita says, Yo yac chraddhah sa eva sah, "that what a man thinks with great conviction that verily he becomes (Gita 17.3)".
---
Yoga Teacher Training
Teaching Yoga is an occupation of giving. Each class is a dedication. It is both rewarding and challenging. Our mission is to equip our teachers with all the skills, understanding and knowledge they need to embark on this exciting new career. Our commitment to your participation in 8 Limbs' Yoga Teacher Training is to give you an authentic experience of Yoga with the highest quality of teaching, in a supportive, nurturing environment. We want you to fully immerse yourself in the transformative power of Yoga.
---
Contact us today for more information.
---