Learn how your food, exercise, sleep & stress affects your health based on your glucose biomarkers.
Now available for non-diabetics.
Join the Vively waitlist now to get a 30% discount.
Join the waitlist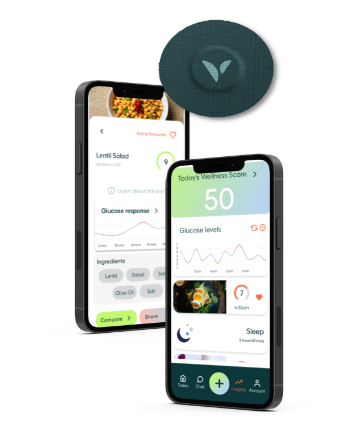 Clicking on the Send Me Details Now button opens an enquiry form where you can message Chioni directly
Send Me Details Now
Chi Spirit's holistic approach to health and wellbeing means you can experience a Yoga Practice, Yoga Therapy, One-on-one and Corporate Yoga classes in addition to all the other Mind, Body and spirit services we offer.
Chi Spirit - Mind
Servicing area
All of Perth
---
Focus areas
Purpose
Circulation
Full body massage
Nurturing
Facial
Waxing
---
---
Chi Yoga
No matter whether you're an absolute beginner or have a regular Yoga practice, you're welcome to join a Chi Yoga Class.
Every class covers variations of the postures and techniques, enabling you to practice safely and to the best of your ability.
I am a qualified Hatha Yoga instructor and Yoga Therapist, I've been practicing Yoga for more than 15 years and teaching since 2011. My teaching approach is to guide you safely on your personal journey of self-inquiry, assisting your body and mind to feel calm, extended and invigorated.
I also offer private tuition or classes for small groups – call Chioni for more information.
---
About your Yoga Class:
Yoga is practiced in bare, clean feet offering support and activating reflex points on the soles of your feet
I recommend that you wear comfortable clothing that you're able to move in easily. Brief clothing (short shorts, low riding pants) aren't recommended
For more information about what to bring, what to do, and what to expect to a specific Yoga Class, call or email Chioni.
I look forward to seeing you on the mat real soon!
---
Private Tuition
One-on-one Yoga sessions are becoming more common, harking back to Yoga's origins when it was traditionally taught one-on-one.
Yoga is a deeply personal and non-competitive practice.
When you book private yoga sessions with Chioni, she honours all of these concepts, ensuring you receive complete attention and guidance enabling you to experience the safest and most beneficial practice possible.
One-on-one Yoga Classes offer the benefit of increased self-awareness, as well as developing an understanding of what "correct posture" means for your body. Because Yoga Asanas (postures) are practiced differently by each individual - because our bodies are different - private Yoga Tuition teaches you how to practice the various techniques specific to your body.
One-on-one Yoga Tuition means you can learn without leaving the comfort of your own home - or you can receive your tuition in the nurturing Chi Yoga space if preferred.
---
Corporate Yoga
Corporate Yoga offers benefits for your staff via lower stress levels, improved circulation, tension release and improved mental clarity, and can also improve productivity, and mental/physical and emotional health. Corporate Yoga Classes are able to be specifically designed to meet the needs of your staff.
The length of your Chi Spirit Corporate Yoga session is up to you - from 30min, 45min to 1hr.
Chi Spirit Corporate Yoga sessions include:
A well rounded yoga class - intensity will be tailored to the group's needs
---
Yoga Therapy
Yoga Therapy is the individual application of Yoga's concepts, principles and techniques with a therapeutic purpose in mind. If you have experienced ill health or chronic injury, Yoga Therapy offers an holistic approach to healing and a rebalancing of overall wellbeing.
Yoga Therapists recognised by AAYT have undertaken additional training beyond that of a yoga teaching qualification and adhere to professional ethics, guidelines and codes relating to the practice of Yoga Therapy in Australia.
Chioni is a full member of the AAYT. Her membership number is 127.
---
For more information about Yoga Classes or to book one-on-one or Corporate Yoga, call Chi Spirit or click on the 'Make an Enquiry' button below.
---
---