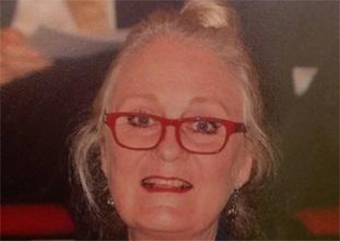 Member since 2010
Christine Champion
Christine Champion
Servicing area: St Kilda and surrounding areas
Christine specialises in providing a range of professional Massage Therapy Treatments to people living in the greater St Kilda area. Her dedicated commitment to the study of complementary therapies allows her to offer a range of stand -alone modalities, or to combine strategies in order to accommodate her clients.
Christine Champion - Massage Therapies
---
Body Therapies Available
Reflexology
What is reflexology?
Reflexology is a specialised form of massage based on the science that reflex points on the hands, feet, and head correspond to all body parts including tissues, glands and organs. When congestion in the body shows up as a tender spot on the related reflex in the foot, specific pressure is applied to this reflex point to unlock nerve pathways, improve circulation, and innervate the Central Nervous System. This boosts immunity, promotes homeostasis, and strengthens the body's resistance to pathologies. Reflexology can be compared to meridian therapy in the understanding of the energetic connection between organs and systems. I am excited by this as I love to work across modalities which are compatible. Reflexology can empower people to take greater responsibility by learning some basic reflexes which may address their issues. This therapy is wonderful to experience, as one of the many benefits is the well- being it promotes. It calms and soothes to enhance deep feelings of relaxation as well as revitalising physical and mental well-being.
Reflexology may assist the following conditions
Relieves stress and increases physical & mental well being


Helps balance hormonal activity


Improves circulation of blood & lymph


Balances digestive issues,


Promotes the body's ability to detoxify


Improves sleep patterns


Assists in Reducing pain


Massage: Relaxation & Remedial
Relaxation and Remedial: is there any difference?
Relaxation massage is a wonderful way to reduce mental and physical tension and improve wellbeing; the experience is heightened by a warm supportive environment in which essential oils and meditation music are optional. Appropriate draping is important.
Remedial Massage
This deeper form of massage works on underlying tissues and structures to reduce swelling and pain and can help to restore movement. Christine combines techniques from a range of modalities to suit individual needs. A treatment may include: deep tissue massage, myofascial release, trigger point therapy, PNF, and MET release work, frictions, tsubo therapy, as well as typical massage strokes. Specific exercises may also be advised.
What may Remedial Massage assist?
Rye neck & frozen shoulder


Back and hip pain


Sciatic pain


RSI


Digestive issues


Sleep disorders


Stress / Anxiety


Menstrual disorders


Circulation of blood and lymph


Pregnancy Massage
Is massage safe during pregnancy?
Massage is safe during pregnancy and is given according to the needs of each trimester and the woman's personal needs. It is a wonderful way to support the changes which occur in a woman's body, some of which may be stressful or cause discomfort. The reassuring and gentle yet firm strokes of massage may reduce stress as well as prepare the woman physically, mentally, and emotionally for labour. This is a time of great joy and expectation despite a possible range of physiological discomforts. Many of these discomforts can be alleviated, and anxieties eased with regular massage, the benefits of which are many.
What benefits may pregnancy massage offer?
Reduces tension, stress, and anxiety


Decreases chronic muscle tension in shoulders, neck, and back


Promotes feelings of wellbeing and connection to own process


Releases lower back and pelvic tension to restores postural balance


Eases ligament pain and joint pain


Promotes circulation of blood and lymph, ease varicose veins


Ameliorates swelling due to increased blood production


Alleviates muscle cramps and spasms


Prepares the woman physically, mentally, and emotionally for labour


Corporate Therapy: Massage & Reflexology
How does regular corporate therapy contribute to staff wellness?
This is a wonderful way to support staff and to increase efficiency at your office.


Increases well-being & morale


Reduces muscle tension caused by bad posture


Simple exercises demonstrated to mitigate RSI


Eases neck, shoulder girdle, hand/arm pain


Corporate Therapy: Massage & Reflexology
A treatment takes place on a special kneeling/ sitting chair with head and arm support for maximum comfort. A typical session may combine a number of strategies as Christine draws upon a range of modalities as seen above. These strategies target typical work-place postural and repetitive strain discomforts, as well as giving wonderful stress relief. The feed-back is very positive.
Corporate foot reflexology
This therapy is offered as a stand- alone corporate therapy, and is rapidly gaining in popularity. Imagine reclining in a comfortable chair with legs elevated, eye cushion to shut out the world, add a cosy rug for comfort. You will experience rapture while your feet are being gently massaged, stretched, and palpated as reflexes are worked to ease away tension and discomfort. Reflexology is wonderful to experience, as one of the many benefits it promotes is the revitalising of physical and mental well- being; and is calming and soothing to enhance deep feelings of relaxation and regeneration.
---
See Also...
About Christine Champion
Supporting health and wellbeing through reflexology, remedial massage and other complementary therapies
---
Service categories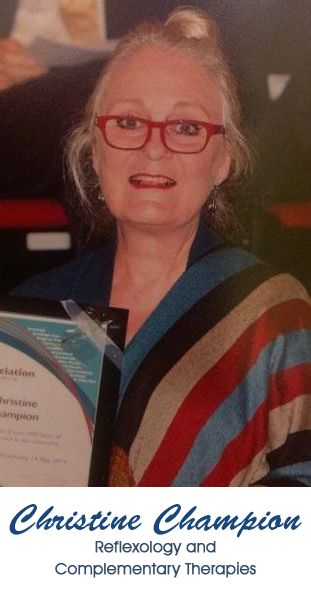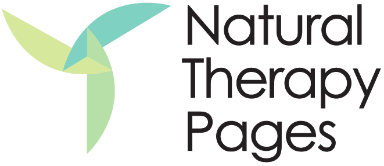 Christine Champion