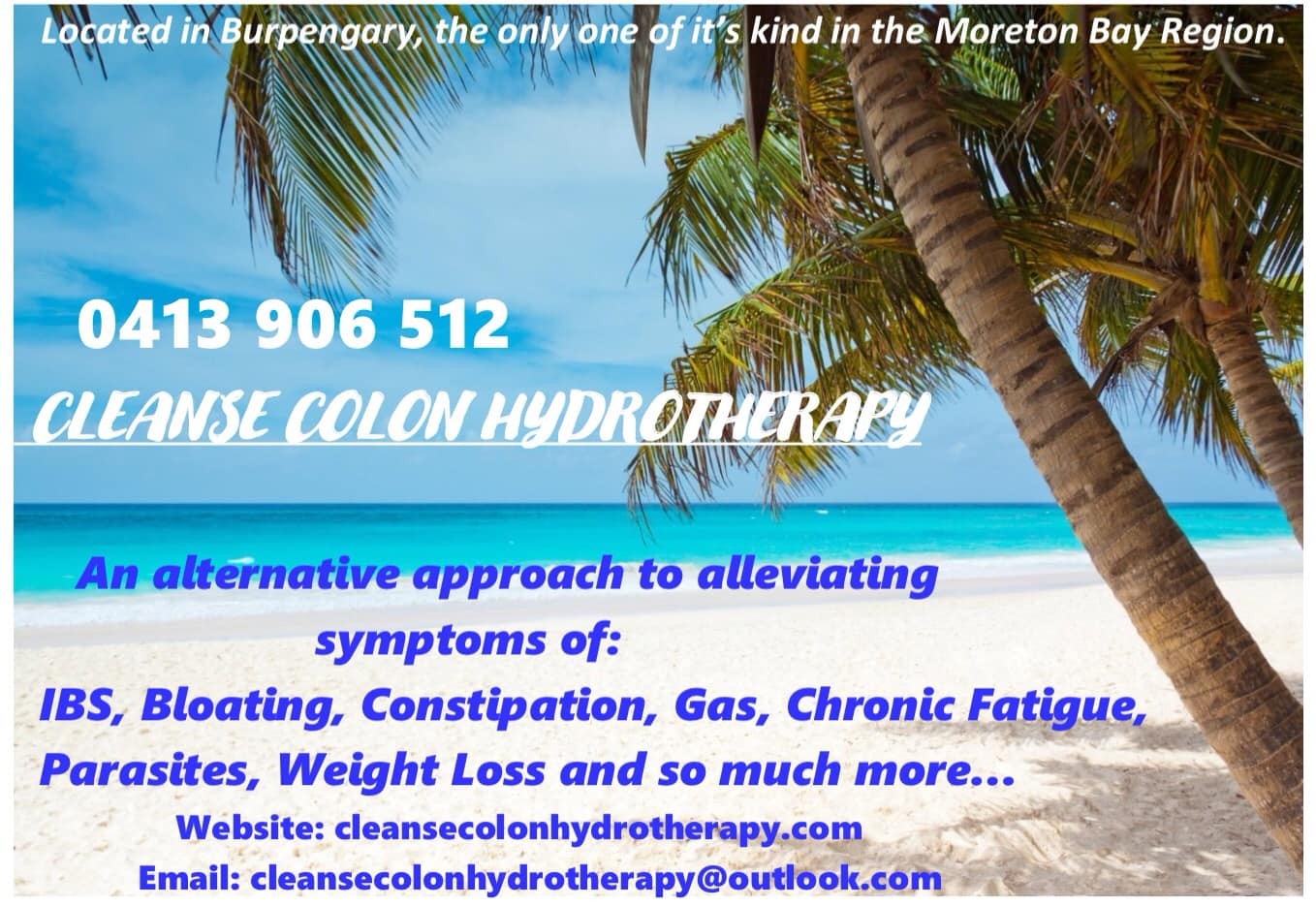 Cleanse Colon Hydro Therapy
Clicking on the Send Me Details Now button opens an enquiry form where you can message Nicole directly
Send Me Details Now
CLEANSE YOUR BODY, CLEANSE YOUR MIND, CLEANSE YOUR SPIRIT. www.cleansecolonhydrotherapy.com PH: 0413 906 512 open: 9am-6pm Weekdays, 9am-2pm Saturdays.
Cleanse Colon Hydrotherapy
Servicing area
Moreton Bay Region and surrounding Areas
---
Focus areas
Alternative complementary therapy
Hydrotherapy
Enema
Gut Health
Detoxification
Colonics
---
Cleanse Colon Hydrotherapy is a family owned and operated business, located in Burpengary. The only one of it's kind in the Moreton Bay Region. Located in a quiet residential setting for your privacy. We are a closed system colonic delivery service, using the latest technology, disposable speculums and hoses, all TGA approved, meeting world standards, along with Australian standards for infection control and sterilisation and all regulations and codes under Moreton Regional council.
We offer services to eligible clients aged 10 and upwards.
We are an alternative therapy service offering advice and assistance with common gut complaints. Colon Hydrotherapy is the gentle infusion of filtered, temperature controlled water into the colon, which fills the colon allowing wastes, impurities and toxins to be removed. With an experienced Colon Hydrotherapist, more toxins and wastes can be removed as we move through the different meridians. The therapist will be with be with you through out your session to talk you through and answer any questions you may have.
For more information check out our website: cleansecolonhydrotherapy.com
Like and follow us on facebook or instagram for daily updates and specials and feel free to invite your friends to follow us too.
Your appointments are one on one, and you will have continuity of treatment and care, as you will see the same therapist every time you visit us guaranteed. Your first appointment may take up to an hour and a half, as there is paperwork to be done at the start, a brief overview and questions. However, usual appointment time is 1 hour. You will change from your own clothes into the gown provided, then treatment can commence, expect to be connected to the machine for 45 minutes, then you will be instructed to use the bathroom and change back into your own clothes to return to your day.
Please remember to drink plenty of water, both before and after your appointment. After care instructions will be given to you on your first visit. As every body is different and each colonic is different, it is helpful to understand what is to be expected.
Colonic is all about "Letting Go"... opening your mind and your body to allow the release. Relaxing. Getting in touch with your inner self, understanding what your body is trying to tell you, as it "speaks" to you all the time... In our busy lives it is easy to forget to listen when our body tells us what it needs.
We can also offer in clinic enemas, our therapist can perform an enema for you and teach you how to use the enema kit at home or whilst on holidays. The enema kit used is then yours to take with you, along with the instruction pages. There are many types of enemas, we use organic coffee in clinic.
We are located in a quiet cul-de-sac. Parking is on street and we are only a couple of minutes from the highway, super easy to locate.
Cleanse Colon Hydrotherapy (Colonic)
1hr
Cleanse is a closed system Colon Hydrotherapy (colonic). We are GPACT certified and use all modern equipment, with disposable speculums and hoses all TGA approved.
Cleanse Enema (in clinic Enema)
30min
Cleanse also offers in clinic enemas. We can perform the enema for you and teach you how to use the enema kit at home or whilst on holidays. The cost of an enema kit is included in the price and you take it with you at the end of the appointment.
We're open 6 days.
| | | | |
| --- | --- | --- | --- |
| Monday | 9:00 am | To | 6:00 pm |
| Tuesday | 9:00 am | To | 6:00 pm |
| Wednesday | 9:00 am | To | 6:00 pm |
| Thursday | 9:00 am | To | 6:00 pm |
| Friday | 9:00 am | To | 6:00 pm |
| Saturday | 9:00 am | To | 2:00 pm |
---