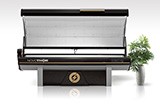 Cole Laser & Pod Therapy
Clicking on the Send Me Details Now button opens an enquiry form where you can message Janelle Cole directly
Send Me Details Now
Repetitive strains of everyday life cannot be ignored. Through conscious touch and empathic listening, you can find new freedom from old pains and aches. Send Janelle an inquiry or call to book your treatment.
Whole-Body Light Therapy for Pain, Injuries & Circulation
Focus areas
Joy
Thermal imaging
Thermal
Manual lymphatic drainage
Inflammation
Obesity
---
---
A sense of well-being and vibrant health comes from a sense of inner peace and relaxation.
Cole Laser & Pod Therapy offers a serene atmosphere where your physical, emotional and spiritual health is improved through professional touch and increased awareness.
The clinic specialises in using the NovoThor Pod, the first and only in Brisbane.
They also have several modalities to help you on your health journey including:
Pilates
Yoga
Mind Awareness
Meditation
Thermal Imaging
Manual Lymphatic Drainage
Reflexology
ION Foot Spas
Relaxation Massage
Remedial Massage
Trigger Point Therapy
Homoeopathy
What is the NovoThor Pod?
With the NovoTHOR, red and near-infrared light therapy is used to reduce pain, relax muscles and joints, and increase blood circulation.
It works on the whole body for 12 to 20 minutes redeveloping muscles and restoring motion to joints.
Sometimes, it's used as an adjunct treatment for obesity.
Physical therapists, pain clinics, and doctors use it for highly effective non-invasive treatments with no known negative effects.
How does red light therapy work?
Photobiomodulation, or red light therapy, activates natural cell processes by using red and near-infrared light to regenerate cells and stimulate blood flow.
There is no surgery or medication involved in this pain relief method.
Similarly, this type of therapy affects the body by applying pressure to pressure points, as acupuncture does.
Light therapy is administered by a licensed physical therapist who is specially trained in this type of treatment.
Who can use whole body red light therapy?
Sport professionals often use this treatment method to enhance their performance and reduce the occurrence of injuries.
However, this therapeutic method is also beneficial for those seeking to:
Improve muscle performance
Restore joint motion
Relax muscles and relieve spasms
Relieve pain and inflammation associated with arthritis
Increase circulation
Lose weight along with diet and exercise
Benefits of Whole-Body Red Light Therapy or NovoTHOR
Reduces pain and inflammation
Boosts energy
Provides better sleep
Improves circulation
Faster recovery and healing from injuries
Reduces stress, improves mood
Relieves symptoms of autoimmune disorders
Provides smoother and more supple skin
Less soreness after exercise or training
Improves cardiometabolic health and reduces fat
How long is the whole-body light therapy treatment?
Appointments last about 20 minutes, including 12 minutes of treatment time.
Light therapy for your whole body is painless, but expect it to be bright.
A special pair of goggles will be provided to protect your eyes, but if you have skin photosensitivity issues, speak to your doctor first to make sure this type of pain-relieving treatment is right for you.
What do you need to do after your session?
Hydrate. After light therapy, your cells will be hard at work, so it's crucial that you drink lots of water.
Eat well and drink plenty of water so your cells have all the fuel they need to heal.
With the right treatment plan and a committed body, a pain-free life is within your grasp.
Call Janelle to arrange a treatment time or to ask about light therapy and other services.
---