Find a Meditation Teacher in your area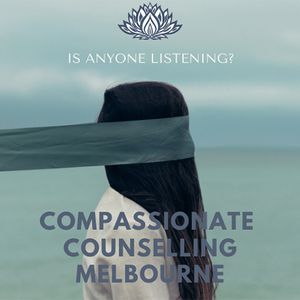 Member since 2020
Compassionate Counselling Melbourne
Narcissistic abuse
Values
Hypochondria
...
This practitioner is currently unavailable.
Is anyone listening?
FREE 30 MIN PHONE OR ONLINE CHAT
Online & Phone Counselling & Psychotherapy from the Safety of Your Home
Compassionate Counselling Melbourne
---
Are you struggling to cope right now? Are your usual methods for good mental health failing you? Could you do with professional support?
I am here to help.
I believe you are a person with a whole history, worldview and set of circumstances that only you can fully know about and together we can open up your own awareness of yourself, your strengths and weaknesses, and your situation so you can decide how to overcome your challenge.
This is person-centred compassion and mindfulness-based counselling.
I have Western Counselling qualifications, with a passion for therapies where Ancient Eastern and Modern Western interventions intersect.
Modalities Include:
Acceptance and Commitment Therapy (ACT)
Mindfulness-Based-Cognitive-Behaviour-Therapy (MBCBT)
Compassion-Focussed Therapy (CFT)
Somatic Experiencing
Solution Focussed Therapy
Why Choose My Help?
Counselling works best when the client and counsellor can establish a compatible therapeutic relationship. This takes ordinary human compatibility, a willingness to work together, and commitment to your own process.
Who Am I?
My work is influenced by private practice in Insight Meditation, Yoga, Buddhism and Mindful Self-Compassion. I am a gardener with a rural upbringing.
I've worked as an actor in film, TV & theatre; authored a book; trained adults in the corporate & entertainment spaces; produced a psycho-educational podcast about Narcissistic Abuse; lived in Melbourne, Sydney, London & rural Australia.
I can help with:
Stress reduction
Anxiety and post-traumatic stress
Depression
Decision-making and change
Life crises including job loss, divorce, relocation or migration
Divorce, separation and gender identity
Grief & loss
Anxiety disorders, such as PTSD, obsessive-compulsive disorder and phobias
Low self-esteem
Problematic anger
Irrational fears
Hypochondria
Insomnia
Narcissistic Abuse Syndrome
---
Enquire here and I'll call you back.
Your first 30 minutes is free of charge.
My usual fee is $100/session.
Actors, pay what you can afford.
---
Qualification details
Professional Mental Health Counsellor
DipCouns, M. Bus (HR), DipArts(Drama)
Fully accredited member of the ACA.(Australian Counsellors Association) Additional Studies: Grief & Loss ACT ACT for Trauma Somatic Experiencing Buddhism Reiki
---
Service categories
This practitioner provides online consults